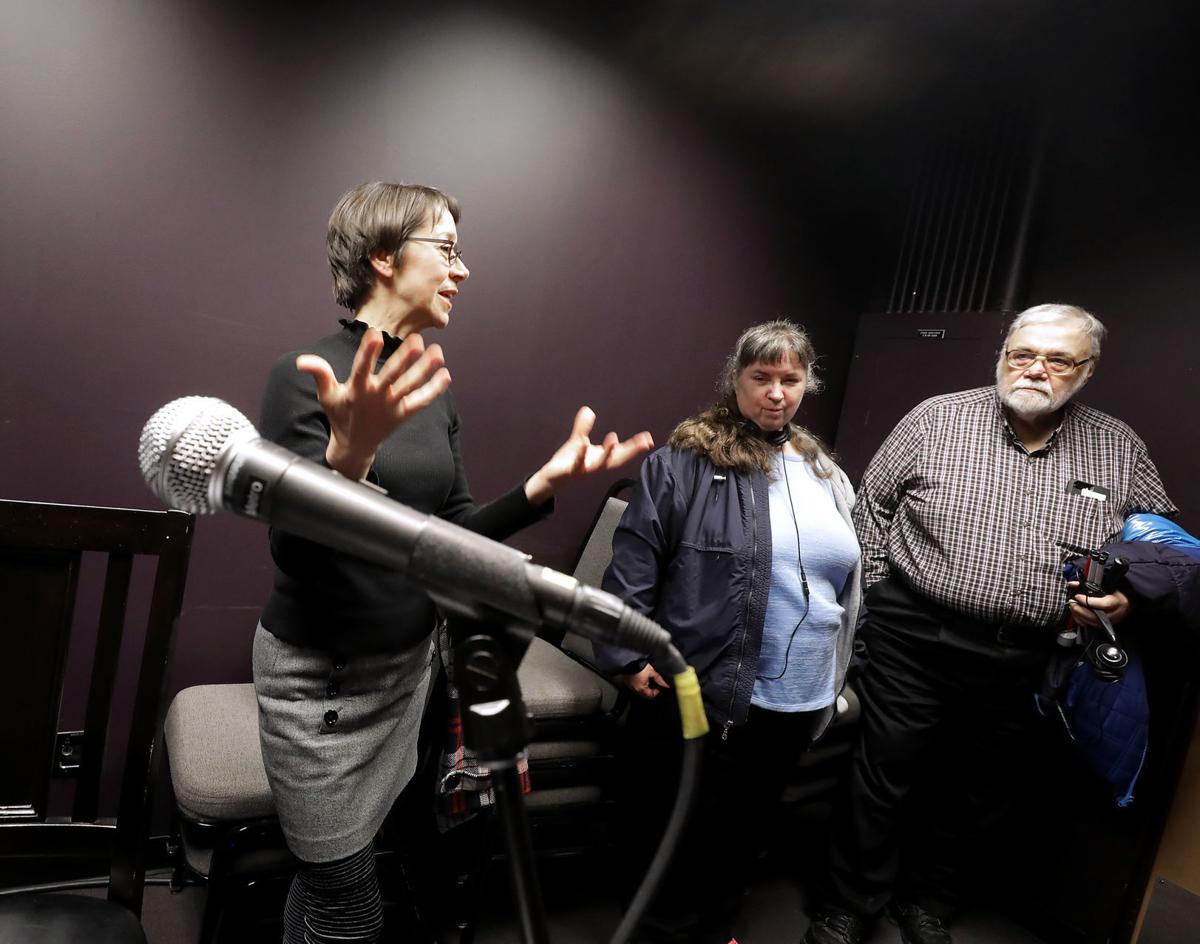 When theater-lovers with limited or no vision come to a Broadway show at Overture Center, they have a new way to enrich their experience: audio description.
Hidden in a soundproof projection booth with a good view of the stage is Kelly Warren, speaking into a mic to give a customized narration of the action on stage. Patrons who use the service wear a special headset to hear her — and Warren does her best to describe a Broadway extravaganza's visuals while not interfering with its all-important music, lyrics and dialogue.
"I'm mainly listening for Kelly to tell me who's who – who exited, who came on" the stage, said Jo Ann Gustavson, a Broadway fan who encouraged Overture to begin providing the audio description service.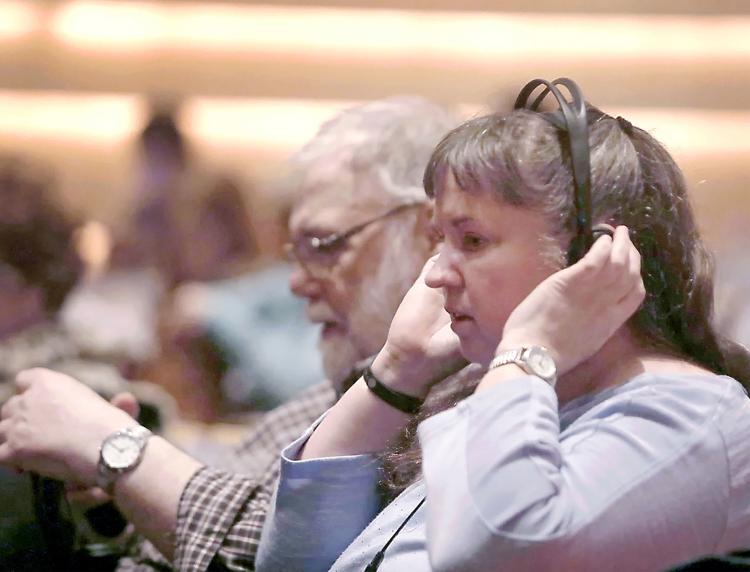 Warren's live audio helps her understand "who's talking to whom," Gustavson said. "Because in two or three hours, you usually don't pick up on the voices. Usually I can just see the people running around on stage. I don't see a lot of detail."
During an April performance of "Miss Saigon," for example, Gustavson and fellow theatergoer Ken Rucks sat in the orchestra section of Overture Hall wearing lightweight headsets that let in the sounds of the orchestra plus the dialogue and singing on stage.
But they could also hear Warren's voice cuing them into the action such as, "They playfully chase each other … and then exit the stage," or "In the next scene, Kim is wearing dingy clothes."
The next Broadway performances for which Overture will provide live audio description are the 7:30 p.m. Thursday showing of "A Bronx Tale" and the 7:30 p.m. performance of "Anastasia" on Aug. 1. The service also can be provided for other shows, as long as Overture Center has enough advance notice.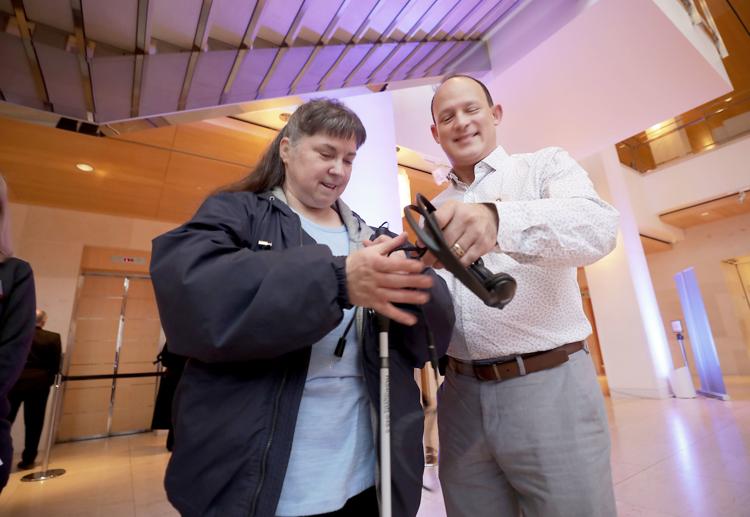 The arts center now owns a large number of headsets that can be used with live audio description, said audio technician Mike Allison. Use of a headset is free; patrons leave an ID at the information desk when they pick up a device before a show.
The portable system can be used in most of Overture's performance spaces, including Capitol Theater, Allison said. Audience members can sit anywhere in the house to tune in to Warren's narration.
The new service is one of several at Overture meant to make shows accessible. Others – which, like audio description, must be requested well in advance of a show – include wheelchair seating, seating access without stairs, seating to accommodate a service animal, or seats close to the front of the house for those with a visual or hearing impairment.
With advance notice, Overture also can provide programs in Braille for its Broadway and Overture Presents shows, sign language interpretation, and assistive listening devices for people who need extra amplification.
Warren had been talking to Overture for several years about providing audio description services, she said.
About the same time, Gustavson sent an email to Overture "asking if they had such a thing, because I'd just been to a movie theater that had it," Gustavson said. "I thought, all they can say is no. They said they were working on it, but didn't have it all figured out yet."
Then, at a recent training for ushers that Gustavson attended, she learned the service was finally available.
"I got ahold of them again and said, 'Sign me up,'" she said.
Being objective
A Madison-based audio producer who runs Mind's Eye Audio Productions, Warren has experience doing narration for National Park Service audio tours and art and museum exhibits. The NPS audio tours are crafted for vision-impaired people on walking tours, "so it's describing the scene they're at, as well as reading the text on a panel," Warren said.
You have free articles remaining.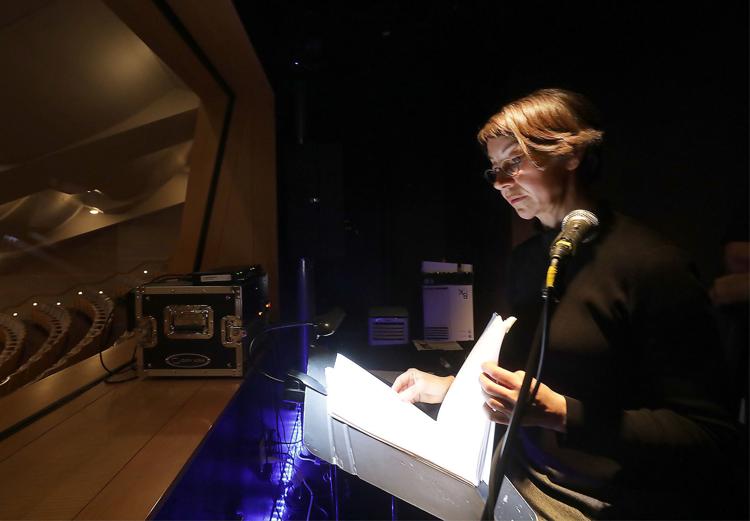 By contrast, "live description is quite different from produced," she said. But it also allows her to customize her description.
Warren finds out ahead of time what kinds of details are most important to audience members using the audio description devices – whether it's a description of costumes and sets, or noting which character is talking. She also checks in with users during intermission to see if they would like any adjustments made in the volume or the type of narration she's doing.
The trick for Warren is to give minimal, but key, information over the headsets.
"I can't talk over the dialogue," she said. "And with musicals, the narrative is in the songs. So they're telling a story in music as well."
She usually previews a show and keeps a script in front of her when she's doing a description live.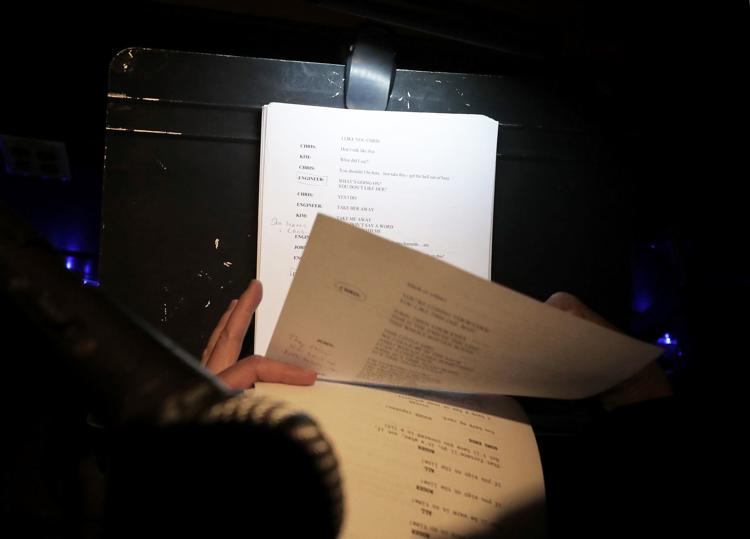 "In 'Miss Saigon,' there's not a lot of director's notes on the script, almost none. So the first time I view it (as a preview), I'm watching the stage, reading the script, trying to follow the characters and the relationships," she explained.
Once she's doing the live description, "I can't give away more than anyone else in the theater knows," she said. "Even though I know how it's going to unfold, I can't say anything more than what is there. I have to be very objective and just describe what I see."
Demand may grow
The "invention" of audio description is largely attributed to the late Dr. Margaret Pfanstiehl, who won an Emmy in 1990 for her "leadership and persistence in the development of television for the visually impaired," according to the Audio Description Project, an initiative of the American Council of the Blind.
The Audio Description Project lists a wide range of available entertainments that feature audio description – from DVD releases to TV streaming services such as Netflix, and even cruise ships and museum tours – on its website, acb.org/adp.
During the action in a Broadway show, sighted theatergoers get the benefit of seeing costumes, which often serve as visual cues as to what roles the actors are playing. Audio description can also provide that help.
"With Kelly telling us who's coming in and going out, we can then pinpoint who is talking through the dialogue and you can picture what's happening," Rucks explained. "But you have to know who's (speaking) the dialogue, and Kelly tells us that."
Rucks, who is retired, started going to the theater about five years ago and got hooked.
"A friend of mine got me interested in coming here the first time, and after I was here I had to keep coming back. I knew nothing about theater. I still don't know very much. It's wonderful entertainment," he said.
Gustavson, on the other hand, has "always" been a theater buff, she said. Before she moved to Madison to take a job as a receptionist at Top Promotions in Middleton, she was involved in community theater. Both she and Rucks said that Warren's narration adds greatly to their appreciation and understanding of the shows they see at Overture.
The service already is commonplace in large theaters in New York and London, Warren said.
"I think once word gets out about this, we're going to get a lot of requests," she said. "Just in Wisconsin, there's about 90,000 people who have low vision or blindness. And many have lost their vision later in life, or never had vision, and wouldn't consider theater as an option or form of entertainment."
Even at other theaters in the region, "I think demand for this is going to grow," Warren said. "On a night like this, you could have multiple people sitting in the audience, and I can talk to them all at once."