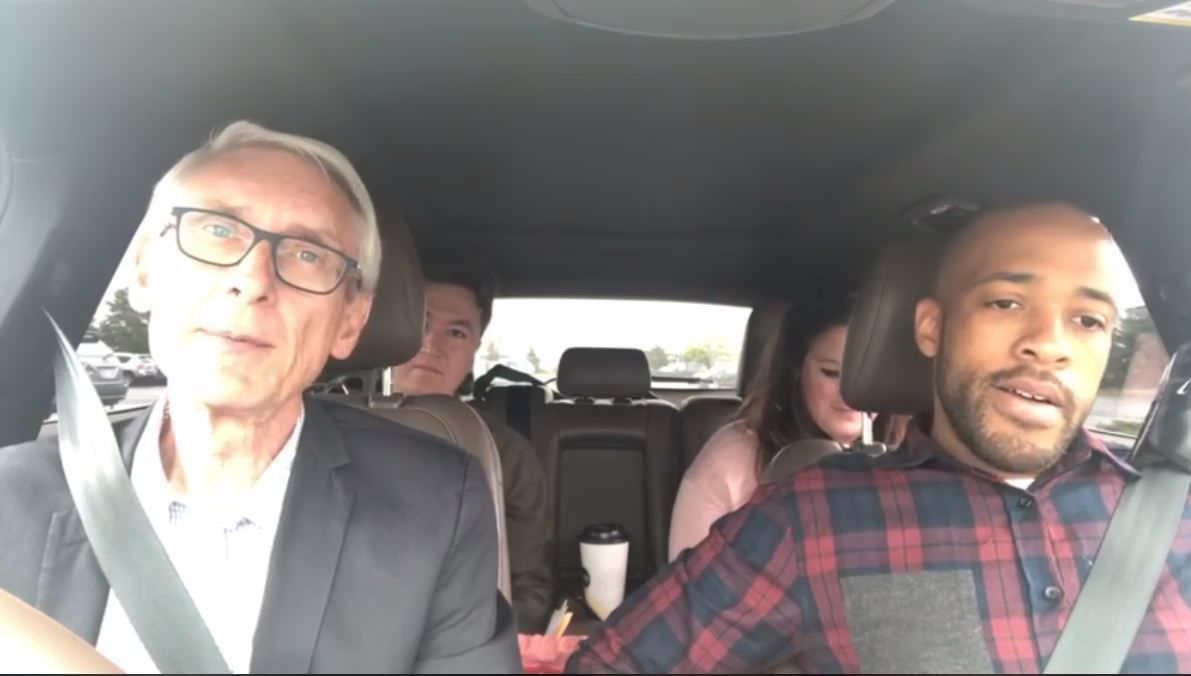 Democratic gubernatorial candidate Tony Evers and his running mate, Mandela Barnes, livestreamed their 45-minute drive between Appleton and Green Bay on Tuesday as part of a campaign gimmick to mock Republican Gov. Scott Walker for taking the state airplane for the same trip in 2016.
With Evers behind the wheel and Barnes in the passenger seat, they jokingly referred to the event broadcast on their campaign's Facebook page as the "Tony and Mandela Show."
"We gotta watch out for the Scott-holes, they're everywhere," Evers said, referring to potholes by the name Democrats have come up with to link them to Walker as they argue he's neglected road maintenance.
"You see we're bouncing around; there's a reason why the camera is moving so quickly," Evers said. "I can't look at the camera or Mandela because I need to keep my eyes on the road."
The livestream took on the feel of a late-night talk show at times (albeit a low-budget one), with Evers and Barnes feigning surprise as they took phone calls from three other Democrats — U.S. Rep. Mark Pocan, attorney general candidate Josh Kaul and state treasurer candidate Sarah Godlewski.
"We got to talk to a congressman, how about that?" Evers said after hanging up with Pocan, of Black Earth.
The Walker flight between Appleton and Green Bay took place on Sept. 7, 2016. The 24-mile trip was one leg on a multi-stop day for Walker as he attended a ribbon-cutting ceremony in Neenah before promoting his sales tax holiday proposal in Green Bay and Menomonee Falls.
Walker has spent $934,000 in taxpayer-funded flights between September 2015 — when he ended his presidential bid — and July of this year, records obtained by the liberal group One Wisconsin Now show.
Between touting their campaign agenda and jabbing Walker, Barnes and Evers also chatted about the Brewers' playoff run, where they've lived in Wisconsin and the country, and what they like to listen to while driving.
Barnes shared that he's run two marathons in Milwaukee, and Evers said he marvels at people who complete the Ironman triathlon that involves running a marathon, biking 112 miles and swimming 2.4 miles.
"I always think, 'I could do that,'" the 66-year-old Evers, a cancer survivor, said. "Thank God I never followed through on it."
Once in Green Bay, Evers and Barnes held a news conference to tout their "Government for Us" agenda that includes cutting wasteful spending, including reducing the use of the state airplane.
The livestream caught the attention of Wisconsin Republican Party executive director Mark Morgan.
"Quite the variety show," Morgan tweeted. "At the end audience members will be invited up to guess the total $$$ in tax increases needed to pay for the (Evers) 'agenda'.''
Evers has said he's open to raising a variety of taxes, including on gas and personal income, to help pay for road repairs and to lower taxes on the middle class.
Be the first to know
Get local news delivered to your inbox!