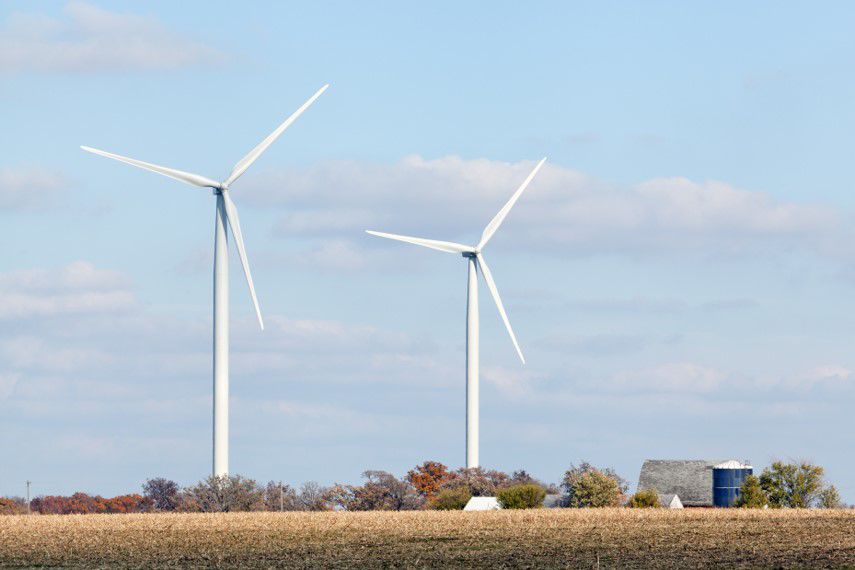 Sun Prairie-based WPPI Energy says it will buy all of the electricity generated from an Illinois wind farm being proposed by Invenergy, an independent renewable energy developer, for the next 22 years.
Privately owned, Chicago-based Invenergy plans to erect the Bishop Hill 3 wind farm, with 53 turbines that will be able to generate up to 132 megawatts of power in optimal conditions — enough to power as many as 53,000 homes and businesses, WPPI said.
"We would anticipate that on average, this facility would operate at around 50 megawatts," WPPI spokeswoman Anne Rodriguez said.
Due to transmission connection agreements, maximum output from the wind farm will be limited to 119 megawatts, Invenergy spokeswoman Mary Ryan said.
"This agreement provides WPPI Energy with a highly cost-effective resource that will more than double the amount of wind energy in our power supply portfolio," said Mike Peters, WPPI Energy CEO and president.
Bishop Hill 3 will be built in Henry County, in northwestern Illinois between Moline and Peoria, near the Bishop Hill 1 and 2 wind farms. Construction is expected to start "in the next few months," Ryan said, with commercial operation to begin by mid-2018.
Neither the cost of the project nor the financial terms of WPPI's agreement — which runs through mid-2040 — were disclosed.
Bishop Hill 3 is one of two major renewable energy projects WPPI has signed onto, so far this year. WPPI said in January it will buy the power generated by a 100-megawatt solar energy center that NextEra Energy plans to build next to the Point Beach nuclear plant in Two Rivers.
The solar power is expected to come online in 2021; WPPI has a 20-year agreement to buy that electricity.
Currently, 14 percent of the electricity WPPI owns or is contracted to buy comes from renewable resources. That will jump to 20 percent with the addition of the wind farm and will increase to 22 percent when the solar field is erected, Rodriguez said.
WPPI is a not-for-profit regional power company that serves 51 locally owned electric companies in Wisconsin, Michigan's Upper Peninsula and Iowa. Its member utilities — including those in Mount Horeb, Stoughton, Sun Prairie and Waunakee — serve more than 200,000 customers.