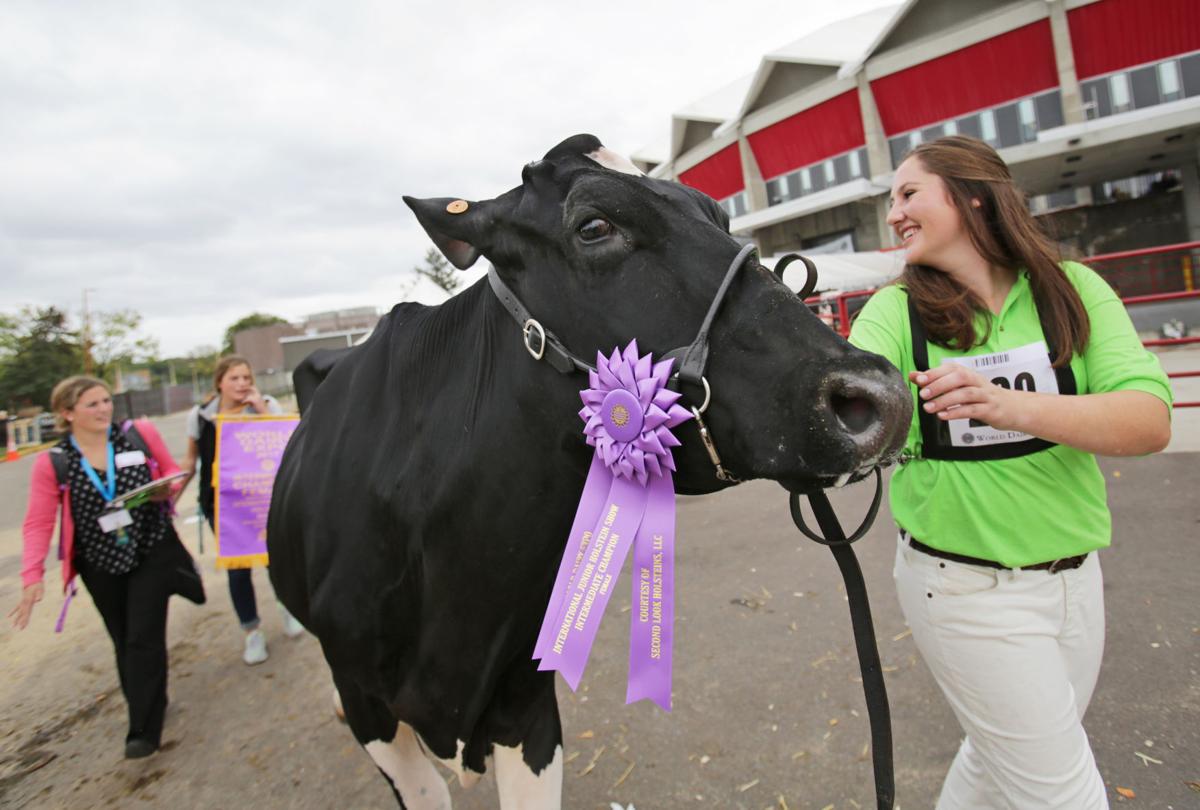 The north lane of the cattle tent literally buzzed.
Electric trimming shears were being used to groom Holsteins while others in the 24-stall set up for Rosedale's Boarding in Paradise combed, gelled and pampered the animals that were being prepped for the show ring on the opening day of the World Dairy Expo at the Alliant Energy Center.
Some who were lending a hand filled feed buckets while others were armed with pitchforks. But many in the frenetic but controlled chaos that is a cow show were not from rural Marquette County, home to Rosedale, a farm that boards cows for other owners. Instead, they hailed from Italy, the Netherlands, Switzerland, Ireland and Canada.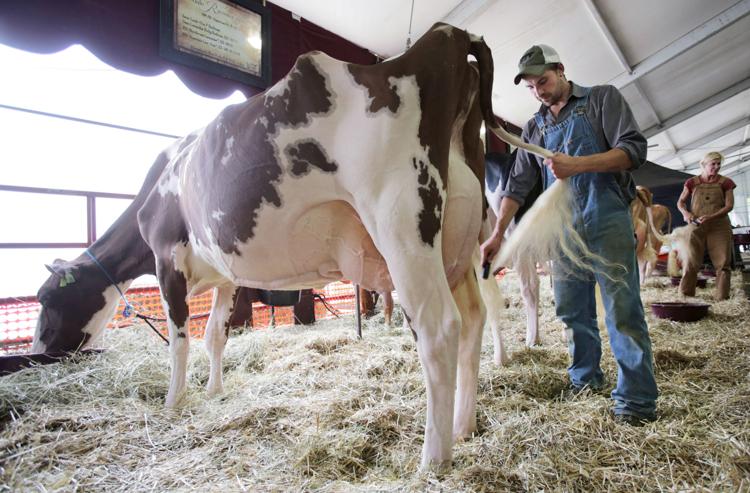 Show cows long enough at the world's largest dairy event and the chores can evolve into an international undertaking. The collective work can mean high marks in the ring and ultimately profits for the owner of a cow that can be sold for five or even six figures.
"This show is going to have a big influence on the price," said Denise Stutika of Milton, who brought her 13-month-old Holstein, Lucretia, to the expo and is friends with Mark and Vicki Rosedale. "We'll take her home if nobody makes an offer, but people are looking and people are asking questions. They can see all of the best animals from around the country and Canada and scope them out and see how they do."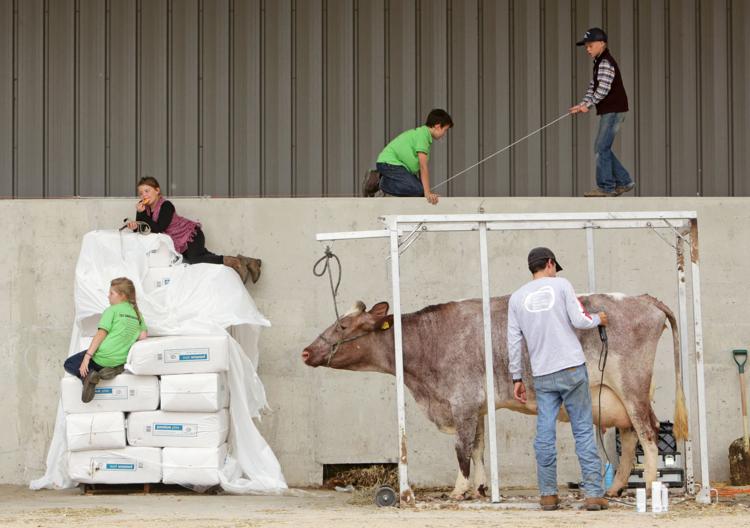 Much more than cows
But while cows are clearly the draw to the Alliant Energy Center this week, the more than 70,000 visitors who will roam the expo through Saturday can also immerse themselves in the latest technology and other bovine-related businesses.
The World Dairy Expo, founded in 1967, has evolved into a major undertaking that this year will feature 2,400 dairy cattle and 1,700 exhibitors from throughout North America. The expo, with an economic impact to the Madison area pegged at over $50 million, also includes a trade show with nearly 900 exhibitors from 30 countries that packs Exhibition Hall and fills a temporary building. Farm implements fill outdoor space including the main concourse between Exhibition Hall and the Coliseum, while the huge parking lot in front of Exhibition Hall is also jammed with tractors, balers, skid loaders, manure spreaders and other machinery.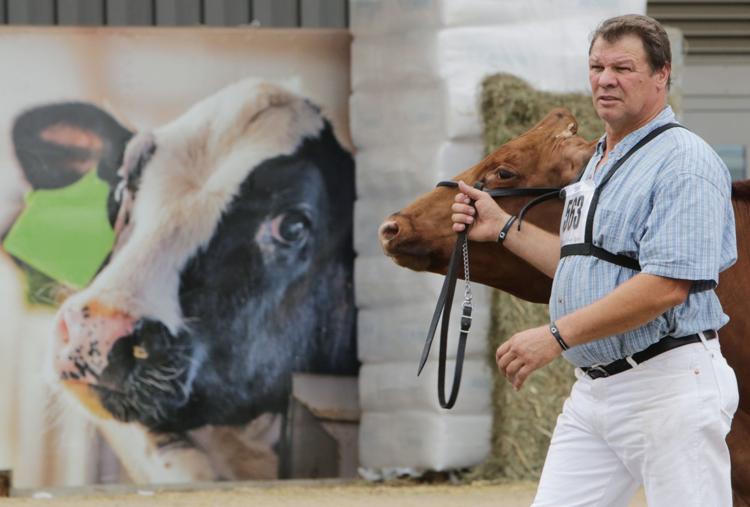 Barns are filled with dairy cattle, there are long lines for grilled cheese sandwiches and some of the newest farm machinery on the planet is on display.
Kuhn Knight, a Brodhead-based implement manufacturing company with 500 employees, brought 14 large pieces of equipment to show off at the expo. While it included some tillage machinery, most of the display consisted of bright orange hay and forage tools, balers, feed mixers and manure spreaders. The largest piece of equipment was a $375,000 self-propelled, self-loading mixer that combines a skid loader, tractor and mixer into one machine that can be operated by a single user.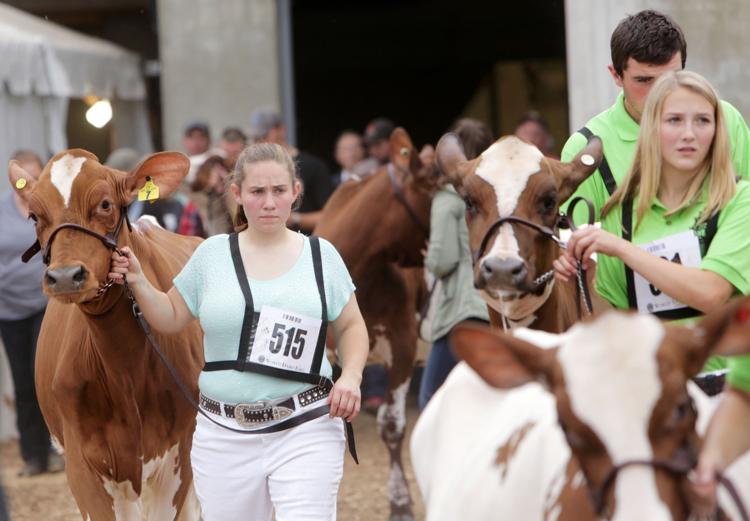 "We really fine-tune and hone what we bring," said Doug Williams, a Kuhn Knight manager who is also on the World Dairy Expo board. "I get guys from the Northwest, from Idaho, Utah ... and I spoke with someone from California this morning, plus there are 60-plus countries here. This is huge for our international business."
Comfort, and art
Heinz Daub moved to Canada from Germany in 1979, then to central Wisconsin in 1995 where he operated a dairy farm near Loyal. He sold his herd a few years ago and is now selling a German-made brush system for itchy cows, goats, sheeps and pigs. The devices from Schurr feature two nylon brushes designed to massage and comfort animals, which in the case of cows, goats and sheep, could increase milk production.
Daub isn't focused on closing sales at the expo but is using it to promote the product that costs about $3,500 for cows. While the idea is to expose farmers to the system, websites and social media are introducing farmers to new products months before they are put on display at a trade show.
"Everybody knows already," Daub said. "The show is getting to be more entertainment than as a business event."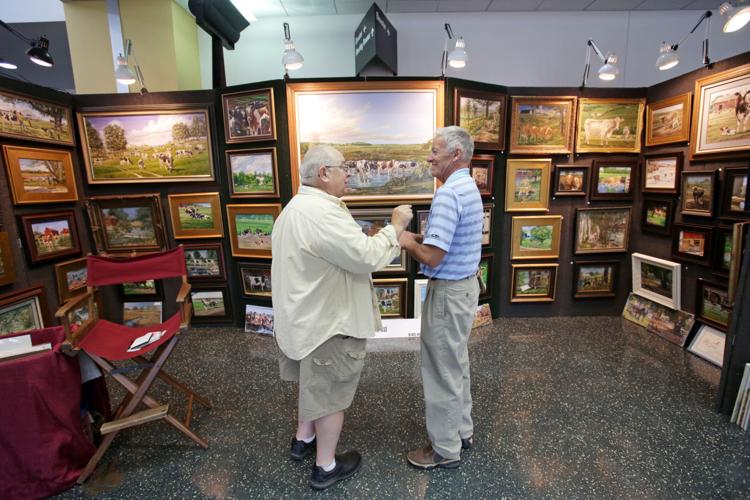 But the trade show still draws with innovative machines like robotic milking systems, sand bedding systems, bottle washers, as well as other products and services like soil testing and even rubber boots. Alice in Dairyland made an appearance Tuesday while Larry Schultz of Milton was selling his landscape paintings of cows in pastures. Originals can go for as much as $8,000, but the show has also resulted in offers for commissioned pieces.
"I sell pieces here to people from all over the world," said Schultz, 65, who has been painting cows for decades. "It's a lot of good exposure."
The business news you need
With a weekly newsletter looking back at local history.