The numbers are record-setting.
There are 3,402 entries of cheese, butter and yogurt in 121 categories from 26 foreign countries and 32 U.S. states while the 55 judges hail from 20 countries and 15 U.S. states.
And by Thursday night, the 66,000 pounds of cheese entered in the World Championship Cheese Contest will be pared down to a single entry. The contenders could include Gouda, Appenzeller, a 3- to 9-month-old hard sheep's cheese, Gorgonzola or a Brie. There are cheeses that can be spread and others that have been smoked, are low-fat or feature less sodium. Most are made with cow's milk but sheep and goat categories are growing.
An alpine cheese from Fitchburg-based Emmi Roth USA took top honors at the 2016 contest with its Grand Cru Surchoix that was produced in Monroe.
But what about a no more than 3-month-old cheddar? Recognized for its versatility and utilitarian uses, young cheddar is often spread over a taco, melted with scrambled eggs or enjoyed with a cracker and a slice of summer sausage. Major awards aren't typically in its wheelhouse.
"We would have to say that it's 100 percent (perfect) with absolutely no defect to have any shot, but realistically it would be pretty tough," said John Partridge, a cheese judge who recently retired from Michigan State University, where he coached the school's cheese judging team for 37 years. "Really high-quality cheeses coming in like this will probably be aged for a longer period of time. When you get a quality piece of cheese like this, it's going to go on the shelf."
The closest a cheddar has come to taking the top prize in recent memory was an aged cheddar produced by Terry Lensmire of Agropur in Weyauwega. A year ago, the cheese was first runner-up at the U.S. Championship Cheese Contest in Green Bay, while a medium cheddar from Land O' Lakes in Kiel was second runner-up at the 2015 contest.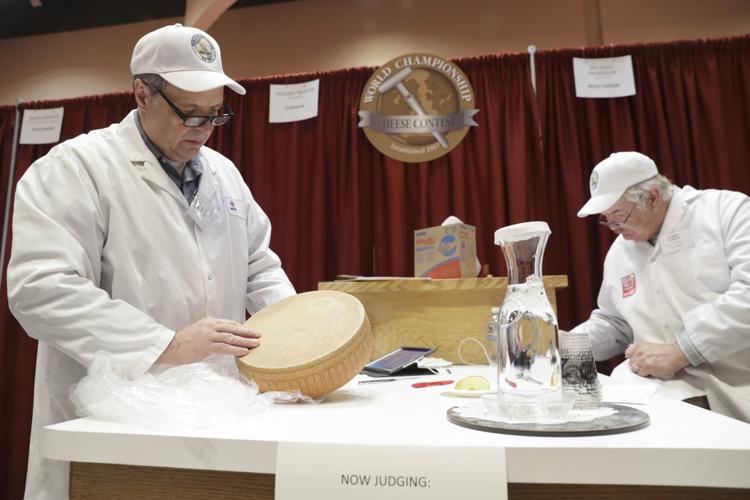 Medals a rarity
The World Championship Cheese Contest, the world's largest technical cheese contest hosted by the Wisconsin Cheese Makers Association on alternating years with the U.S. Championship Cheese Contest, hasn't had a cheddar crack the top three for years. This year's contest features eight categories dedicated to cheddar, which includes, for the first time, a natural rind category and two new categories for waxed cheddar, one for mild to medium cheddar and another for sharp to aged.
"It was good for the contest," said John Umhoefer, executive director of the WCMA. "The two groups really split very happily. It's a division in the industry that kind of separates by new maker and old maker."
You have free articles remaining.
Register for more free articles
Stay logged in to skip the surveys
The top natural rinded cheddar was awarded Tuesday to Door Artisan Cheese Co. in Egg Harbor for its cave-aged, English cheddar, while the top waxed sharp to aged cheddar went to Springside Cheese Co. in Oconto Falls. The mild cheddar category of cheese 3 months old or younger was won by Cabot Creamery Cooperative in Middlebury, Vermont. The sharp category was taken by Parmalat Cheese Co. in Ontario, Canada, while the English Hollow Cheddar from Maple Leaf Cheesemakers in Monroe was ranked first among 1- to 2-year-old cheddar.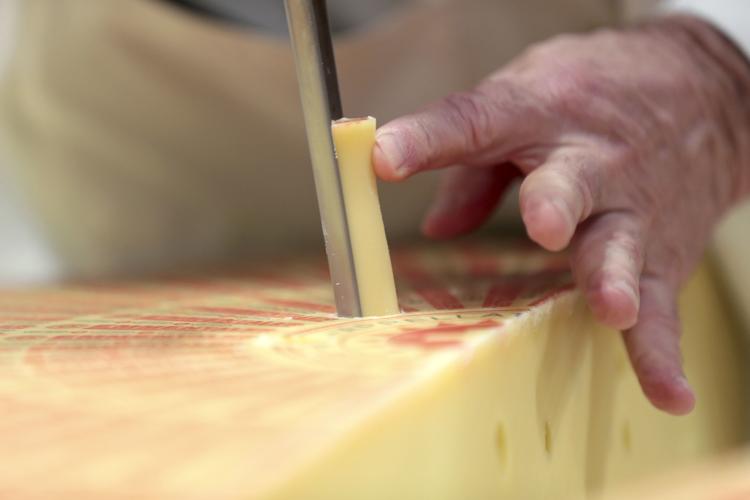 Weather intrudes
Tuesday's contest, in the 35,000-square-foot ballroom on the first level of Monona Terrace, included more than a few travel-weary judges. A March snowstorm forced some to rent a car or take a bus from airports in Minneapolis and Chicago after a snowstorm with whiteout conditions hammered southern Wisconsin on Monday evening.
Charles White, a cheese judge and an adjunct professor at the University of Tennessee, drove from his home but got stuck on Interstate 39-90 for over an hour Monday night due to a storm-related crash about 12 miles south of Madison.
On Tuesday, he worked with Partridge judging young cheddar, which can be a difficult class in which to determine a winner.
"The flavor's just developing," White said. "They're all pretty good cheeses. If people are buying these as mild cheeses they're getting their money's worth. It's really good cheese. I've been really pleased by what I've seen."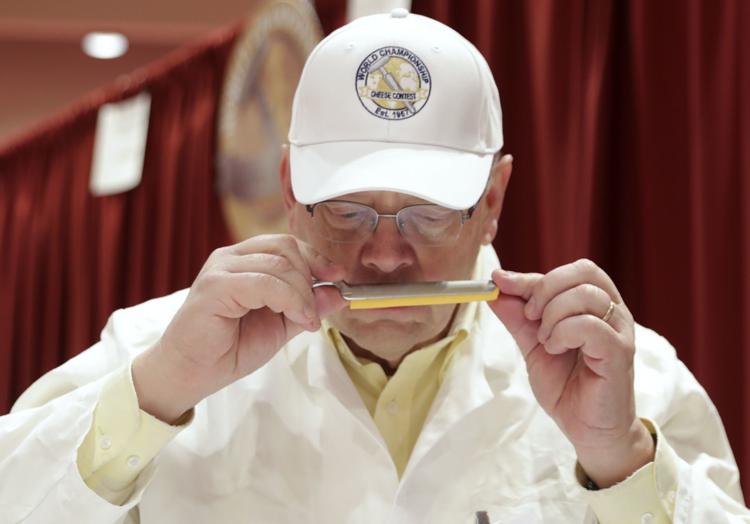 Gala on Thursday
After Wednesday's judging, which is open to the public at no charge, 16 finalists will be selected from the winners in each category where they will then be judged at Thursday night's ticketed gala. The event will include tastings, a chance to mingle with judges and cheesemakers and the crowing of the 2018 champion.
Other results from Tuesday's competition included a first- and second-place finish in the low-fat cheese category for Klondike Cheese Co. in Monroe with their low-fat feta and fat-free feta, respectively. Arena Cheese produced the best Colby, according to the judges, while Cesar's Cheese in Random Lake took three of the top five spots in string cheese with its whole milk, hand-stretched entry taking first. One of the top scores of the day went to an Emmentaler from Switzerland that scored 99.50, while the seven top spots in Havarti went to Wisconsin cheesemakers with Edelweiss Creamery in Monticello taking top honors.
Eleven of the 121 categories are reserved for butter, yogurt, flavored high protein and drinkable cultured products. Yodelay Yogurt of Madison scored a 99.90 with a pineapple yogurt to win the drinkable cultured products category, while the cow's milk yogurt category was won by Upstate Niagara Cooperative in Buffalo, New York.
Kimberlee Burrington of the Center for Dairy Research at UW-Madison judged the yogurt category with Jean Luc Boutonnier, a food science specialist from the south of France. They found few duds among the entries.
"Overall, most of the products that are entered into this contest, they try to enter the best product they can," Burrington said. "Occasionally, you'll get one with very pronounced defects in it, but for the most part most of them are very close in terms of quality."