Tens of thousands of Wisconsin businesses received help in recent months in the form of forgivable loans backed by the federal government, but some local experts said many of the businesses most vulnerable to the pandemic's economic impacts were left out.
The Paycheck Protection Program, which was authorized by Congress in the spring, awarded about 85,000 loans to Wisconsin-based businesses or self-employed Wisconsinites. Most businesses that met the federal definition of a "small business" — 500 or fewer employees — and also claimed economic uncertainty were eligible. Many prominent area businesses such as EatStreet, Gorman & Co., Madison Property Management and Pellitteri Waste Systems secured $1 million or more in taxpayer-backed loans, according to records released this month.
The federal Small Business Administration named companies that secured more than $150,000 in PPP loans while the recipients of hundreds of thousands of loans under $150,000 remain secret.
Congress this month has been working on another relief package as many of the provisions from the Coronavirus Aid, Relief and Economic Security (CARES) Act expire at the end of July. It's still unclear what a new relief bill would look like and what provisions it would have for businesses and workers.
The program routed money to businesses through banks by guaranteeing the federal government would pay back those loans if the businesses defaulted, and businesses could also have their loans forgiven if they met certain criteria relating to how the money was spent — particularly the amount used for employee paychecks.
Critics say the decision to route the money through banks — which lawmakers said would be quicker than creating a full system through a governmental entity — gave larger businesses a leg up in securing this funding because they had existing relationships with banks or a team of accountants to manage the application process. The smallest businesses had more difficulty jumping through the hoops.
UW-Extension's Steven Deller said the larger businesses and those with connections — either through previous enterprises or through seasoned investors — could more easily get private loans, if they were needed. Small businesses, which he defined as only having about a dozen employees, wouldn't have as easy a time.
"The big businesses have the wherewithal to do this on their own," Deller said. "The small businesses are the ones that need the help."
Sea of red tape
MadREP president Paul Jadin said running the program through the banks got the money out to businesses quickly, but it got that money to businesses that had the staffing and know-how to manage complex financial systems. Not all of the businesses that were struggling to pay their employees had those skills.
"We had companies call us and say, 'We just gave up,'" Jadin said.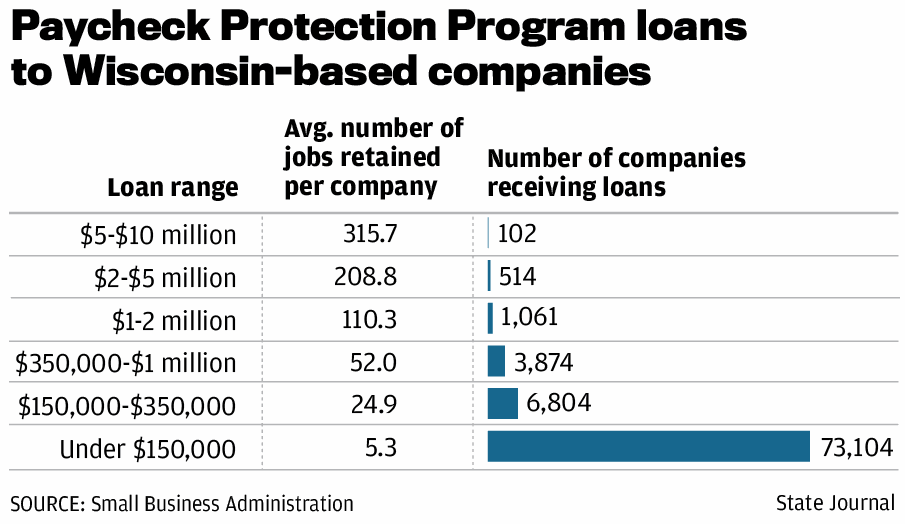 "I think it was too big of a hurdle to handle that banking process, then that grant process, then that accounting process."
The program awards fees to the financial institutions that administered the loans, which Deller said could have incentivized banks to prioritize larger businesses with receiving larger loans.
Even though the fees were stepped at 5% for loans under $350,000, 3% for loans between $350,000 and $2 million and 1% for loans between $2 million and $10 million, larger loans would still see a bigger profit. One percent of $2 million is $20,000 while 5% of $350,000 is $17,500.
"If they have a choice to work with five larger businesses versus 50 small businesses, they're going to choose the five," Deller said.
Eye on investors
Dozens of Wisconsin-based companies backed by deep-pocketed investors also took in money from the program and may be eligible for forgiveness on the loan, but the program was ultimately intended to keep people employed at their current jobs, not specifically to keep small businesses afloat.
Keeping existing employment numbers steady at companies allows workers to keep existing income and reduces costs for companies down the line if they had to hire new employees after a round of layoffs, said Mike Minnis, a professor at the University of Chicago Booth School of Business.
"It was, I think, really a balancing act between trying to target specifically where this was needed with probably over-allocating funds and having some funds end up in places where probably they weren't needed as much," Minnis said.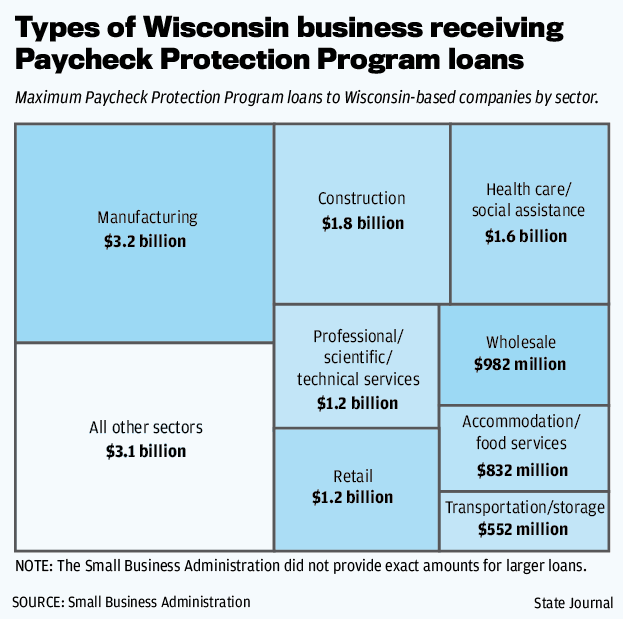 Late last year, Fetch Rewards, a Madison-based software developer that created an app to help people earn rewards for grocery purchases, brought in $25 million in investments from venture capital firms and others. They received between $1 million and $2 million from the program.
"We've poured our hearts into building a great company headquartered here in Madison, and when presented with a way to ensure we could keep all of our great employees onboard during such uncertainty, we owed it to our employees to seek that out," CEO Wes Schroll said.
SHINE Medical Technologies, based in Janesville, also received between $1 million and $2 million from the program. They also raised more funding through equity investments last year — $132 million.
"We used the money to pay our employees' salaries and provide for their benefits, which kept our business on track despite difficult economic conditions," the company said in a statement.
Both Deller and Jadin said whatever comes next from Congress to help small businesses, the programs should be designed to be accessible to the smallest businesses and those hit hardest economically by the pandemic.