The numbers have yet to be tallied, but the summer of 2018 appears to have been good for Wisconsin tourism.
"Anecdotally, what we've heard from our field reps is the major holidays were all very, very strong," said Kristina LeVan, spokeswoman for the Wisconsin Department of Tourism.
"It was a good summer ... Not too many rainy days," said John Chastan, general manager of the Kalahari resort in Wisconsin Dells. "People don't realize it but sometimes weather affects us."
Summer is traditionally the strongest tourism season, though 2017 saw stronger growth during the first half of the year, according to the Department of Tourism.
"It's been a busy summer," said Jen Rogers, communications manager for the Door County Convention and Visitors Bureau, where June lodging tax receipts were up 5 percent.
Rogers said the Labor Day weekend looks to be strong, with hotels and campgrounds filling up.
"The weather's been great this summer," she said. "This week is not the nicest, but if it's nice for Labor Day that's OK."
Dane County as a destination
While Wisconsin Dells is synonymous with tourism, Dane County is the second biggest destination in the state behind Milwaukee County.
Visitors to the county spent more than $1.2 billion in 2017, according to the Department of Tourism.
Rob Gard, director of communications for the Greater Madison Area Convention and Visitors Bureau, said even with the flash flooding that hit Dane County last week, the weather didn't scuttle any major events.
For the second year, the Crossfit Games brought tens of thousands of athletes and spectators to the Alliant Energy Center. Gard said an extra day of competition should boost the estimated $12 million in spending generated by last year's games.
"I heard from a number of businesses that Crossfitters came earlier and stayed later than last year," Gard said. "They were just everywhere."
Gard said the Bucky on Parade event — featuring 85 unique life-size statues of the state mascot throughout Dane County — have also been a boon to tourism.
"Bucky on Parade has been huge," Gard said. "There's not a single day we haven't seen people out checking out the Buckies."
You have free articles remaining.
Register for more free articles
Stay logged in to skip the surveys
While they may not have come just for the Buckies, Gard said visitors from across the nation have come into his office looking for maps.
Still weather dependent
Tourism is a billion dollar industry in the Wisconsin Dells, which attracts up to 5 million visitors each year.
Dominique Madland, communications coordinator for the Wisconsin Dells Visitor and Convention Bureau, said she won't have a sense of this year's numbers until after Labor Day.
"We had a pretty warm summer, so that definitely helps," she said.
But Madland notes the construction of indoor water parks has made the Dells less dependent on good weather.
Tax receipts were up over the previous year through July, but widespread flooding last week in western Wisconsin could dampen turnout for Labor Day weekend, which can account for up to 5 percent of revenues for seasonal outdoor attractions, said Tom Diehl, general manager and co-owner of Tommy Bartlett Inc.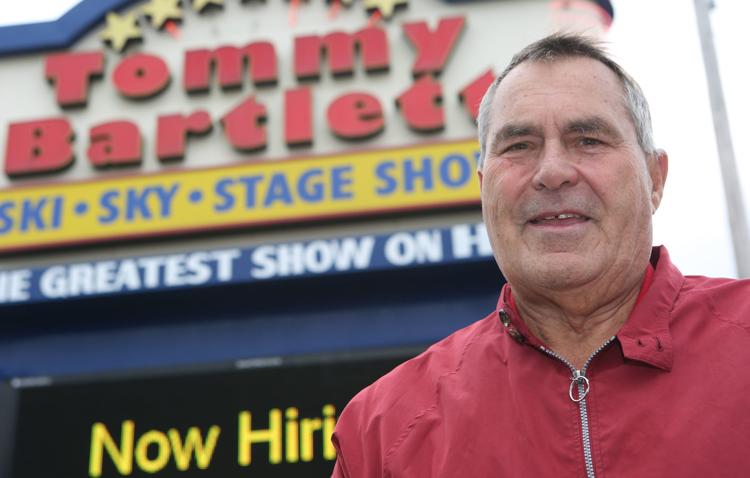 "Up until the monsoons came, the area in general was doing well," Diehl said.
While flooding didn't seriously affect the Dells, Diehl said the perception of damage or travel difficulties could dissuade some of the impulse tourists who come on holidays.
"We'll have to see how it turns out Monday," Diehl said.
Western Wisconsin got an unexpected boost in May when the Cabela's National Walleye Tour suddenly relocated because of high water on the Mississippi River in Dubuque, Iowa, bringing 400 anglers and their support crews to La Crosse.
"Sometimes luck is good," said A.J. Frels, executive director of Explore La Crosse, who added that he was able to land the event in less than 24 hours thanks to their experience with other major fishing tours.
Frels said the summer season has been especially strong and that La Crosse is benefiting from the outdoor opportunities provided by bluffs, water and trails.
"More and more people are looking to be active when they're on vacation," Frels said. "They want to get out and experience."