WINDSOR—The headquarters for CSM Companies is located on the second floor of a nondescript office building in the American Center Business Park in Madison.
The office is filled with large color photos of trucks and awards for the company that has 15 Kenworth and three Mack truck dealerships and six service facilities in seven states.
But the latest upgrade for the company that is rapidly expanding its foot print across the country's midsection is located along a half-mile strip of Interstate 39-90-94 just north of Highway 19.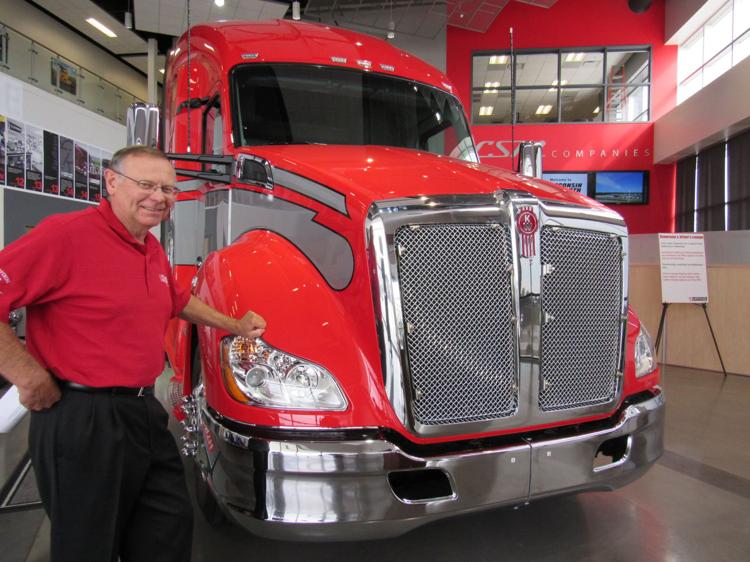 This is where a new $11 million, 77,000-square-foot building offers a gleaming showroom centered by a 2017 T680 Kenworth that goes for $152,000 and change. The room can double as a training center that includes a second floor classroom.
But it's more than just about selling new and used semi-tractors and continuing to use the old 33,000-square-foot facility to the south for prepping used trucks and doing body work.
A major portion of the new building, with a 1.75-acre roof that is surrounded by 10 acres of concrete, is about repair work. The service department has 30 bays with mechanics on duty 24 hours a day five days a week and all day Saturday.
One bay is dedicated to triage to quickly diagnose problem trucks while 14-foot by 16-foot polycarbonate doors and 51 solar tubes in the ceiling flood the massive workshop with natural light.
There's a $70,000 lift capable of elevating 60,000 pounds and three, 7.5 ton overhead cranes for removing engines that can log more than 1 million miles and undergo overhauls that can cost $30,000. A drivers lounge includes work stations for laptops, a half-dozen leather recliners, quick recharge stations for cellphones, Wi-Fi and a large, flat-screen television equipped with cable and Netflix.
"It's a big statement," said Dan Gebben, vice president at Wisconsin Kenworth. "It's a commitment to our customers and to our employees. It's not your typical truck dealership."
A parts and service center includes an adjacent 27,500-square-foot, two-story warehouse with an indoor sally port to load and unload parts trucks out of the elements. A satellite parts center in the middle of the service garage is used to quickly equip mechanics with basic parts while six service bays are specially equipped to make repairs to vehicles that use compressed natural gas.
"It's a lot bigger," said Andy Klopmeyer, a service technician for the past 8 years who attended Madison Area Technical College after graduating from Deforest High School.
The Lodi man was standing as he worked on the underside of an elevated truck.
"You don't have to work outside or lay on a creeper anymore," he said.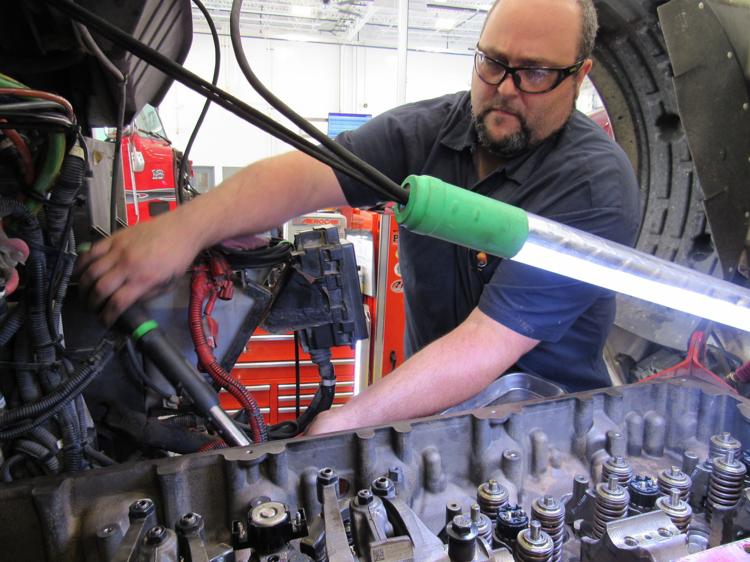 You have free articles remaining.
Truck sales are down nationally about 20 percent, according to Mike Clark, CSM's vice president of operations, but service work is helping to pad the dip in sales. In addition, for some in the company, the work may no longer entail big rigs. CSM, with $1 billion in sales, has been aggressively buying and merging with existing truck-related companies and opening new dealerships over the last 10 years. Clark said he thinks his company can double revenues over the next five years and continue to expand.
But the most recent move is into a different industry. CSM now owns a car dealership after buying Dearth Motors in Monroe. The business sells new Buick and GMC trucks and GM-certified used vehicles, and has been a mainstay in the community for decades.
"We want to excel as a company and there's a real opportunity for us to benchmark off of each other," said Clark, 49, who joined CSM in 2012 after spending 12 years with PACCAR, the company that manufacturers Kenworth and Peterbuilt trucks. "One of the things that the automotive (industry) does well is customer service. They're light years ahead of where we think we are in our industry. So how do we incorporate what they're doing into our business."
CSM, which also offers financing and truck leasing and rental services, is rooted in Dane County and has dealerships under the brands Wisconsin Kenworth, Michigan Kenworth, French-Ellison Truck Centers and Sahling Kenworth. The company employs more than 900 people, about 50 of whom work at the corporate office.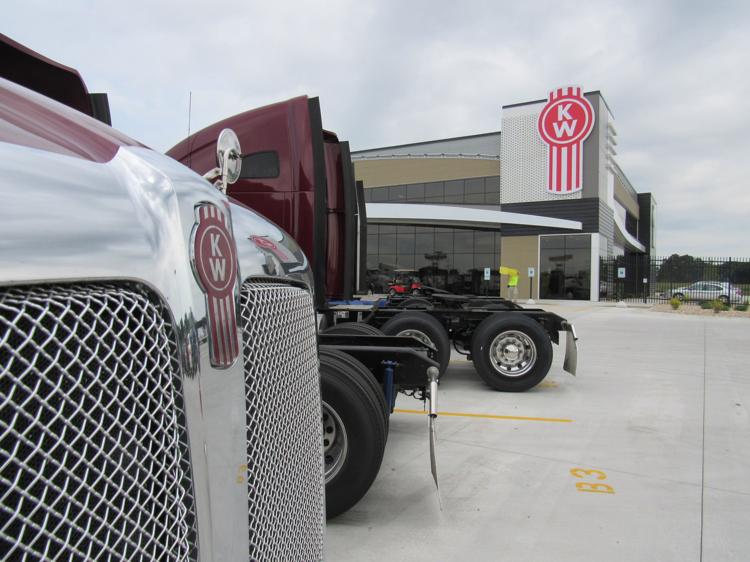 The company was founded in 1978 by Curt Collins and Bob Sorrentino who opened Madison Kenworth but in 1985 became known as Wisconsin Kenworth when they opened dealerships in Milwaukee and Green Bay. Dealerships were added in Menomonie in 1997 and Wausau in 1999 before James Moeller was named president and CSM Companies was formed in 2007.
What followed was a flurry of growth as the country came out of the Great Recession. CSM added leasing services in 2008 and fleet management companies in Appleton and Rockford, Illinois, in 2010. That same year the company purchased Michigan Kenworth and Sahling Kenworth in Nebraska. That was followed by the addition of CSM Financial in 2011 and then in 2012 the opening of a dealership in La Crosse and the purchase of Brecheisen Diesel in Gaylord, Michigan. In 2013, CSM merged with French-Ellison Truck Center in Texas to create one of the largest truck dealership groups in the country.
"Our customers will benefit from the convenience of a larger footprint and customer focused capabilities that come with greater economy of scale," Moeller said at the time. "This merger continues a growth trend for CSM. Our goal is to execute measured expansion as our customers' needs increase, both geographically and in products and services."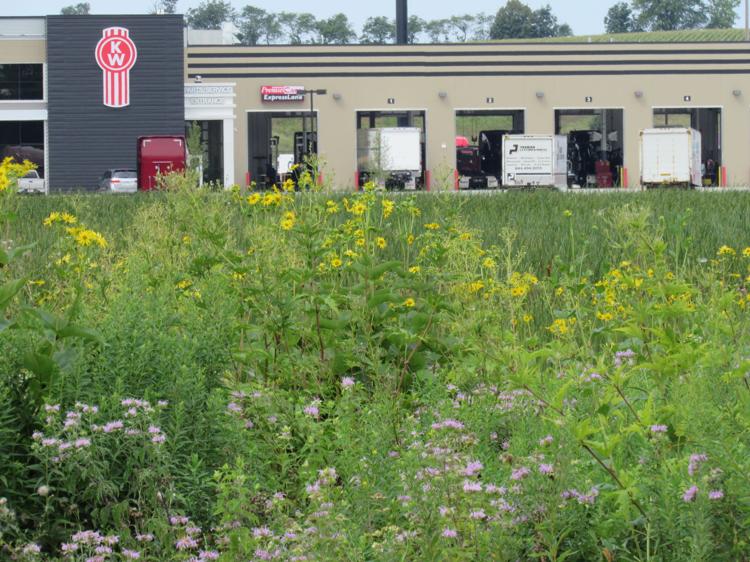 The new Windsor facility, constructed by J.H. Findorff & Son in Madison, is a prime example of Moeller's vision.
The facility uses geothermal and radiant floor heating and has a hose system that distributes oil, lube and coolant to each service bay. The building is home to 76 employees, 26 of whom are service technicians along with five full-time parts delivery drivers. Another 20 people, most of them service technicians, are likely to be added over the next year but finding qualified candidates, who after a few years can make $30 an hour, remains a challenge, said Dennis Petzke, the dealership's manager.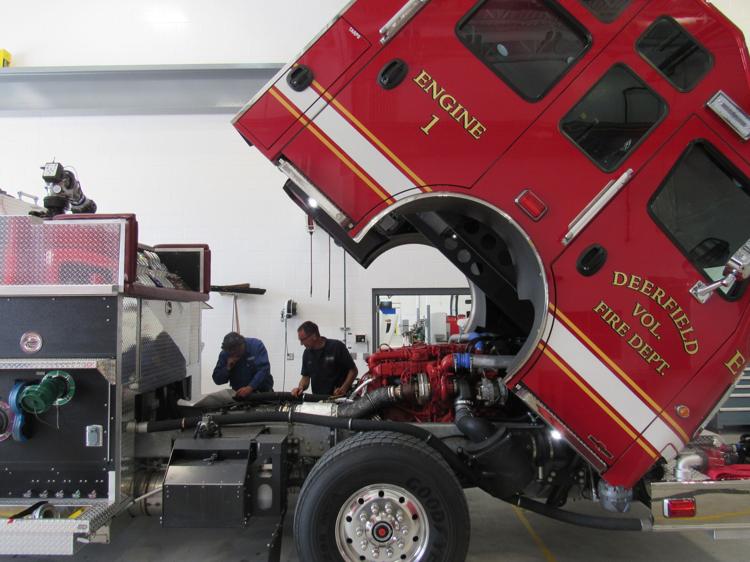 "There's just not enough people coming into it. There's some classes around at vocational schools but they get gobbled up so fast," said Petzke. "They don't meet the demand in the market place. I'd like to have a dozen more right now."
Petzke, 63, grew up on a farm in rural Sauk County where his dad also worked part-time hauling cattle. Petzke has worked in CSM dealerships in Milwaukee and Green Bay, as the service and parts director and in the corporate office. He lives on River Road, just a few miles from the new dealership.
New trucks line the lot. And while sales are critical to the success of the business, service work is a staple. About 50 percent of repair work can come from long haul truckers with the remainder from local trucking firms. Recent customers included several trucks from Frank Distributing, Landmark Services, Skinner Transfer in Reedsburg and even a fire truck from Deerfield.
A $300,000 chassis Dynamometer (a bed of rollers that allows a truck to be operated without it moving) allows technicians to simulate loads without leaving the facility instead of taking trucks out for long rides to diagnose problems, something that can require two technicians.
"We were due to build a real nice home store," Petzke said. "We were crowded out in parts, crowded out in the shop. This location is hard to beat."