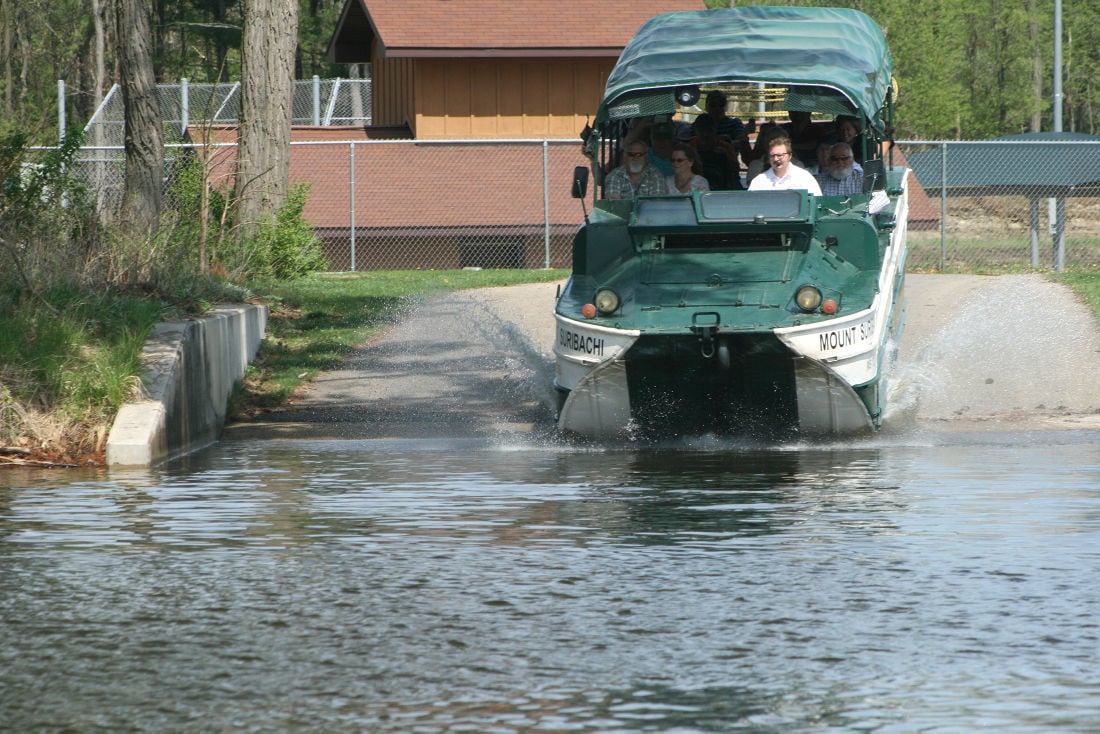 Operators of amphibious "duck boat" tour companies in Wisconsin Dells say their vehicles are safe, and an accident like Thursday's deadly sinking of a similar craft in Missouri is unlikely here.
Dan Gavinski, owner and operator of Original Wisconsin Ducks in Wisconsin Dells, said customers on his fleet of WWII-era land-and-water vehicles turned tourist attractions can be confident his boats are safe.
"We've been doing this for 73 years," he said. "We think our training procedure is fantastic."
Some of the popular tourist area's most recognizable attractions, Gavinski's Original Wisconsin Ducks and Dells Army Ducks, provide tours of the scenic Dells-area waterways and trails.
Thursday's sinking involved a duck boat carrying 29 passengers and two crew members on a large lake near Branson, Missouri. The boat capsized after getting caught in a storm squall with high winds, killing 16 passengers and the driver.
Jason Field, general manager of Dells Army Ducks, said the boat used in the Missouri accident was modified to be longer and carry more passengers.
Both Wisconsin Dells tour boat operators said the geography of the area reduces the chance of severe conditions like those that caused the capsizing in Missouri.
They said the Dells' boats operate on a riverway that is protected from high winds and waves and on a much smaller lake than the one in Missouri. Both said they operate close to shore and can easily abort tours and get to land if an emergency arises.
Both also said their staff members are constantly monitoring the weather. If severe whether could be nearby, the boats are pulled off the water and tours paused, they said.
You have free articles remaining.
"When we're seeing red on the radar, we're not sending guests on tour," Field said.
The operators said they don't plan immediate changes to business operations, but Field said he'll wait for an investigation to be completed before looking at long-term changes.
In addition to training, drivers for both companies have commercial licenses.
While there have been other high-profile tragedies involving the vehicles — such as a 1999 duck boat sinking in Arkansas that killed 13 — both Wisconsin Dells companies said they haven't had any serious incidents or injuries.
'Complete confidence'
About half of Gavinski's business is from repeat customers, which he said shows how safe people feel on his company's tours. "Our customers have complete confidence," he said.
Wisconsin Department of Natural Resources spokesman Jim Dick said tour boats are regulated like other boats in the state.
"They must be registered every year … and must follow the state's operational, navigational and equipment rules and regulations for boating," he said.
The duck boat tour business community is a small one, with the vehicles operating in just five or six cities nationwide, Field said. He said Dells Army Ducks is thinking about those affected by Thursday's sinking.
"We're a tight-knit community," he said. "My thoughts and prayers are with the families."