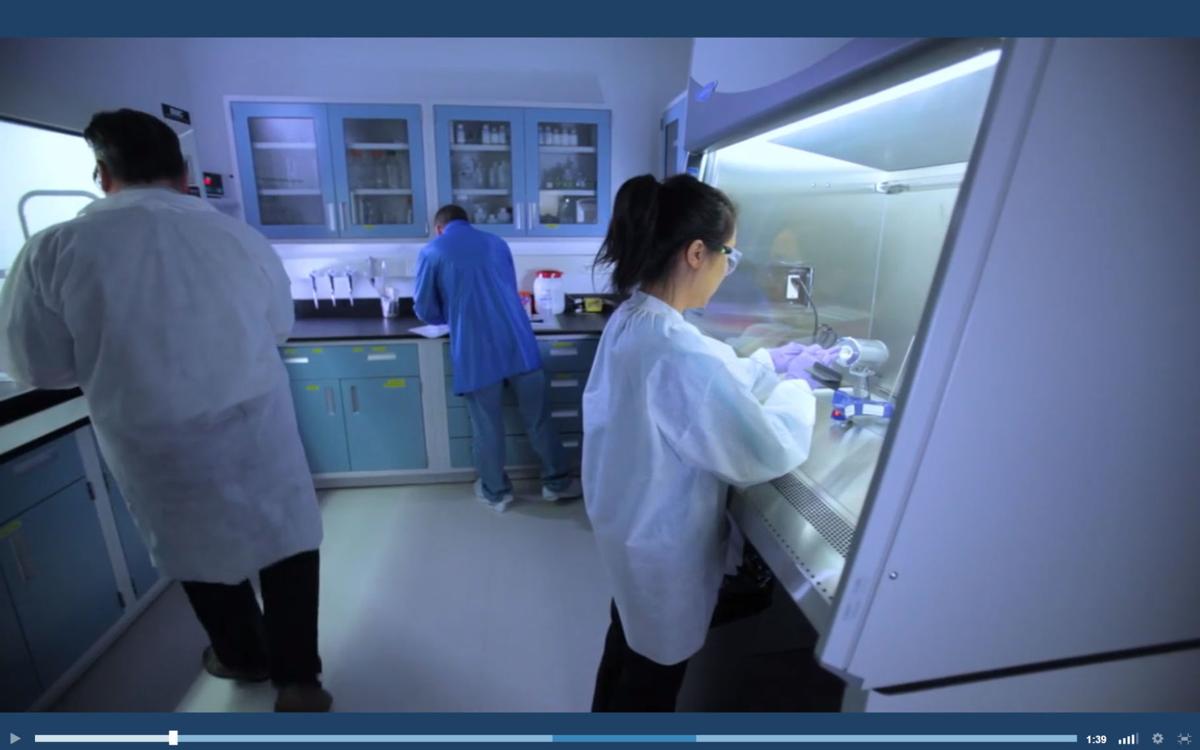 NorthStar Medical Radioisotopes, a former Madison company now based in Beloit, has federal approval to become the first U.S. supplier in 30 years whose technology can be used to produce a critical radioactive imaging product — technetium-99m — "the most widely used radioisotope in medical imaging," according to the U.S. Food and Drug Administration.
The FDA has approved NorthStar's RadioGenix System to produce technetium-99m, used in more than 10 million diagnostic procedures a year in the U.S. to detect heart disease and cancer and to test lung, liver, kidney and brain function.
The Nuclear Regulatory Commission will license the RadioGenix System so nuclear pharmacies can operate the equipment to produce technetium-99m for medical purposes, the FDA said Thursday.
The development is "the first step in our commitment to provide innovative products and solutions for the nuclear medicine community and the patients it serves," NorthStar chairman and CEO George Messina said in a statement.
NorthStar said it plans to start shipping products to customers within several weeks.
While NorthStar's headquarters is in Wisconsin, the product manufacturing is not expected to take place in the state.
Officials of the company said they would not be available to answer questions until next week, so no information was immediately forthcoming on how many employees NorthStar has or if the regulatory clearance will result in hiring more Wisconsin staff.
Technetium-99m is used with diagnostic scanners and sends signals that produce an image of internal organs to detect health problems, the FDA said.
It is derived from molybdenum-99, which, up to now, has been manufactured in aging nuclear reactors outside the U.S., using enriched uranium, and often is in short supply.
NorthStar said its RadioGenix technology uses stable isotopes of molybdenum, rather than molybdenum-99 made from enriched uranium, reducing both the national security and environmental risks involved in producing the substance.
The company has been making molybdenum-99 for testing purposes at the University of Missouri Research Reactor in Columbia, Missouri, and that is where production is expected to continue.
NorthStar will sell the molybdenum-99 and its RadioGenix equipment to nuclear pharmacies which will generate the technetium-99m.
NorthStar said its RadioGenix System is an automated radioisotope separation system that also could be used to produce some types of therapeutic isotopes in the future. The company did not say where the RadioGenix equipment will be assembled.
NorthStar has built a 50,000-square-foot building in Beloit. In February 2016, a company spokesman said the building would house NorthStar's administration and customer service, and may expand to include production at a later date.
NorthStar has received financial incentives from the state of Wisconsin and the city of Beloit for its planned operations.
The former Wisconsin Department of Commerce awarded NorthStar up to $14 million in Enterprise Zone tax credits in December 2010 for capital investment and job creation. "However, the company has not hit its ... goals yet and has only received $1.7 million in credits" so far, said Mark Maley, Wisconsin Economic Development Corp. spokesman.
Maley said the state contract called for 131 jobs to be created; as of Dec. 31, 2016, WEDC's most recent data, 66 jobs were added.
WEDC also allowed investors in NorthStar to receive up to a combined $2 million in Qualified New Business Venture tax credits.
The city of Beloit sold NorthStar a site for $1; provided a $50,000 job training grant; and agreed to a "direct developer incentive payment plan." The plan calls for a series of payments to the company of up to 35 percent of the property taxes it pays, based on job creation. Under the agreement, NorthStar is required to have 165 jobs in Beloit by the end of 2018 for the full 35 percent payment in 2018, said Sarah Millard, the city manager's director of strategic communications.
NorthStar's approval by the FDA is "excellent news for the entire region," said Beloit economic development director Andrew Janke. "We are hopeful this will lead to additional job creation and capital investment for the community."
Wisconsin competitor
Another Wisconsin business also plans to produce molybdenum-99 and has been competing with NorthStar for at least the past eight years, after the U.S. Department of Energy called for new, safer manufacturers of the isotope.
SHINE Medical Technologies, formerly of Monona and now in Janesville, uses a different technology that also avoids highly enriched uranium but is not expected to start commercial production until 2020.
Katrina Pitas, SHINE's vice president of business development, said she does not think NorthStar's first crack at the market will hurt SHINE's chances for success since there are other, long-time producers of molybdenum-99 from outside the U.S.
Pitas said SHINE still expects to be "the first company to produce commercially relevant quantities of moly-99 in Wisconsin" and she said SHINE's molybdenum-99 will be more pure and more concentrated than NorthStar's.
"NorthStar's system requires that the nuclear pharmacy perform its own purification and sterilization in-house and supplies the equipment needed for that process. This system takes more space and takes much longer to do than the conventional system," Pitas said.
SHINE, an offshoot of UW-Madison research, recently completed the first of several buildings and moved its equipment in last week. The building will be used for technology development, equipment testing and employee training, SHINE CEO Greg Piefer has said. Construction of the main production facility will begin later this year. SHINE has 62 employees, Pitas said.