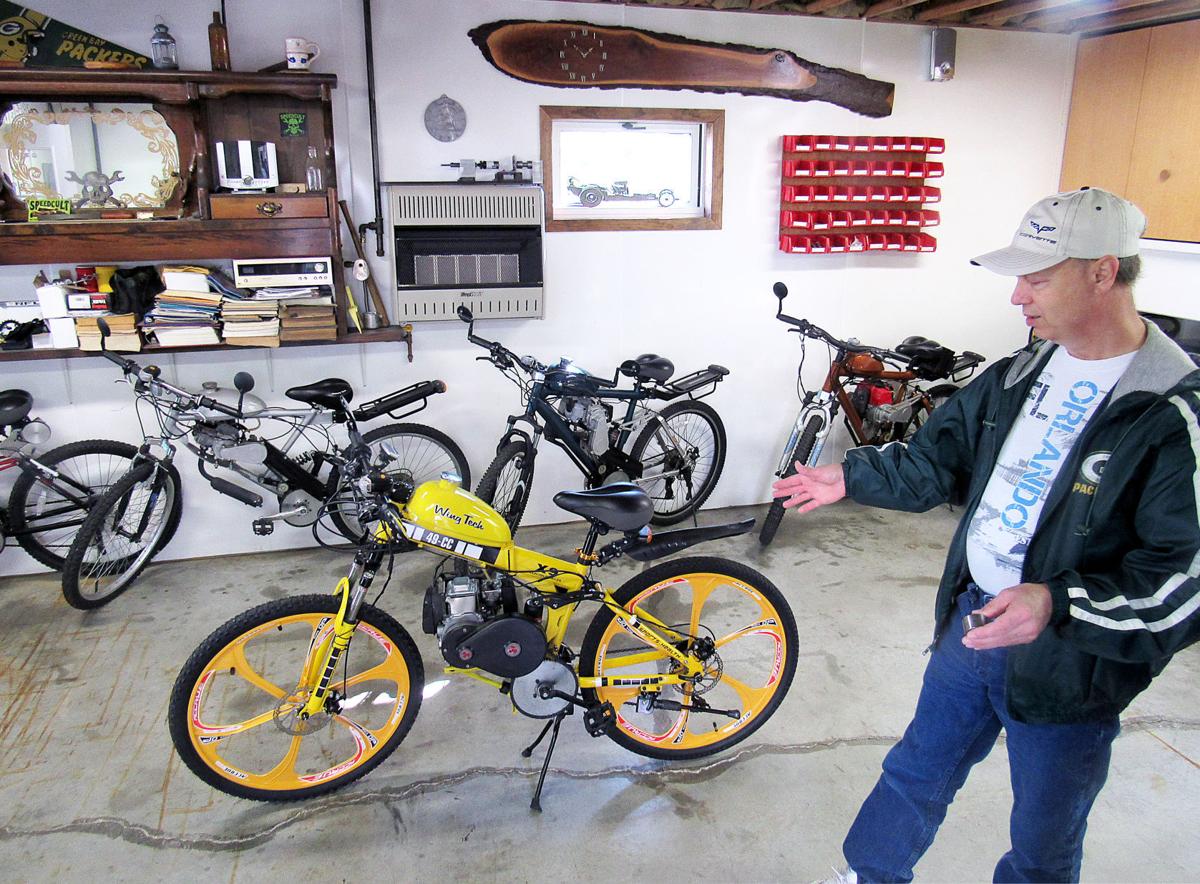 BELMONT – Jeff Adams is trying to build a better bicycle.
Only the design the professional machinist has been tinkering on in his spare time has a four-stroke, 49 cubic centimeter gasoline motor and a patented transmission that allows for multiple gears compared to most other motorized bikes that have only a single speed.
And now after multiple variations, Adams, who has been working out of the neatly organized garage that also houses his 1976 Ford Elite, is about ready to begin taking orders on his Wing Tech Bikes.
Adams, 59, believes his product will be ideal for college students, short-distance commuters, those with physical limitations or who ride on hilly streets and roads much like those that surround his home in this southwestern Wisconsin village of about 1,000 people.
The bike, which includes pedals and a two-thirds of a gallon gas tank, also offers an alternative to electric bikes that have become popular in some parts of the country, including Madison. Adams, who is looking for investors, has spent the last six years fine-tuning his product that has a top speed of 30 mph and can get 150 mpg.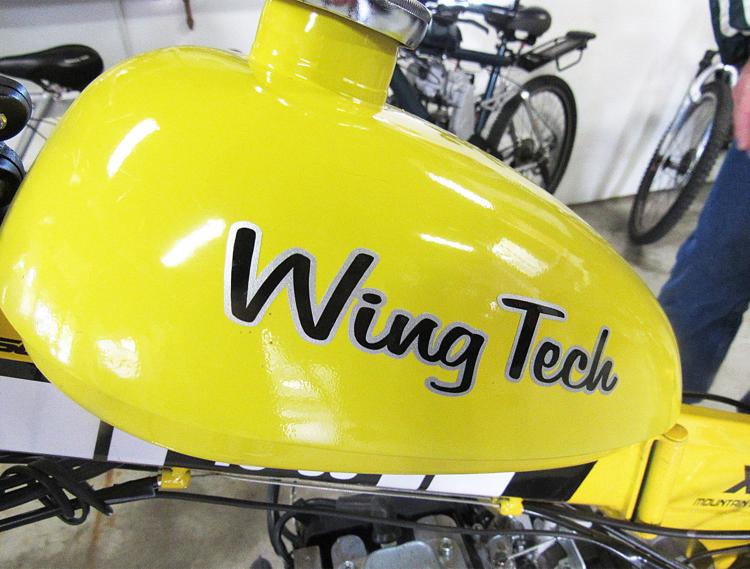 "This is the first bike where I've thought I've got the right combination of parts where the public would say 'This is a good product,'" said Adams, who has built five other bikes prior to finding the current design. "The other bikes were two-cycle. They're hard to start, loud (and) they drip oil out of the exhaust. I like this one. It rides very smooth."
Motorized bicycles have been around for over a century. In 1901, William S. Harley completed the design of an engine to fit a bicycle. Two years later, Harley and Arthur Davidson began making motorcycles out of a small shop in Milwaukee.
Other manufacturers over the years have included Los Angeles-based Whizzer from the early 1940s to 1965, and, following World War II, Ducati, an Italian manufacturing company, produced over 200,000 motorized bicycles until discontinuing the line in 1958.
More recently, Cheata Bikes in Milwaukee began production earlier this year on three models of bikes that range in price from about $1,600 to $2,995. Both Cheata and Wing Tech source their motors and bicycle frames from China but modify the bikes to their liking.
Madison is also home to a motorized bike company. In 2013, Len Mattioli opened Crazy Lenny's E-Bikes at 6107 Odana Road. The business sells a variety of electric bikes from around the world. Most have a top speed of 20 mph and range in price from about $500 to $3,000 with a few high-end models topping out at around $10,000.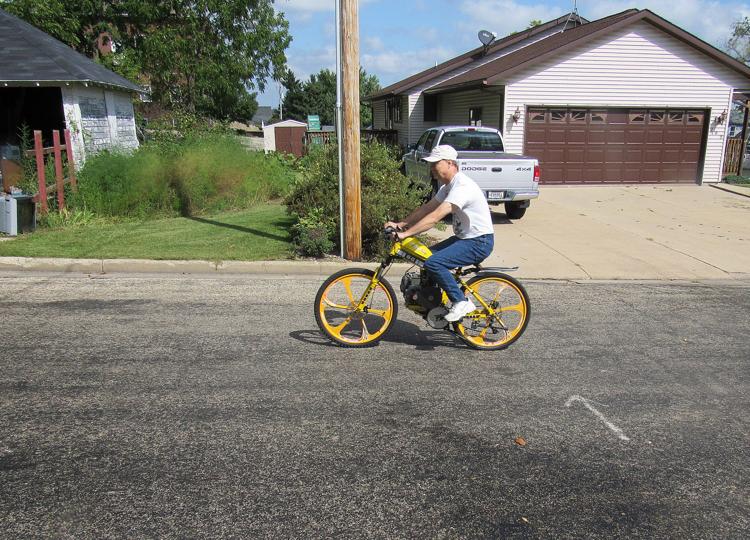 Arthur Ross, the city of Madison's pedestrian-bike coordinator since 1987, said state law dictates that electric- and gas-powered bikes with a top speed of 30 mph are treated like a moped in that operators need to have a driver's license. The bikes can use bike paths but only under pedal power.
"It used to be fairly rare and I'm starting to see them a little bit more often lately," Ross said. "I think for some people either gas- or electric-powered motor bikes can be become an alternative to a moped."
You have free articles remaining.
Adams grew up south of Platteville on a farm along the Platte River. After high school he attended Southwest Wisconsin Technical College in Fennimore and later worked in an automotive body shop before working in maintenance, machining and factory automation.
In 1991, he purchased a dilapidated house constructed in 1910 in Belmont and spent years remodeling the structure from top to bottom. He also added a garage where he now has a shop that includes chests filled with tools, shelves lined with parts, a drill press, welding machines and a combination milling machine and lathe built in 1916 that he purchased in 1987 for $800.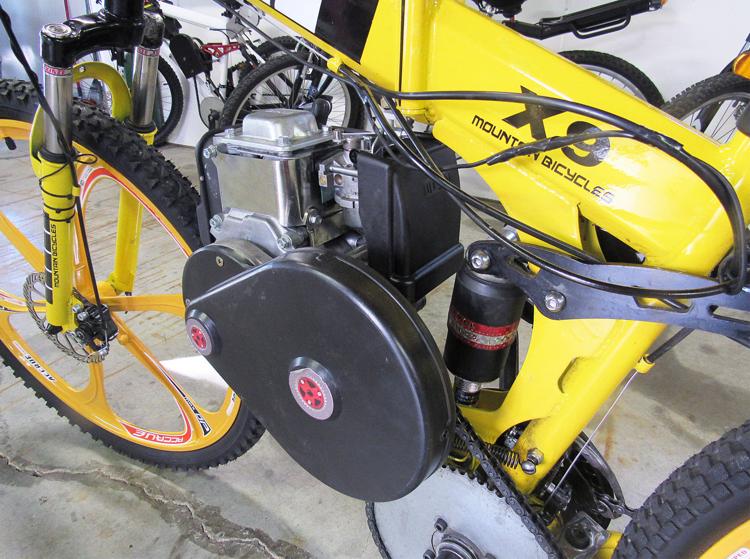 Adams buys the bikes and the motors separately and uses a bike frame that can be folded for easy hauling but only slightly modifies the bike.
The changes include the addition of the gas tank that is bolted to the top front cross bar and drilling two holes in the frame in order to mount the motor. Adams uses the bike's original gears for part of the transmission.
He adds a second large sprocket to the opposite side of the original large front sprocket which allows the power from the motor to be transferred to the original bike gears.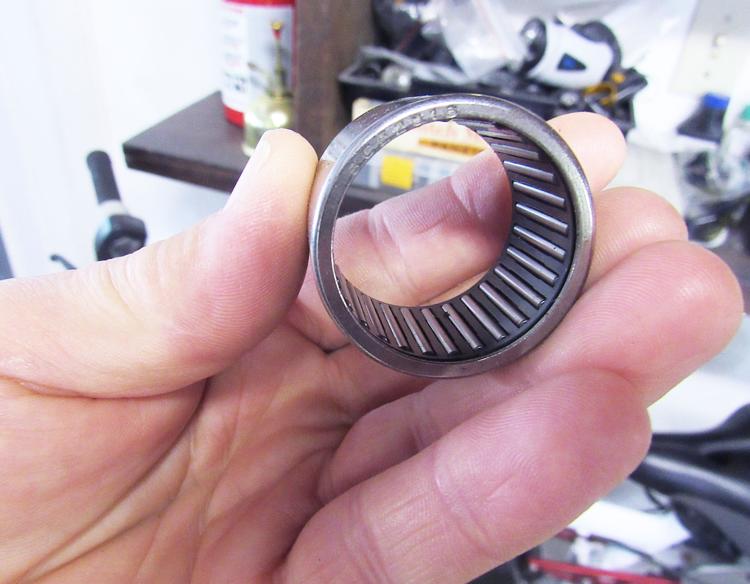 "That creates a very good transmission where you can have very many gear ratios. It's a big advantage," Adams said. "I want to make the most fuel-efficient, gas-powered vehicle ever made. It has that possibility."
The steel-framed bike with magnesium rims weighs in at about 80 pounds when the gas tank is full.
Adams used an 80 cc motor in his first design and then built three other gas bikes in addition to an electric bike before finding the right design in his sixth attempt.
The bike, which will sell for about $2,500, includes brake, blinker and headlights, a digital odometer and speedometer and a pair of side mirrors.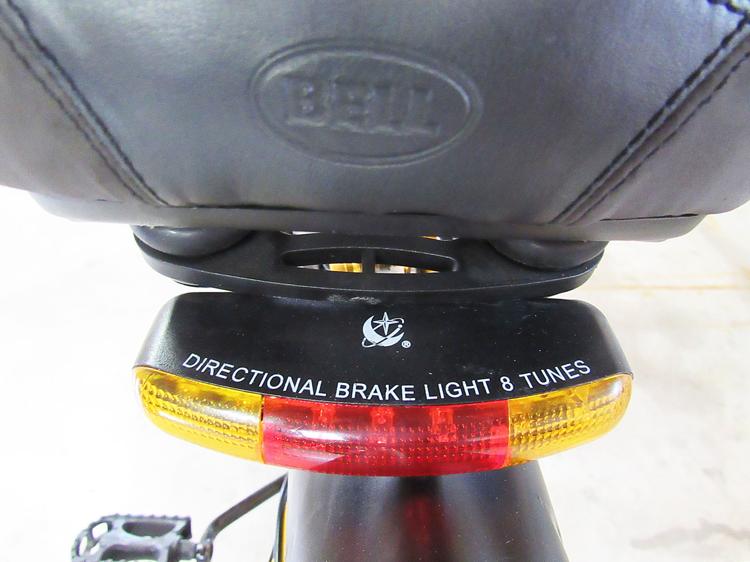 Adams came up with the idea after coming up empty when searching the internet for a motorized bike with different speeds. Now he's looking for a place to build his bikes, preferably in the Madison area. The location would allow for sales and provide a service location for repairs.
He'd also like to expand the offerings to include fat tire bikes and build different versions of his road bike.
"It's been a lot of work," Adams said. "I enjoy designing stuff but I've had to learn a lot about patents and starting an LLC. I've spent a lot time on the internet looking for better parts and better prices so it's been very challenging."