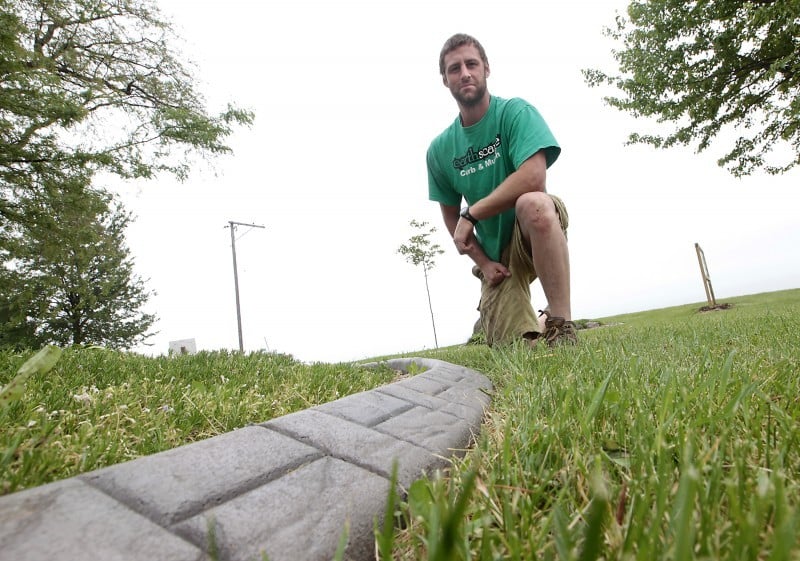 As an alternative to black plastic edging around a flower bed or landscape installation, I sell and install concrete curbing, which is available in many different patterns and color combinations. I also offer residential and commercial lawn care, landscaping services and decorative path, walkway and driveway installation. During the winter, we do snow removal and plowing.
I first meet with clients to determine where they would like the curbing installed. Customers can visit the curb center on Vinburn Road in DeForest to see 10 landscape beds showing the colors and patterns in a real outdoor setting. Instead of looking at photos to figure out what they prefer, they can see the curbing up close. Customers visit one place in a relaxed setting rather than having to drive to several homes where we've installed curbing.
When we get to a home, we remove all of the plastic edging, brick edging or other border. Using a sod cutter around the bed, we make a trench so that the curbing can be installed. I use a curb extruder, which puts the curbing on the ground, and the curb trailer, which looks like a large square sandbox and contains a big concrete mixer. No heavy equipment is used. The front edge of the curb is flush with the lawn and a mower can go over it without causing damage. Grass doesn't grow over, through or under it.
I'm originally from Appleton, and some of my friends started a curbing business there. I worked with them and enjoyed the business.
I decided to move to Madison and asked my brother Zach to join me in the business. At that time, Zach was in the Madison Area Technical College fire academy. Six guys from Zach's class came on with us as our crew and are still with the company.
To get the business started, I went door to door in the neighborhoods where I had installed curbing to introduce prospective customers to it. When I see customers in the grocery store or at various events, they always tell me how much they like the curbing. It's a creative product that lasts 10 to 15 years and is durable during the winter weather.
My mentors are brothers Lyle and Alan Buchner, owners of Circle B Mulch. They've worked together for 30 years and showed me that to be successful it's important to have a good work ethic.
What I Do features area residents who have interesting or unique jobs. To suggest someone to feature, contact Jill Carlson at jillcarlson1957@gmail.com with the name, contact information and a brief description of what the person does.
The business news you need
With a weekly newsletter looking back at local history.