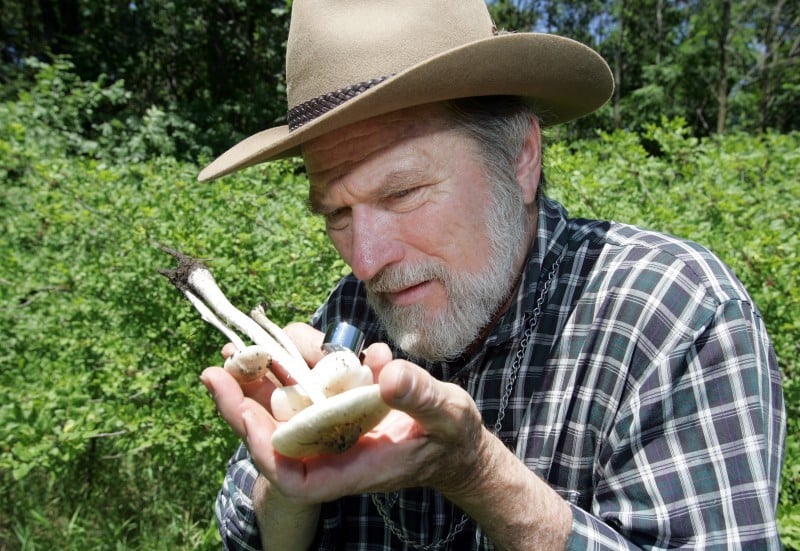 I identify mushrooms and other fungi including those found in yards, on trees and other plants, and on wooden structures. I identify mold on bathroom walls, in the basement, on patios or siding. I get calls from homeowners asking if the mushrooms growing in their yard are poisonous especially after we've received a lot of rain.
As a child, I was interested in natural sciences. I was a research mycologist at the U.S. Forest Products Laboratory for 34 years before retiring. Ten years ago, I started my consulting mycologist business.
Mycology is Greek meaning "fungus" and is the branch of biology concerned with the study of fungi, including their genetic and biochemical properties.
I also held an adjunct professor (now emeritus) appointment and taught advanced mycology in the plant pathology department at UW-Madison. I lecture academic classes, lay groups and professional societies and advise graduate students on the biology and taxonomy of fungi.
It was from Miami University in Oxford, Ohio, that I earned my bachelor's degree in botany in 1962. I received my doctorate in mycology and plant pathology from Cornell University in Ithaca, N.Y., 1967. While at Cornell, my mycology professor, R.P. Korf, recommended that I branch out to act as an expert witness to identify fungi and diagnose decays in lawsuits. Professor Korf is one of my many mentors because of his advice.
Advising attorneys about fungal biology and fungus/wood interactions including molds, mildew and decay and writing sworn opinions on fungal biology questions for litigation are some of the ways that I've put Professor Korf's advice to use. I've also provided advice to attorneys and homeowners on biological aspects of decay that may cause tree failure, which could cause the tree to fall on the home.
Some of the tools that I use are a research microscope, razor blades to take thin specimens and an autoclave.
Twenty years ago, I expanded my scope to include the identification of wood molds. During my research, I identified more than 2,100 isolates from wood chips imported from Chile and was involved in describing 50 new species and several new genera. I've studied wood-inhabiting fungi from all parts of the world. There are literally hundreds of thousands of fungi.
---
"What I Do" features area residents who have interesting or unique jobs. The column runs every Tuesday. To suggest someone to feature, contact Jill Carlson at jillcarlson1957@gmail.com.