Webcrafters, a family-owned book manufacturing company in Madison dating to 1868, is being purchased by a Minnesota company that owns more than a dozen similar print and publishing firms across the country.
CJK Group, of Brainerd, said Monday it has reached a "definitive agreement to acquire the assets" of Webcrafters, a supplier to the educational publishing and catalog markets with about 270 employees — or roughly half what it employed five years ago. Financial terms of the acquisition agreement were not disclosed.
But CJK Group spokeswoman Susan Wiercinski on Monday said Webcrafters will remain in Madison and will keep its name and signage after the acquisition closes Nov. 1.
"We like each of our companies to remain independent and maintain their brand," she said.
It's too early to know, Wiercinski said, whether any of Webcrafters' rank-and-file employees will be laid off after the takeover takes effect or whether any new business that results from the transaction could lead to hiring.
CEO Jac Garner and other Webcrafters leaders will be leaving, Wiercinski said, with a transition team from Webcrafters and CJK Group to meet over the next 30 days "to do a deeper dive on the company and its processes."
"They'll lay out a plan (for employment) after that," Wiercinski said. "The goal is to focus on emphasizing the best of (Webcrafters') core capabilities."
Garner filed a notice of the business sale Monday with the Wisconsin Department of Workforce Development that stated Webcrafters will continue to employ its current workforce through Dec. 31, under a leasing arrangement with CJK Group. The employees are not represented by a union, Garner said, and have no bumping rights.
Garner also said a mass layoff appeared to be unlikely, based on information he'd received from CJK Group.
"It is Webcrafters' understanding that CJK will likely retain, even after the end of the leasing period, a substantial number of Webcrafters' employees," Garner said in the letter to DWD. "Nevertheless, in order to be prudent and to ensure that both any affected employees, as well as the appropriate governmental units, are made aware of the sale, we are providing this notice."
Webcrafters, at 2211 Fordem Ave. on the East Side, was founded in 1868 as a printing business. It's been owned by the Frautschi family since the 1950s, but as demand for printing services has waned, the company has cut staffing through voluntary separations and layoffs.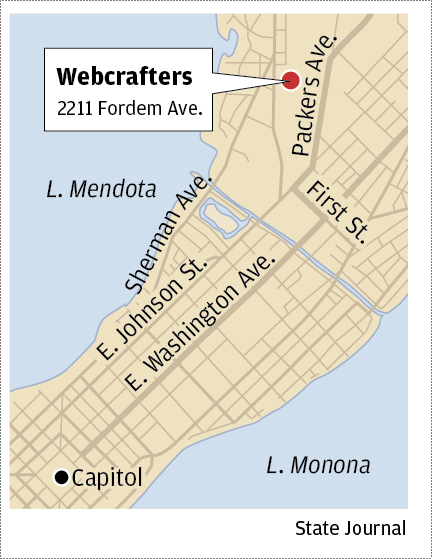 In 2012, Webcrafters reduced its payroll, then numbering about 540 employees, by 25 percent, or 133 jobs. In May 2015, another staffing cut of at least 20 percent was announced after a reported drop in business from a major customer, for a loss of at least another 80 jobs.
Company officials have said changes in technology, with more online content and electronic publishing of books, coupled with lower funding for printed educational materials by state and local governments, have been driving the business losses.
Webcrafters provides conventional offset printing, digital printing, bindery and specialty finishing services. It has production plants on Fordem Avenue and at 5847 Blue Bill Park Drive in Waunakee.
In a statement Monday, Garner called the acquisition "a big step forward" for Webcrafters.
"The CJK Group has the right vision for making certain that Webcrafters has a durable and future-oriented strategy to continue as a key player in the marketplace and do that right here in the Madison area," Garner said. "Both the (Frautschi family) and executive leadership see today as a great next chapter for Webcrafters."
In the same statement, CJK Group CEO Chris Kurtzman said, "We are very excited about this transaction as it strengthens our ability to serve the educational publishing and book communities. Webcrafters is well known in the marketplace for its family values and exemplary service, making it a perfect fit within the CJK family of companies."
With the Webcrafters acquisition, CJK Group is the holding company for 17 companies around the U.S. involved in publishing, print and related services, according to CJK.