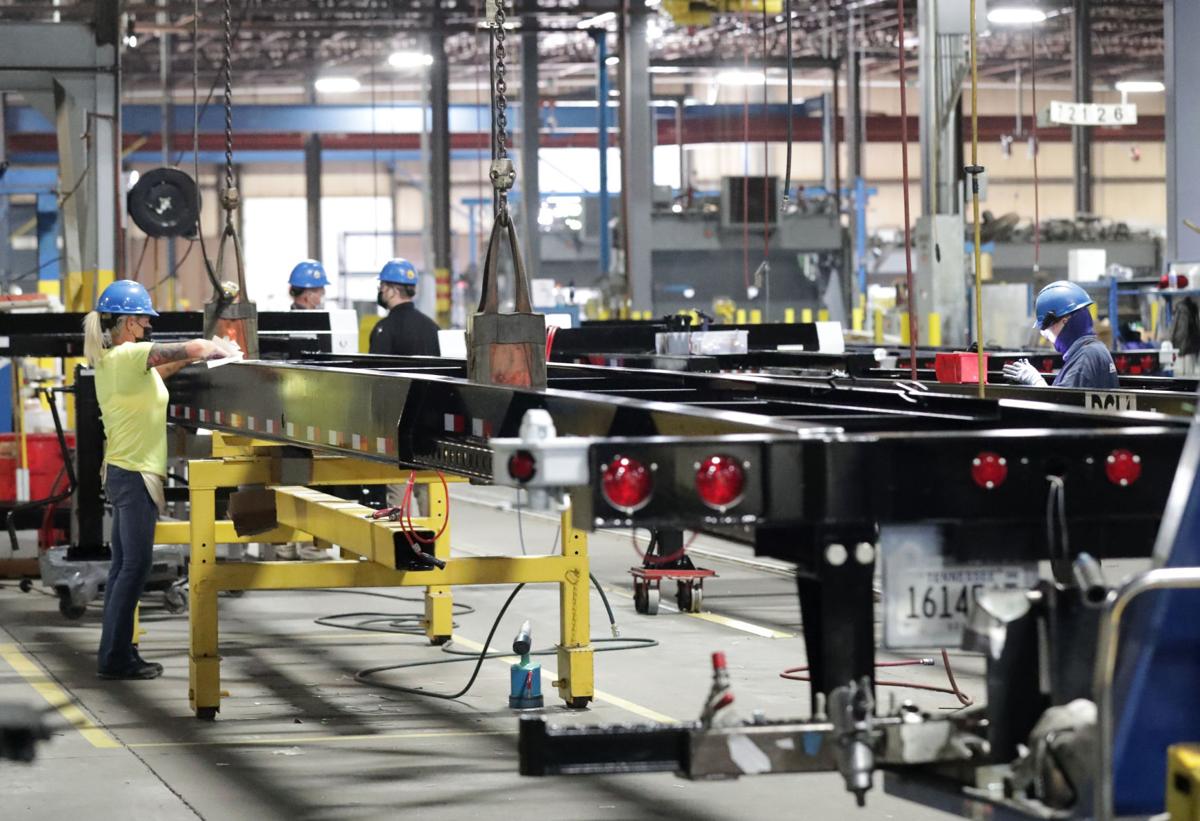 STOUGHTON — The move was made for survival, the timing fortunate and the payoff hundreds of jobs at one of Dane County's largest manufacturing firms.
A coalition of U.S. chassis manufacturers is celebrating federal rulings that will dramatically increase tariffs on intermodal chassis used to haul shipping containers imported from China.
For Stoughton Trailers, it means the addition of 300 jobs at its Evansville plant and increased production at the company's parts manufacturing facility in Stoughton. The company will make about 5,000 chassis this year but by 2022 wants to produce 15,000 chassis a year to help grow overall annual U.S. production to 30,000 to 40,000.
The U.S. International Trade Commission last month issued a 44.3% tariff for the next five years on the chassis and sub-assemblies. Last week the U.S. Department of Commerce made a similar ruling that is expected to drive the total tariff to 221%.
The chassis are not those used on the typical trailers produced at Stoughton Trailers. Instead, they are built for containers double-stacked on train cars. When the containers are off-loaded at train yards, each is placed on a chassis that is then pulled by truck to warehouses, distribution centers and stores.
In 2019, Bob Wahlin, president and CEO of Stoughton Trailers, began creating the Coalition of American Chassis Manufacturers with four other companies and worked with Wiley Rein, a large Washington, D.C., law firm. In June 2020 the group filed a petition that ultimately proved that unfairly dumped and subsidized imports of Chinese chassis were injuring the U.S. chassis industry. A surge in online shopping created by the pandemic has only added to the demand for the chassis that sell for about $14,500 each.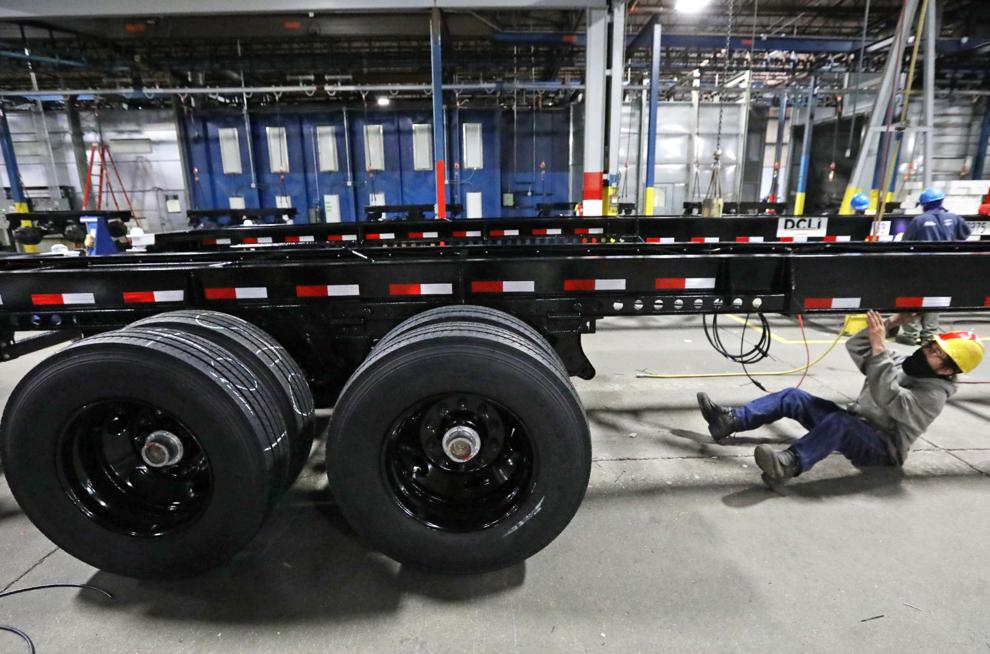 "It has been a bigger boom than I think anyone expected a year ago when we filed the petition," Wahlin said. "Those shipping companies have been operating for almost a year now at peak levels where they've had a year of holiday season-like surges and a lot of them were not prepared for that. And now that that's happening a lot of trailer companies have the challenge of finding people, hiring people, ramping up and investing in new equipment and automation to support that. So it's really taken off faster than people expected."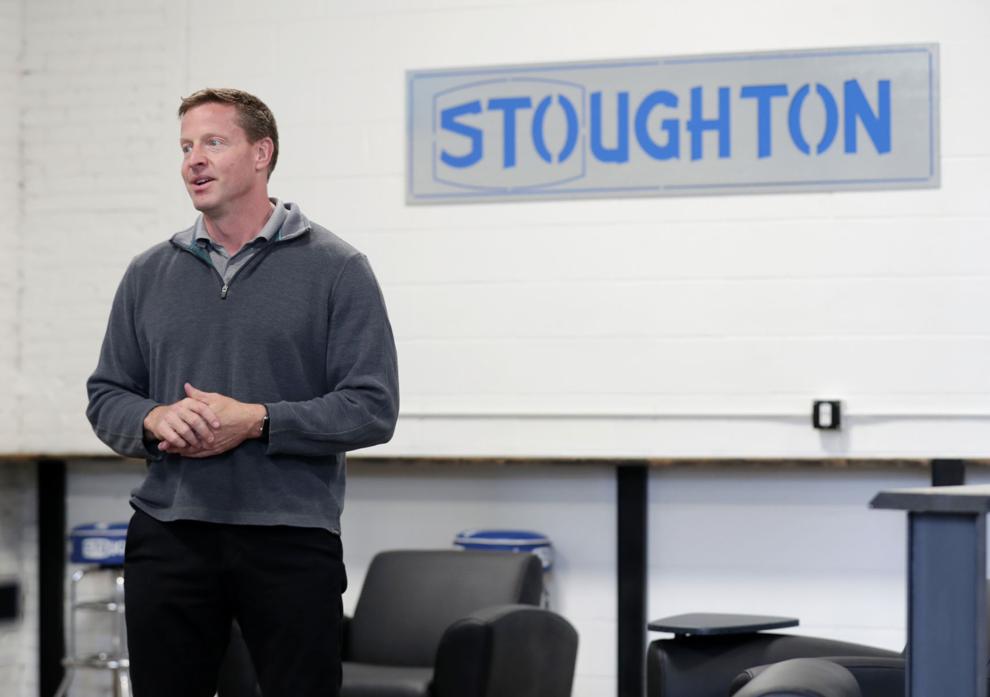 The company, which has made $30 million in improvements to its facilities in Stoughton, Evansville and Brodhead over the last five years, is now in the midst of a hiring spree. It's offering $20 an hour and providing on-the-job training for welders; painters start at $18.25 an hour and assemblers at $16 per hour. The plan is to add a second shift at the Evansville plant while the company has plans for another $10 million in improvements by the end of this year, Wahlin said.
Automated manufacturing is a big part of that investment but the company still needs hundreds of people to fill positions.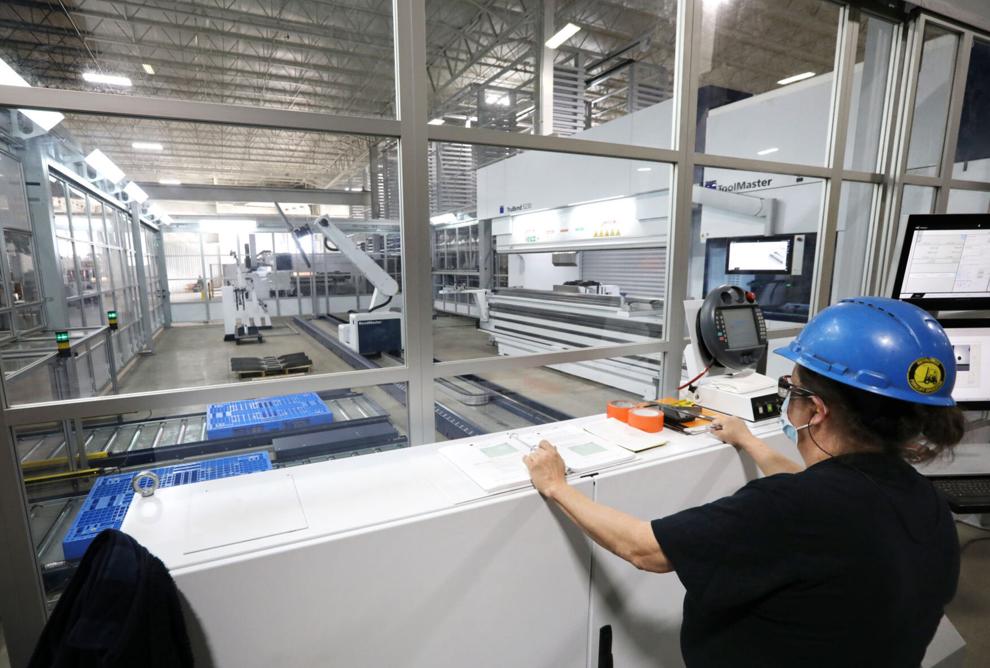 Dick Powell, a strategic initiative executive and special projects manager, said the automation, which is slowly taking over the parts plant, will help the company evolve. One of the automation machines already installed bends pieces of steel while another uses a programmed laser cutter to make cuts and holes in precise locations. The machines are near two towers that can each hold 4 million pounds of steel. Another 22 towers and more automation equipment are on the way.
"I'm just helping us get modern here," Powell said. "It's a real game changer for us. I've never been involved with something so exciting in my entire life."
60 years running
Stoughton Trailers was founded in 1961 when Wahlin's father, Don, who had graduated from UW-Madison a year earlier with an engineering degree, purchased a bankrupt cab and body manufacturing company and renamed the firm Stoughton Truck Body.
Trailer production began in 1965 in a city-owned facility on Academy Street that is now home to the company's corporate headquarters and a newly built innovation center. Over the years, more facilities were added and today the company has 1.7 million square feet of manufacturing space for its intermodal chassis, trailers that haul dry goods, refrigerated trailers and grain trailers.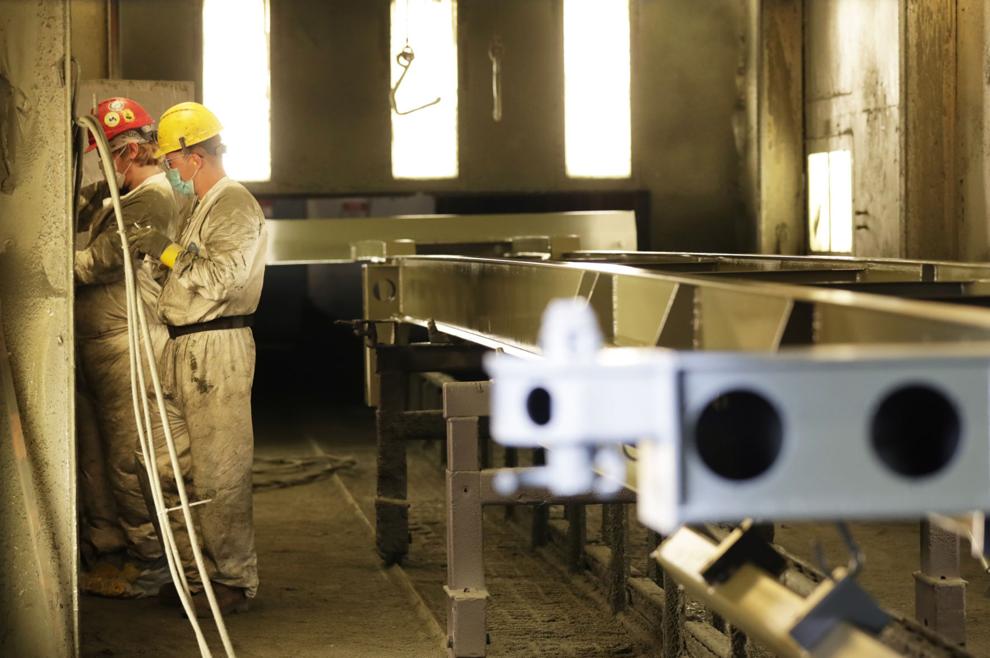 The company is also looking for a new home for its headquarters, but a location has not yet been determined. The new facility would be designed with fewer cubicles and more collaboration space knowing that more employees will work from home all or part of the time, Wahlin said.
In addition, Zinc Power, a German company that operates 50 sites in 13 countries, is building a 110,000-square-foot galvanizing plant next door to the Stoughton parts facility in an effort to support Stoughton Trailers' move away from painting. The ZinkPower facility is expected to employ about 40 people by the end of the year.
An additional 300 employees could bring employment at Stoughton Trailers to near record levels. In 2005, there were about 1,600 employees but during the Great Recession, its employee base dipped to just 250 people in 2009. It rebounded to 650 in 2011.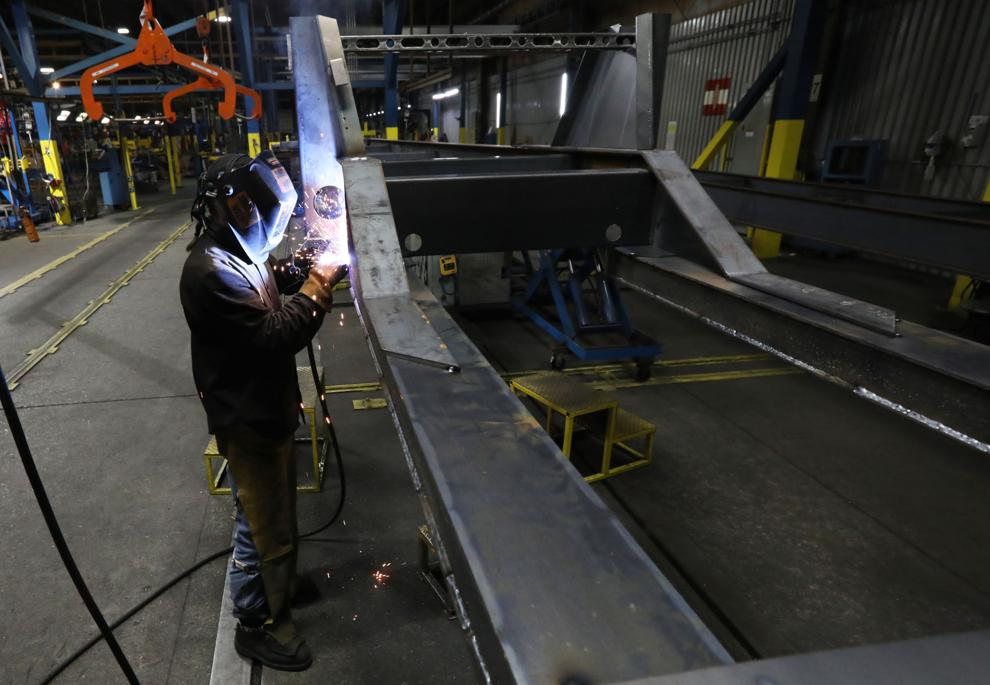 Favorable ruling
Stoughton Trailers was producing thousands of intermodal chassis annually at its Evansville plant until 2005. That's when Chinese manufacturers intensified the dumping of chassis and "single-handedly took the market," Wahlin said. But when it became clear late last year that a favorable ruling for U.S. manufacturers was imminent, Stoughton Trailers received a large order and began preparing for more.
"This is an enormous victory for Stoughton Trailers, the Evansville community, and other U.S. chassis manufacturers," Wahlin said of the tariff decision. "We've been fighting to win that (business) back. It gives us the help we need to bring chassis production and thousands of jobs back to the U.S."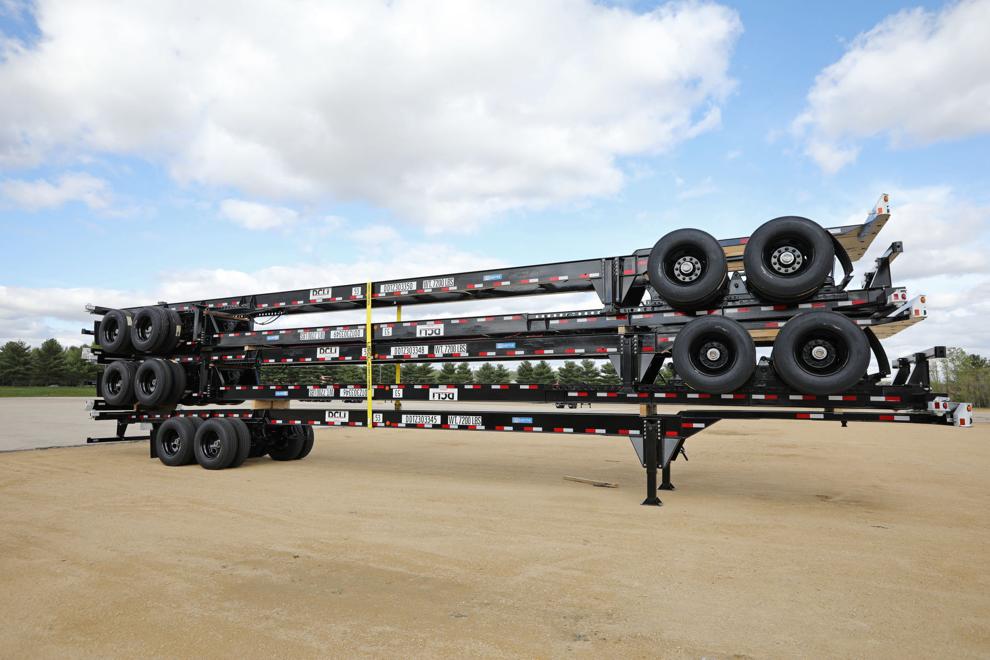 But for those that buy the chassis, the tariffs could mean being forced to purchase higher-priced chassis from China until U.S. manufacturers can meet the demand. Sean McNally of the American Trucking Associations, which includes the Intermodal Motor Carriers Conference, told Heavy Duty Trucking, an industry publication, that the ruling is "concerning" and could have a "negative impact on the availability and supply of chassis."
However, the tariffs are also designed to protect American jobs and prevent Chinese manufacturers from selling chassis for less than the cost of the steel in the frame alone. Those moves forced Stoughton Trailers to close its Evansville facility for several years until it began to build other products at the facility.
"Longer term (our customers are) very supportive of rebuilding the U.S chassis manufacturing industry and having that resource right here at home," Wahlin said. "But our industry is going to have to build up to that point. So there's stress on getting those lines ramped up sooner rather than later. And that's why we have such an aggressive target for next year."
Editor's note: This story was corrected to reflect that Don Wahlin is alive.