John Mleziva's vision saw through crumbling floors, broken windows and grimy cinder-block walls.
He convinced friends and family to invest in his $1.2 million project and has worked around the birth in March of his first child, Chloe, to transform a blighted former manufacturing facility into a gleaming addition to Wisconsin's growing craft distilling industry.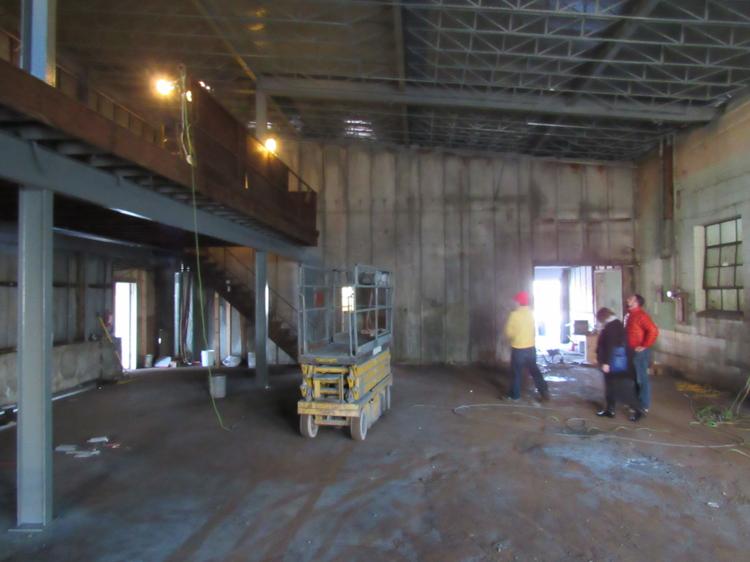 Mleziva (mah-lez-ih-vah), who is married to Deanna Mleziva, opened the doors Thursday on his State Line Distillery, which features a 1,000-liter Kothe pot still, two 16-plate columns and a tasting room constructed with reclaimed barn boards from a farm in DeForest.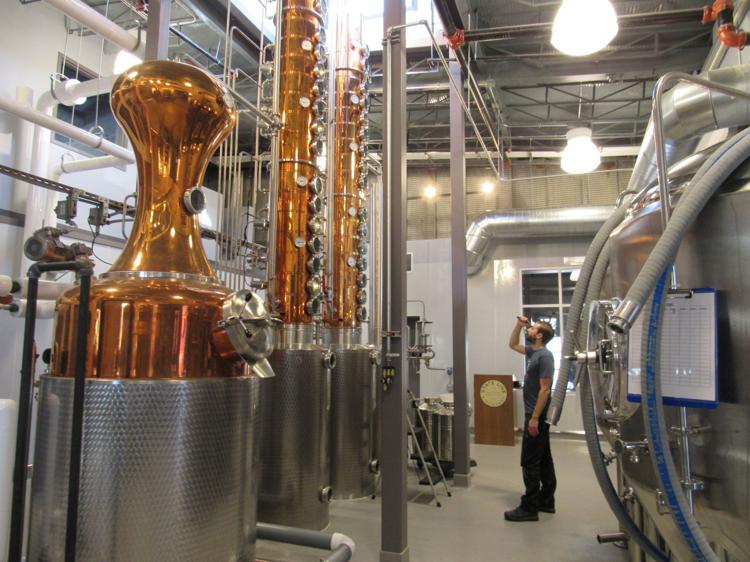 The stunning combination of craftsmanship, architecture, design, recipes, history and a location amid one of the city's fastest-growing corridors —dotted with development and other food and drink artisans — has it ideally positioned for success.
"This building needed a lot of TLC to bring it back to its original glory or even beyond, I would say," Mleziva said. "You have to have a plan and a vision, but it's also surrounding yourself with people that know the industry and know how to build out things really well to help fit your vision into a space like this."
Slide Show: State Line Distillery
The $1.2 million distillery at 1413 northern Court on the Near East Side opened Thursday and features a tasting room and a 28-foot-tall German still.
Artful space
The workmanship includes design by Kirk Biodrowski at Sketchworks Architecture in Madison and construction by Supreme Structures, which has built Cask & Ale, Rockhound Brewing Co., Salvatore's Tomato Pies in Sun Prairie, and did the renovation of the Great Dane Pub & Brewing Co. in Downtown Madison.
The design and construction is accented with artwork by Leslie Smith, a professor and professional painter at UW-Madison who created an abstract representation of whiskey for behind the bar. A second piece of art was made by Jeremiah Logemann of Flags Over Wisconsin, a company that uses reclaimed wood and other materials. The wooden picture of a farmstead includes pieces from Victorian homes throughout Dane County and even a piece salvaged from the Madison Civic Center during its transformation into Overture Center.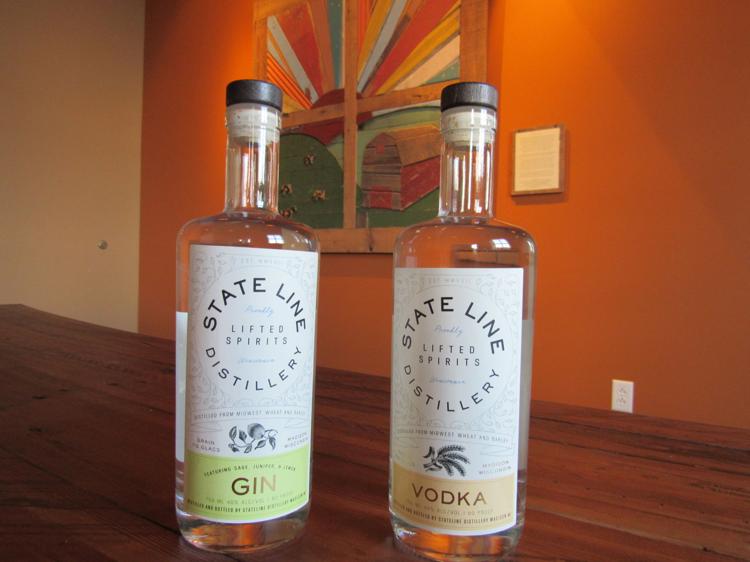 The centerpiece of Logemann's work is the State Line tasting room, where he used barn boards and metal reclaimed from the farm of Adolph Nordeng, who with his brother Paul Olson and Nordeng's then-teenage son, Ron, built a barn along the Yahara River near DeForest. Ship lap boards, once on the barn roof, now cover the walls of the tasting room. The barn's rafters have been made into tables, and the oak floor trusses of the haymow are now part of the bar top, drink rail and window sills.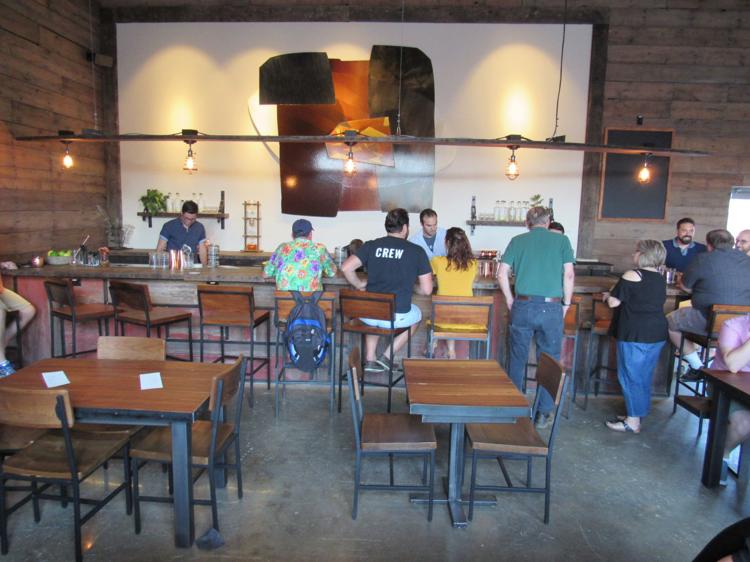 Ron Nordeng, now 87, visited the tasting room recently with other family members to see the wood from oak trees he helped fell more than 70 years ago.
"When they came in here, I think they were a little overwhelmed," Mlezvia said. "It was emotional for everybody. It was very touching to be in here to see their reaction."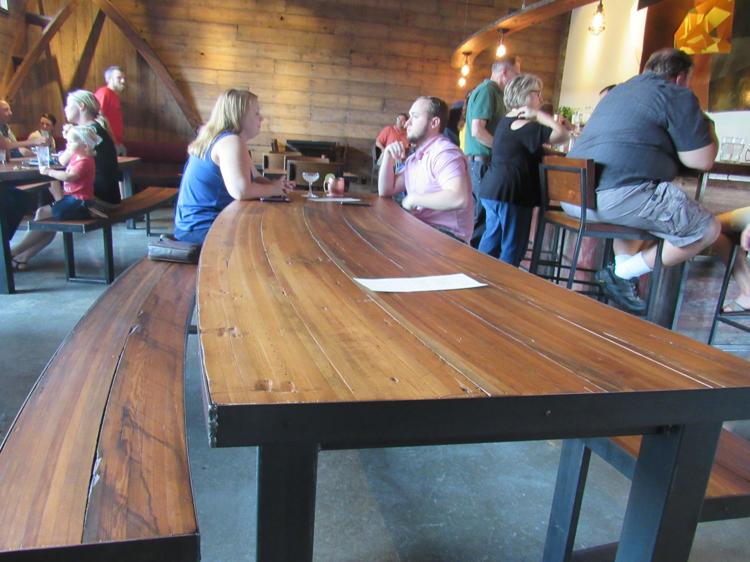 Poised for growth
Mleziva grew up in Golden Valley, Minnesota, and graduated from UW-Eau Claire, where he was a biology major. He has a master's degree in higher education from the University of Minnesota and spent four years at Edgewood College, where he was associate director of student activities. In 2012, he left Edgewood to study brewing and distilling at Heriot-Watt University in Scotland and returned in late 2013 to work at Death's Door as an assistant distiller. In September 2014, he took a job with UW-Madison as an internship coordinator but left that position in March to focus on the distillery and his family.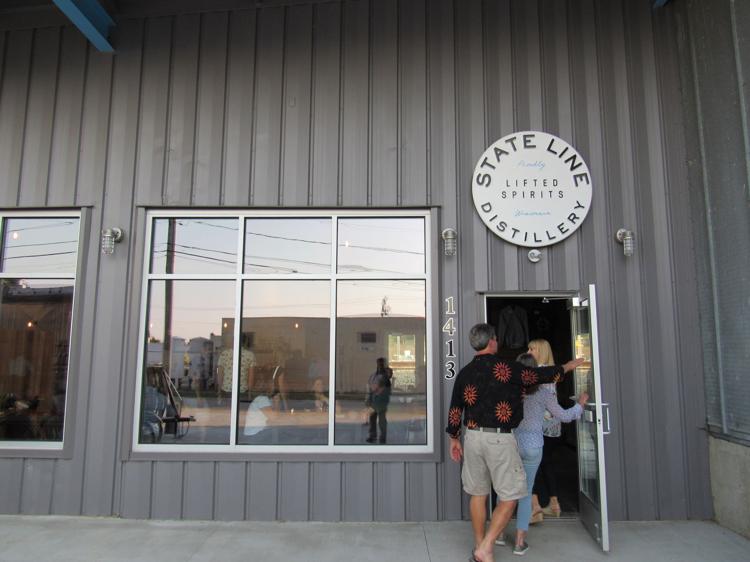 As of August 2016, there were 1,315 active craft distillers in the U.S. that produced 4.9 million six-bottle cases with a retail value of $2.4 billion, a 27.4 percent increase in volume when compared to 2010 and a 27.9 percent increase in value. The market share of U.S. craft spirits reached 2.2 percent in volume and 3 percent in value in 2015, up from 0.8 percent and 1.1 percent respectively when compared to 2010.
Plans for State Line call for making between 2,500 and 3,500 cases of product in 2018 with distribution initially starting in Madison and Milwaukee and eventually going statewide, said Mleziva. His facility also has a private event room with views of the still, an outdoor patio and a spot for food carts.
Mark Anunson, State Line's production manager and head distiller, was hired at Few Spirits in Evanston, Illinois, shortly after it opened and spent three years with the company before moving to Madison where his wife is a researcher at UW-Madison. Anunson said Mleziva could have built the facility with a smaller, less expensive distillery set up, but the larger system, paired with three seven-barrel fermentation tanks, a 20-barrel hot liquor tank and a seven-barrel brewhouse with a mash tun, is designed for the future.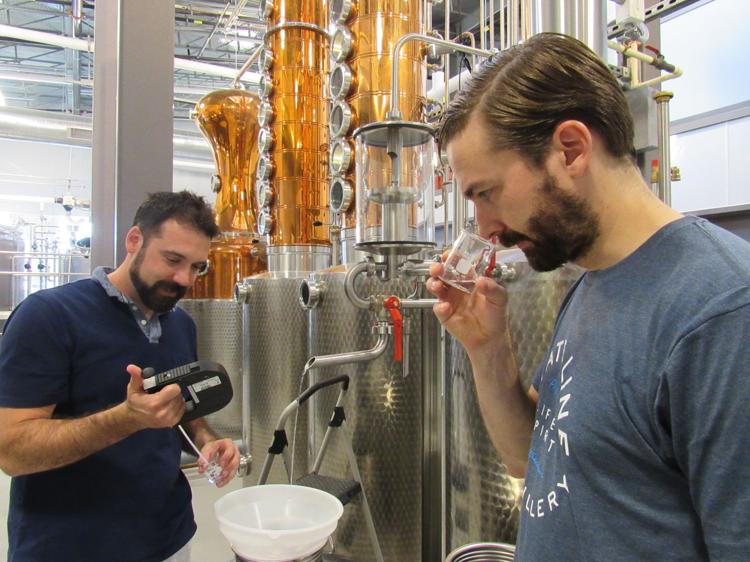 "We're definitely trying to set ourselves up to grow," Anunson said. "You have to start with quality ingredients, and then every single fork in the road matters. The yeast strain matters, how you ferment it matters and how you distill it matters. Every single step of the way is really important."
Gin and vodka have already been bottled, but apple brandy and whiskey are on the way, along with 20 oak aging barrels from a cooperage in northern Minnesota. Grains are being sourced from Briess Malt & Ingredients in Chilton.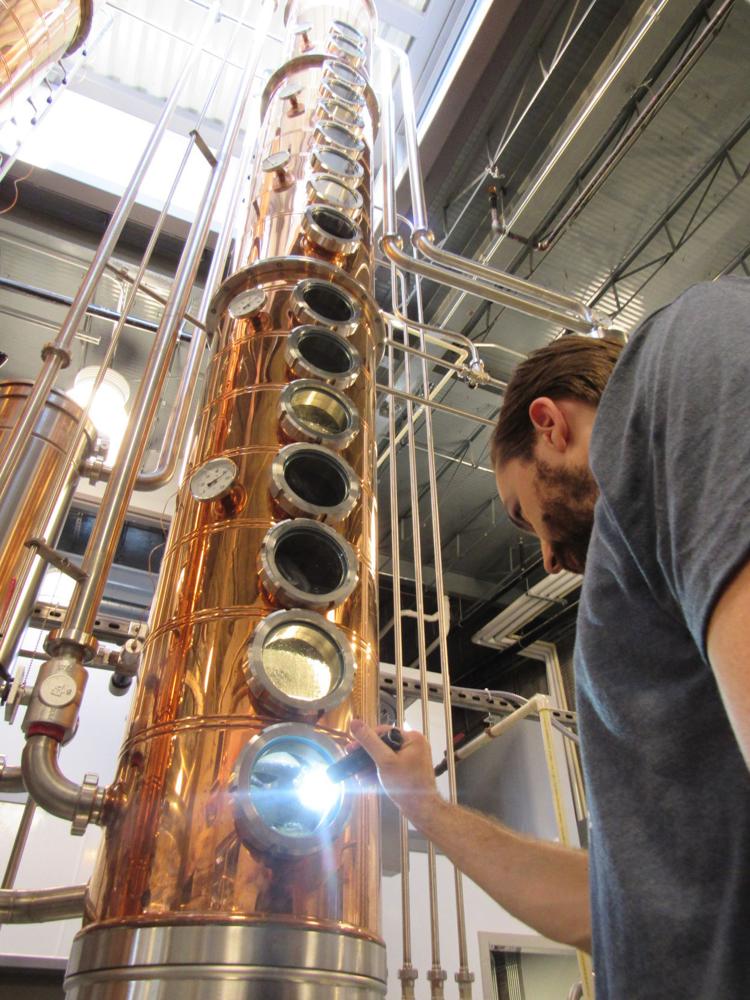 Mleziva's 6,500 square-foot distillery at 1413 Northern Court between Williamson Street and East Washington Avenue, fits in perfectly with the Isthmus vibe that has made the corridor one of the most rapidly developing areas of the city. Old Sugar Distillery, Bos Meadery and the Parched Eagle Tasting Room are just a few blocks away. Apartments continue to be built in the neighborhood, and a public market is planned for the corner of East Washington Avenue and First Street.
Wisconsin is home to about 20 distilleries, and Yahara Bay in Fitchburg, Death's Door in Middleton and more recently, Wollersheim Distillery in northwestern Dane County and Driftless Glen Distillery in Baraboo, have helped pave the way for more new arrivals like State Line.
"Not enough can be said about those guys for coming through and doing things first to help ease the way," Mleziva said. "The market is wide open and there's a high appetite for good spirits and good food."