SAUK CITY — The newest addition to the state's growing craft beer scene offers panoramic views of the Wisconsin River, an outdoor beer garden, 40 tap lines in the main bar and a stylish 250-seat wedding and banquet facility.
The 26,000-square-foot, $7 million Vintage Brewing Co. facility that opened Monday could help pave the way for a hotel, bring more business to the village's downtown and draw customers from Madison, Wisconsin Dells and nearby Devil's Lake State Park, which drew nearly 3 million visitors last year.
But the heart of the operation is a 30-barrel brewhouse in the basement that will ultimately be used to pump out 8,000 barrels of beer a year, on top of the 2,000 barrels being produced at the Vintage on Whitney Way in Madison.
The way this family-owned company is growing, the Sauk City brewery, scheduled to begin production next month, is going to be a busy place. By next fall, Vintage, which also has a bar and restaurant at the corner of University Avenue and Francis Street, will have four locations. The company not only opened the doors of its newest venture on Monday but announced that it will also have a restaurant and bar in the eight-story Gebhardt Building in the 800 block of East Washington Avenue in Madison.
"There are no lack of opportunities," said Trent Kraemer, one of six owners of Vintage. "Craft beer is hot."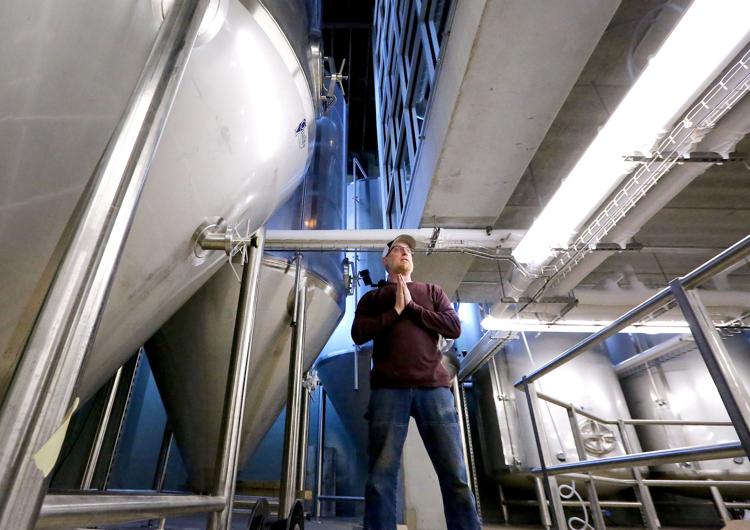 Lee Christensen, a development manager for Gebhardt, said Monday the 6,520-square-foot project that is scheduled to open in October will be on the first floor of the building, which includes 100,000 square feet of retail and commercial and office space and the Sylvee, a 2,500-seat performance venue by Frank Productions.
The project, which would not include brewing, is in one of the fastest-growing corridors of the city. It's near Breese Stevens Field, as well as hundreds of apartments, many of which are still under construction, and is just a few blocks from where the city wants to build a Public Market.
"We were looking for a brew pub to add to the Cap East District," Christensen said. "Vintage fits that need, has good craft beer and good food combined with a relaxed atmosphere. I think they'll mix in nicely into the development, providing people a great spot for lunch, dinner and a place to stop in before or after a show at the Sylvee."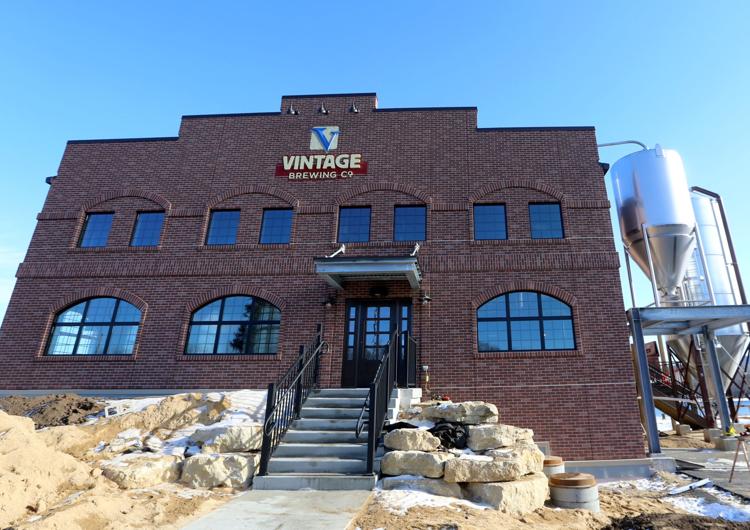 Transforming Sauk City
The new Vintage facility in Sauk City is in a much different environment, but it offers up a decor that rivals anything in Madison and a setting that is unparalled, save for The Edgewater hotel and Memorial Union on Lake Mendota or Ishnala Supper Club on nearby Mirror Lake. The building is also near the new Great Sauk Trail that will ultimately connect with trails at Devil's Lake State Park and is just 20 minutes from Madison's Far West Side via four-lane Highway 12.
Tywana German, executive director of the Sauk Prairie Area Chamber of Commerce, said members of her organization will fill the Vintage next Monday for its annual dinner. They believe Vintage will become a beer and food destination for the region, adds to the growth of the area and has resulted in businesses inquiring about vacant properties downtown.
It also has pushed the village board to apply for a grant to improve a park along the river and create an outdoor wedding venue on village-owned land next to the brewery, a project that should be completed by this summer, German said. The brewery and events facility also has drawn the attention of hotel companies.
"We currently have leakage going outside of our community because we just don't have a lot of (hotel) properties, and I think this coming in has certainly put us on the radar for other hotel brands," German said. "The whole area is going to be transformed by this project," German said.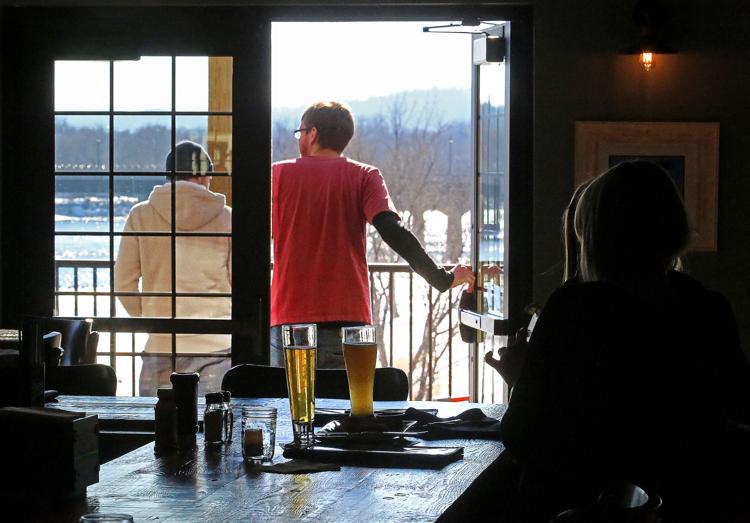 Vintage broke ground on the project, located next to Wilderness Fish & Game, in November 2016 and received $1.35 million in taxpayer assistance through tax incremental financing. The location, which can be seen by motorists crossing the Highway 12 bridge over the Wisconsin River, was seen as a natural for the six owners of the company, many of whom grew up, or spent considerable time, on the family farm near Plain, west of Sauk City.
Trent Kraemer grew up in Spring Green and his wife, Brittany, is from Harmony Grove near Lodi. In 2002, the couple opened Vintage Spirits & Grill, 529 University Ave., just a few blocks from the Kohl Center but in 2009 were among the investors in Vintage Brewing Co., which opened in what had been J.T. Whitney's, 674 Whitney Way, in the Whitney Way Shopping Center. In 2013, the group — which includes cousins Scott and Bryan Manning, uncle Mark Kraemer, and family friend Mike Bridges — opened a "satellite pub" called the Woodshed Ale House in Sauk City. That business closed late last year in anticipation of the opening of the new facility a few blocks away.
The Sauk Prairie brewery, restaurant and events facility employs about 50 people, and the restaurant can seat 154 diners. The large menu includes burgers, fish tacos, chicken and waffles, smoked venison and grilled salmon. Daily specials include meat loaf on Wednesdays, an all-you-can-eat Friday fish fry for $16.50 and a Sunday brunch buffet from 9 a.m. to 2 p.m. The events facility has a private patio, while the beer garden also overlooks the river.
Construction trailer gone
"On Friday, when the (construction) trailer left, it was no longer a job site, and that was a really big moment for us," Brittany Kraemer said. "It was a defining moment. It really made it real, but I don't think any of us ever second-guessed this location once."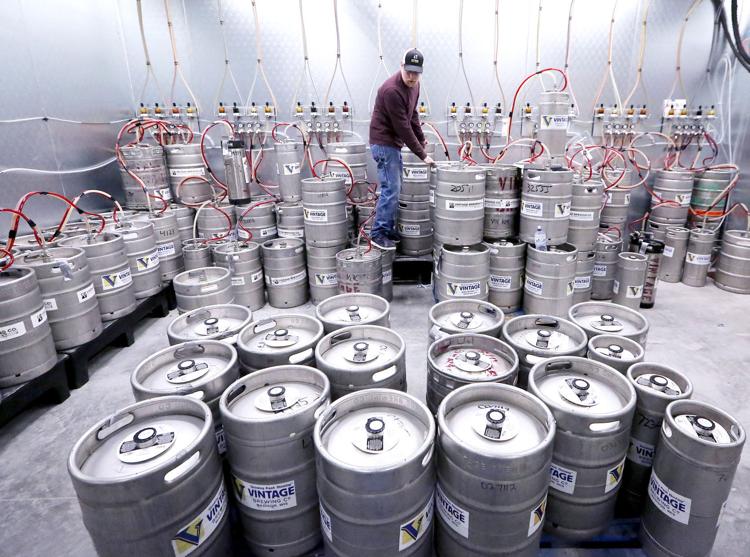 The brewery, from Quality Tank Solutions in Oconomowoc, includes three, 90-barrel fermentation tanks and room for six more 30-barrel fermentation tanks once production ramps up. There is also ample space for a canning line, scheduled to begin operation this summer while brewery tours are also planned as Justin Schmitz, founder of the now-defunct Hop Head Beer Tours, is the bar manager. Ultimately, cans and bombers will make up about 25 percent of production with 75 percent of the company's beer consumed in its restaurants, said Scott Manning, a co-owner and head brewmaster.
On Monday, of the 40 taps at the Sauk City tap room, 37 were dedicated to Vintage beers. Manning also plans to host beer from other local breweries and is trying to buy wine, whiskey and brandy barrels from Wollersheim Winery across the river in which to age other beer he plans to produce.
"It's not our primary goal to be a production brewery," said Manning. "We've always had a really diverse lineup. Anyone that walks in here is going to have choices. That's just how our whole world has evolved. I just love the heck out of beer."