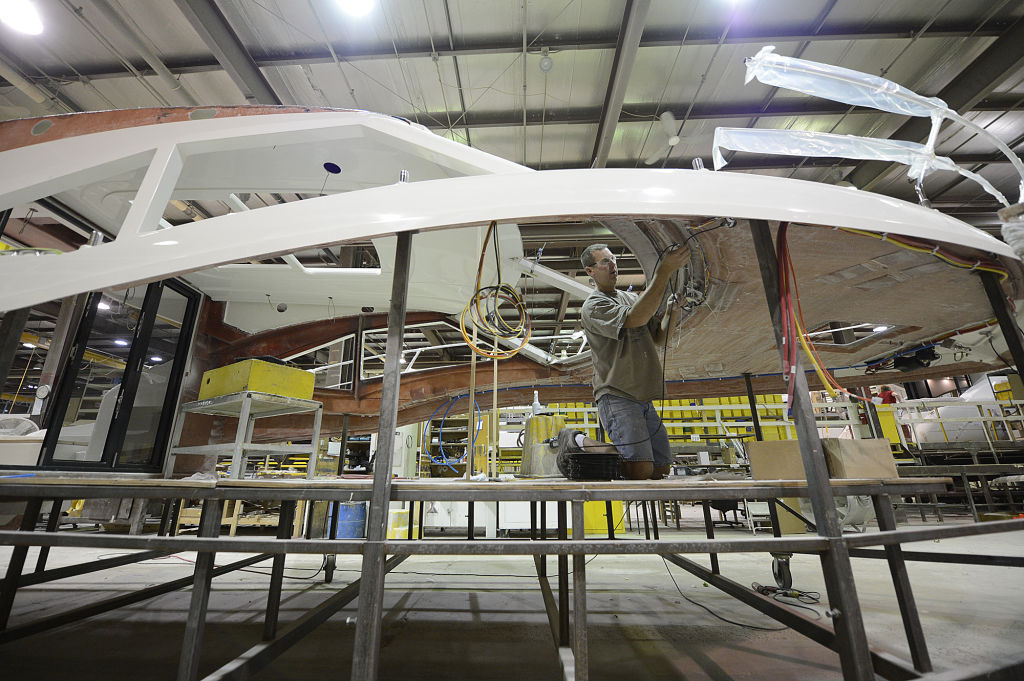 Amid international trade disputes and the rising cost of materials brought on by tariffs, and despite a generous state tax credit, recent economic data show Wisconsin manufacturers are tightening their belts.
A preliminary government employment survey found Wisconsin manufacturers employed 5,200 fewer people in August compared with a year earlier — the largest year-over-year decline since the last recession.
Finalized job numbers won't be available until next spring, but Kurt Bauer, president and CEO of Wisconsin Manufacturers & Commerce, said many in the manufacturing industry — which represents nearly 16% of the the state's workforce — are feeling a squeeze brought on by the nation's trade disputes with China, the European Union, Mexico and Canada. A slowing economy and workforce challenges also are factors, he added.
"It's always concerning when you're seeing a contraction," Bauer said. "I think there's cause for concern, but not panic."
Seasonally adjusted data collected in the Current Employment Statistics survey found that from August 2018 to August 2019, the state's manufacturing sector lost about 5,200 jobs, or about 1.1%.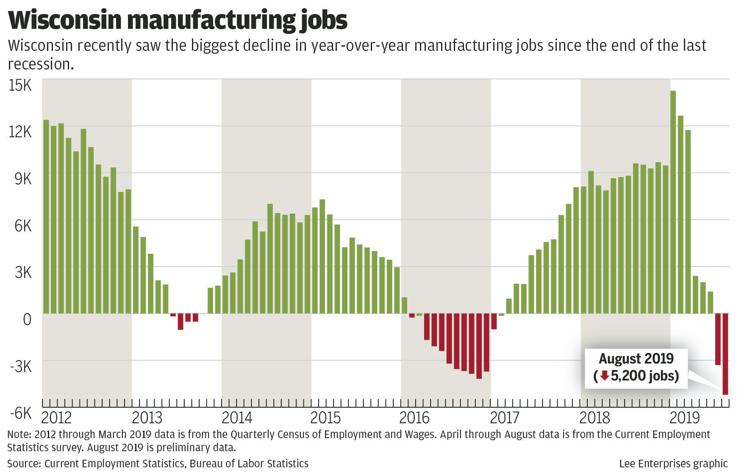 However, the Quarterly Census of Employment and Wages, which runs about six months behind the survey data and has been referred to as the "gold standard" for tracking job creation in the state, has yet to show a significant year-over-year decline. It found the state had 480,926 manufacturing jobs in March, nearly 12,000 more than the previous March.
The last QCEW year-over-year decline came in February 2017. The loss of 5,200 jobs in the August CES jobs report came after a year-over-year loss of 3,300 jobs in July.
Dennis Winters, chief economist with DWD, said while the CES data is the best estimate for recent months, he anticipates an upward revision in manufacturing data when the survey data are compared to the QCEW next spring.
"Last year, we knew the CES survey was overestimating manufacturing job growth," he said. "It appears this year the CES may be underestimating manufacturing jobs."
While Wisconsin factories may not end up as hard-hit as the survey suggests, Winters said the state's manufacturing sector, much like the nation's, is slowing.
"We're on notice, we're watching it," Winters said. "There's a lot of uncertainty among the ranks of what the future economy holds here, and there's a lot of uncertainty that will push that one way or another."
Industry slows
One of the largest factors playing into employment challenges among Wisconsin factories is taking place in the global economy.
Trump's ongoing trade dispute with China, which Trump has said were imposed to counter unfair trade practices, resulted in retaliatory tariffs.
The tariffs have hit factories hardest on the front end of production, with rising costs on materials such as steel and aluminum.
"A slowing world demand and then retaliation against our exports, on top of higher costs for Wisconsin's manufacturers, and you probably wouldn't be surprised if you had a decline in manufacturing employment," said Menzie Chinn, a professor of public affairs and economics at UW-Madison.
Facing uncertainty in the economy, manufacturers tend to brace themselves, rather than make investments.
"If and when they come up with a trade deal, both with North America and or China, you'll probably see an increase in capital investment," Winters said.
Bauer estimated that about half of WMC's 3,700 members have reported being negatively impacted by tariffs, while many also support tariffs as they relate to China.
"Nevertheless it's having an economic impact, there's no question about it," he said.
In addition, Bauer said Wisconsin's aging workforce, paired with a lack of enough young professionals entering the manufacturing sector has made it difficult for some factories to find employees.
You have free articles remaining.
"I still think we have manufacturing jobs available, I think it's becoming harder, and will continue to become harder, to find people to fill those manufacturing jobs," Bauer said. "Which will have an impact on our economy."
Credit phased in
The manufacturing and agriculture tax credit was adopted by the Legislature in 2011, shortly after Gov. Scott Walker took office, and phased in from 2013 to 2016. Republicans touted the measure as a way to boost manufacturing jobs in the state while Democrats have decried it as a giveaway to wealthy businesses.
The nonrefundable credit allows agricultural or manufacturing businesses to claim a tax credit that amounts to 7.5% of eligible production activities income. With the state's corporate tax rate at 7.9%, that means manufacturers pay virtually nothing in taxes.
The annual cost to the state of the manufacturing credit has grown from about $13.3 million in fiscal year 2012-13 to an estimated $290 million in fiscal year 2019-20, according to the Department of Revenue data.
The bulk of the benefit of the credit goes to wealthy individuals. DOR data show the state's top 1% income earners took home 88.5% of the funds granted by the credit in 2017. In the three previous years, the state's top 1% took home more than 90%.
"The more income you have, the higher the credit you get," said Bob Schmidt, DOR research and policy division director. "So it's very much top-tier income earners are the ones receiving the credit by volume."
Gov. Tony Evers proposed in the 2019-20 budget a cap on the tax credit so it would only apply to the first $300,000 of qualified income, raising a projected $516.7 million in tax revenue over the biennium. That was ultimately stripped from the budget.
Jobs not required
Bauer said the credit helps drive down production costs and makes Wisconsin factories more competitive in the global market.
He added the credit has helped recipients expand production, make capital improvements or maintain or grow their workforce.
The true effectiveness of the credit is difficult to track, as credit recipients are not required to share how they spent the offset tax dollars, and there is no job creation or retention requirement.
"We really can't tell if those who receive the (tax credit) are reinvesting those freed up tax dollars into further automation or increased production or hiring new employees," Schmidt said. "It could be preventing people from laying off workers or it could be helping them hire workers … we don't know what would happen if that credit didn't exist."
Noah Williams, a conservative UW-Madison economics professor, authored a 2017 report that argues the tax credit had "a large and significant impact on both manufacturing employment and total employment" in the state.
In the report, which compared manufacturing job growth between Wisconsin border counties and their out-of-state neighboring counties, Williams suggests that, from 2013 to 2016, the credit accounted for a gain of 20,000 manufacturing jobs and more than 42,000 total jobs.
"If you look at trends in employment before and after the credit was phased in in the counties along the Wisconsin border, they moved roughly in parallel with those over the border, and then after that a gap opened up," Williams said.
Other states
Schmidt questioned the CROWE report, noting that the counties researched account for just a fraction of the state's factory jobs.
"Those counties might be doing well, but the state of Wisconsin as a whole is trailing behind Michigan, Indiana and Minnesota in manufacturing growth since the credit came into being," Schmidt said.
U.S. Bureau of Labor Statistics data show manufacturing employment has grown by about 3.9% since the tax credit started phasing in.
In that same span, Michigan saw manufacturing employment grow by 15.7%, while Indiana's industry grew by 10.6%. Minnesota and Iowa saw manufacturing jobs grow by 4.3% and 6.7%, respectively, while Illinois has seen about 2.3% growth since 2013, according to DOR data.
"I would say the data suggests there's no tangible impact," Schmidt said. "If you want to go down the rabbit hole of what happens with the money, since there's no job requirement for the (tax credit). If it frees up capital for them, they could invest that money in automation, make more money in the future to generate a larger credit to make more money to invest in automation to get a larger credit, without ever hiring additional employees."