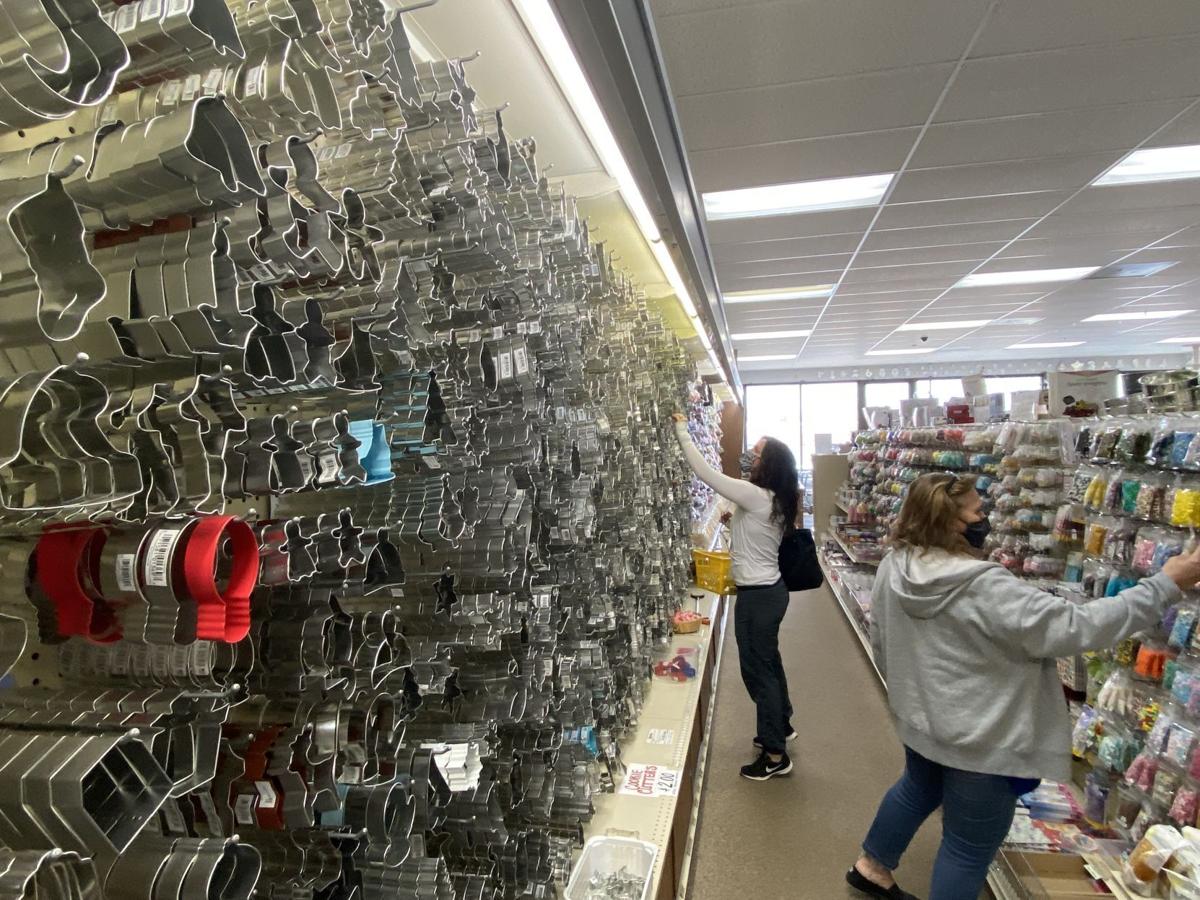 Hours were slashed at Orange Tree Imports, the number of customers allowed into the store at one time was limited to single digits and the Monroe Street store's website was revamped to allow for online sales.
Down the street at Zip-Dang, the store that sells locally made clothing and gifts has been rearranged to allow for screen printing to be done in the store and not in another space, a move that is saving the company $500 a month. Pre-pandemic, the Madison-centric store's website accounted for about 10% of revenues but now makes up 50% to 60% of sales.
And at Vanilla Bean, a Far West Side supply depot for area bakers and candy makers, the pandemic struck on the cusp of Easter, graduation parties and wedding events. Sales for the second quarter plunged by 95% but for the year were off by a more tolerable 30% as its homebound and dedicated customer base increasingly turned to baking and cooking routines.
"It just shifted what we needed to stock up on," said Kelly Bodie, whose parents founded the store in 1983. "We were selling more smaller-sized boxes because everyone still wanted to celebrate or make that person feel special but it was the smaller, individual sizes. Luckily we're well established, but it was a couple of rough months."
Unprecedented change
The losses for retailers in 2020 were stark, forcing changes never envisioned in any business plan. The health crisis tested even the most well-established businesses. The vaccine rollout is providing hope for better quarters, but survival for many retailers over the past 14 months came from pivots, ingenuity and baked-in entrepreneurship.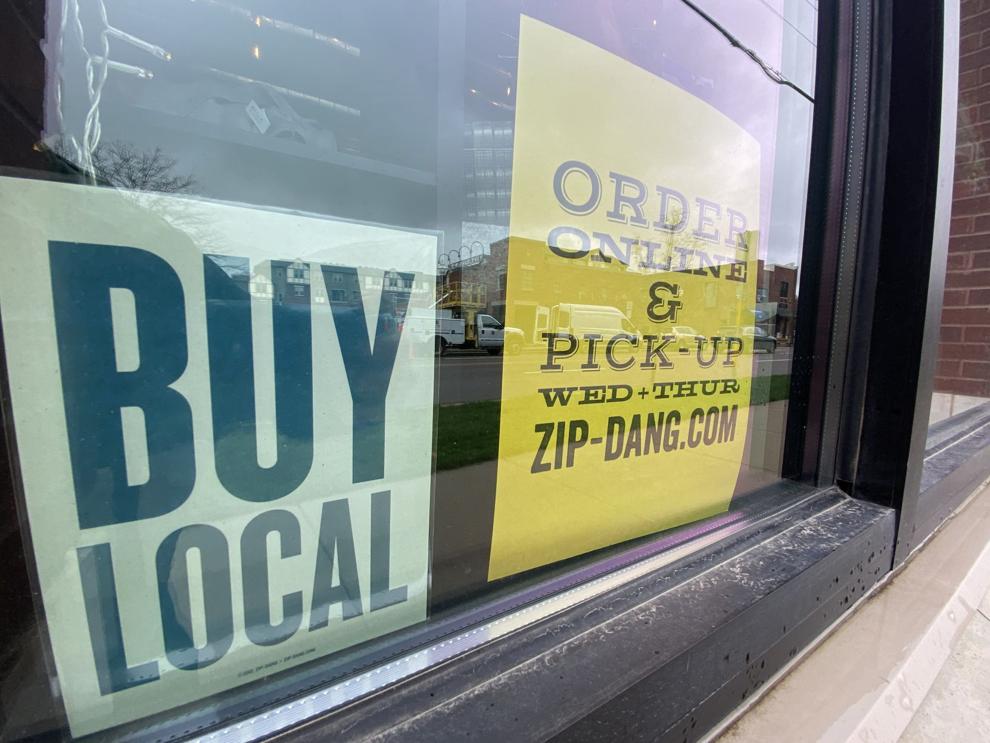 For Natalie and Mike Bass, owners of Zip-Dang at the corner of Monroe and Knickerbocker streets, the store is open for curbside pickup on Wednesdays and Thursdays from 10 a.m. to 4 p.m. and to walk-in traffic during those same hours on Fridays and Saturdays. The dressing rooms have been removed to make way for more in-house production space for Mike's screen printing equipment. And because the store has limited hours, the retail floor can be used for drying freshly made t-shirts when the store is closed.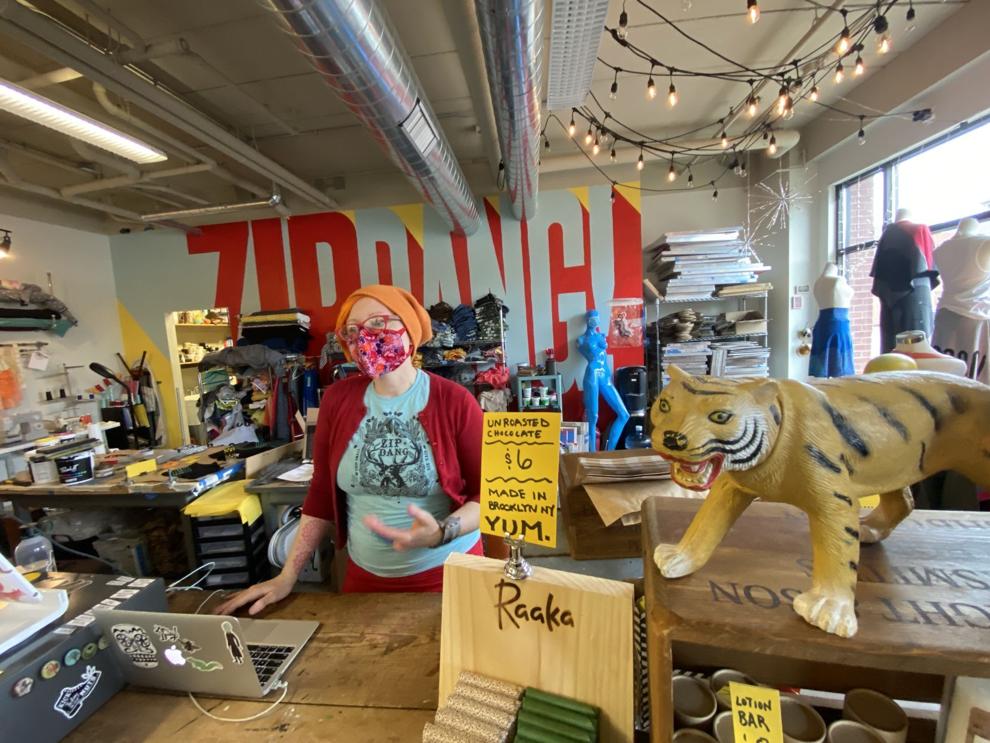 Natalie, a seamstress and who founded the company in 2010, has a sewing machine surrounded by piles of fabric in the back of the store, but for nearly four months she was largely focused not on producing her hand-stitched skirts and tops but in making three-layered cotton masks. She made them by the thousands, which paid the rent on the space, located in a building that opened in 2019.
At the same time she was ramping up the store's e-commerce presence. In the past the website had primarily sold just the clothing made by the couple but now includes a wide range of products from other artisans that had always been on the shelves but not the website, such as jewelry, pottery, chocolates and greeting cards.
"At home or here, wherever I was, I was adding products, taking photos, writing descriptions. I had to create a whole different point of sale system for a lot of it because the way I was doing my item numbers had to change," Natalie Bass said. "It was a lot of work, but it was totally worth it."
Sales for 2020 were down roughly 30% and the business no longer has employees, with Natalie or Mike always at the store. However, it's unlikely the store's hours will return to its pre-pandemic schedule, when it was open seven days a week.
"That's something that I've learned from the pandemic, that I can manage everything myself if I'm not open as many days, and I kind of like it," Bass said. "But it's been a constant challenge. If it's not one thing, it's another thing coming at me."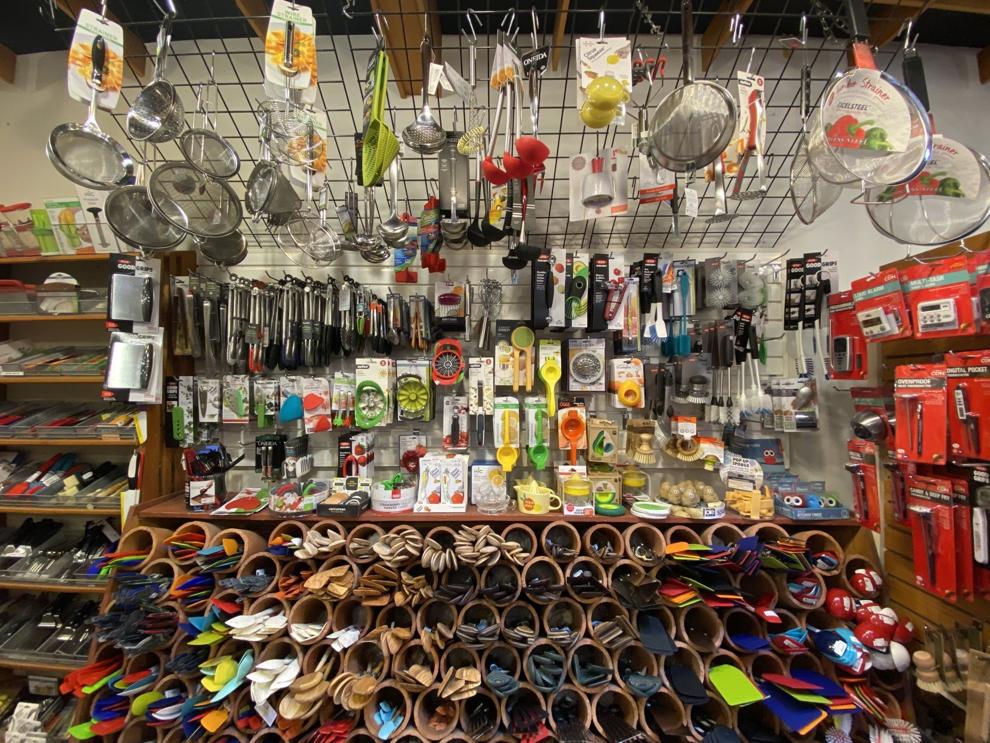 Reinvention on the fly
The Orange Tree Imports store closed March 24, 2020, and didn't restart doing sales until late May. That's when it began beefing up its website that in the past had only sold gift cards and books on retailing written by co-owner Carol "Orange" Schroeder. That book, by the way, "Specialty Shop Retailing," was first published in 1997 with revised and expanded editions in 2002, 2007 and 2018. Nowhere in the 450-page book is there mention of how to run a business during a pandemic.
"I have to say, I missed that one," Schroeder joked. "The sort of challenging thing is that now that we're starting to emerge, the same problems that faced retailers pre-pandemic are waiting for us."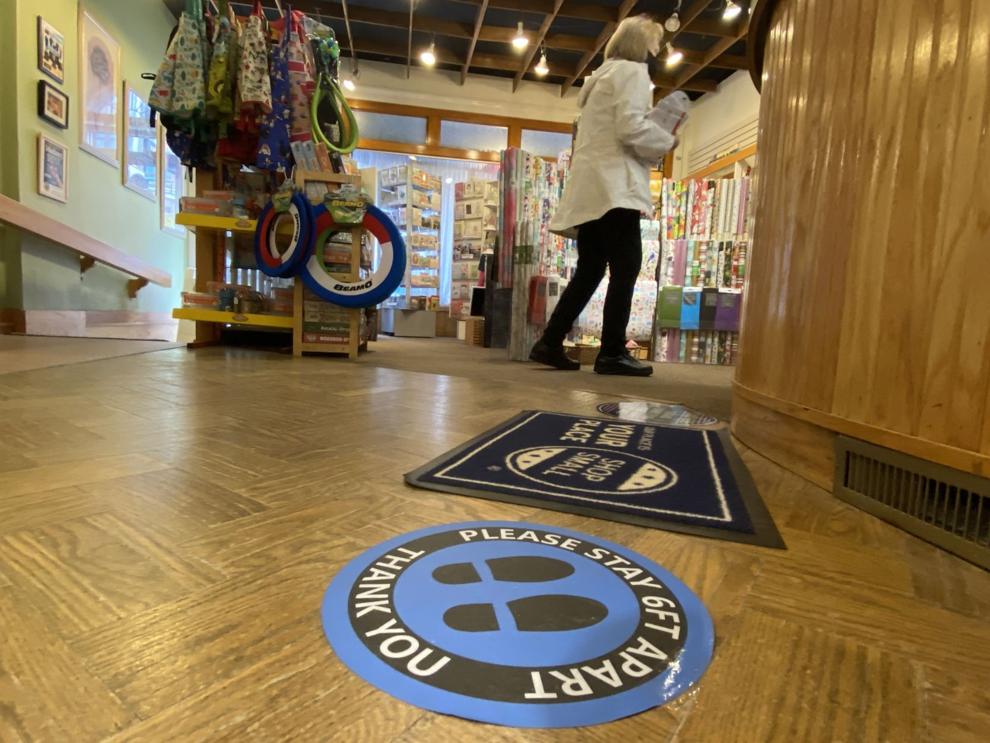 That includes difficulty finding employees. There are fewer students on campus at UW-Madison, the retail industry is challenged by low wages, limited or no health insurance coverage and changes in what people want to do, post pandemic.
At her store, Schroeder now has one door for entry and another for customers to exit and created a curbside pickup option at the back entrance to the store. But customers didn't start coming into the business until late June. But then, the store was limited to five customers at a time, which created lines in the cold during the holiday shopping season at a time of the year that accounts for 45% of annual sales.
In-store shopping hours were recently expanded to 29 hours a week up from 20, but Schroeder said the limits have all been instituted to protect her customers and her employees, some of whom are vulnerable. Sales for the year were down 38%, but without debt and money from the Paycheck Protection Program, Schroeder said the business she owns with her husband, Dean, is "in good shape" financially.
"It's been hard. We miss the people, we miss the interaction and we miss making shopping a really enjoyable experience," said Schroeder.
Winning back customers
She and other small retailers are now trying to get customers, who may have switched to buying online from other retailers, to return to their old shopping habits.
"Of course, Amazon, which was really making brick-and-mortar (stores) challenged before the pandemic, grew in strength during the pandemic, so now we have people who might not have shopped online before and are loyal to the buy local concept but who had no choice but to shop online when all the retail stores were closed. So, how do we win back the market share that eroded during the pandemic?"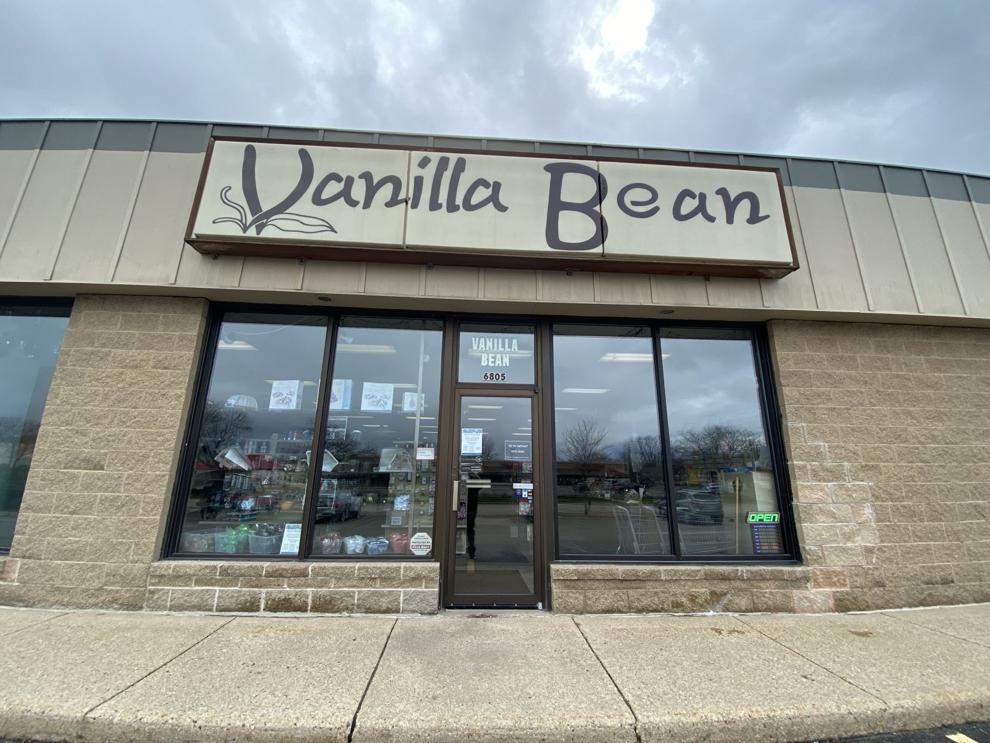 Vanilla Bean, 6805 Odana Road, closed in mid-March last year, opened for curbside pickup at the end of April and to walk-in traffic in May. But demand for products coupled with suppliers coming up short forced Bodie to close her e-commerce site as some items were up to 90 days out. So Bodie expanded the number of suppliers she uses, a move that has provided more variety for her customers.
The store continues to operate with a skeleton crew, and baking and candy-making classes have yet to be held, but December sales set a record.
"We were really busy and I felt like that if we could have had more product in, we would have been even busier," said Bodie, who has been managing the store for the past 10 years. "The shop local mentality here in Madison was huge for us. We have a great community."