After six years, a community gathering space on the East Side is closing its doors, another casualty of COVID-19.
Even before the pandemic hit, running Threshold was a challenge, said owner Efrat Livny.
"I don't like to use battle, but it was an uphill effort" because Threshold wasn't a typical community center, Livny said.
Threshold, 2717 Atwood Ave., which has been closed temporarily since mid-March due to COVID-19, hosted conversation circles, classes, workshops, community meals, weddings, parties, performances, retreats, conferences and art shows, among other events, and was home to 10 small businesses over the years that rented or shared space.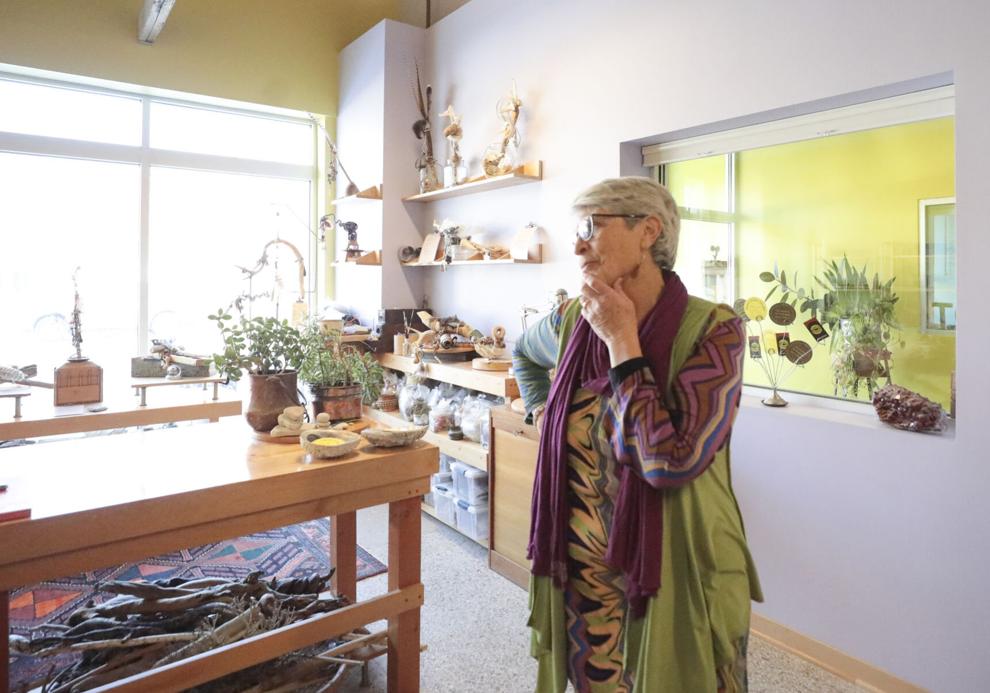 The building's owner, Ian Gurfield, co-founder of Ian's Pizza, wouldn't reveal his new tenant, saying only that it's "a well-known business in Madison" that's going to want to make its own announcement soon.
Livny negotiated out of her lease, which ends March 31, but is saying goodbye to Threshold on March 20, by holding a closing ceremony for the building on the spring equinox.
She describes Threshold as "a place for community, creativity and well-being," and ran her bodywork business out of the space, as well as her art studio.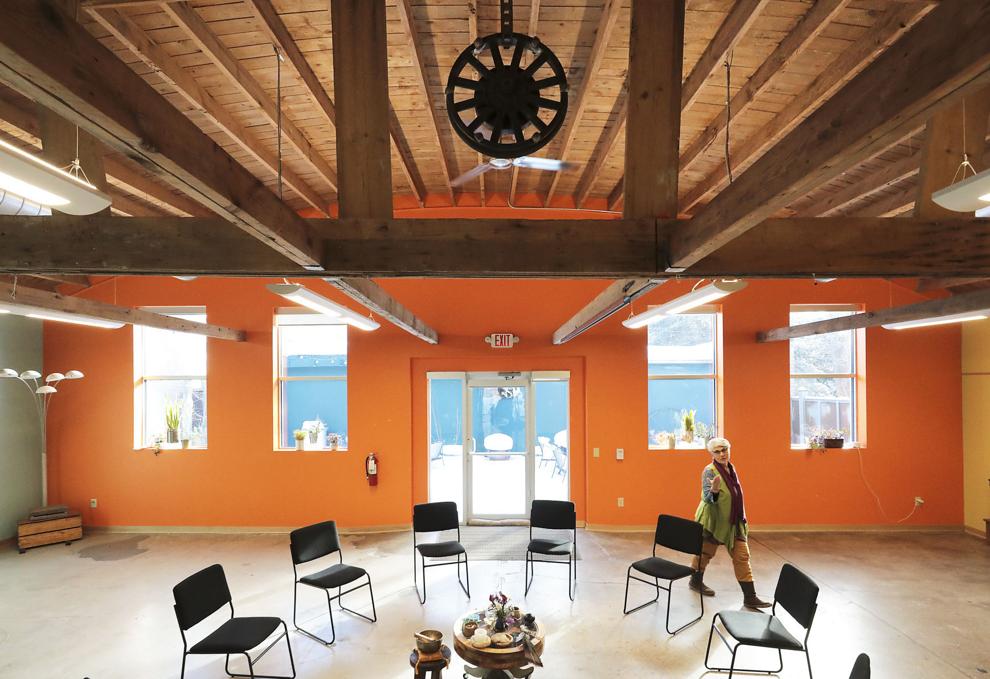 Livny helped turn the six-room, 4,500-square-foot space, formerly used as a part of the Goodman Community Center, into a welcoming, colorfully painted incubator for the people and entities that used it. She restored some of the building's original features, including a curved ceiling with exposed beams, cement and terrazzo floors, and brick walls.
She added a kitchen, accessible restrooms, back patio, skylights, large storefront windows and glass doors to bring light into what had been a dark space.
"The building I got and the building I'm leaving are like two universes apart," Livny said.
Community centers that cater to the less fortunate, like the Goodman Community Center, can focus on essential services, like supporting those who need food, Livny said. "All the other stuff — the yoga classes and the weddings — they go by the wayside, because that is not their mission."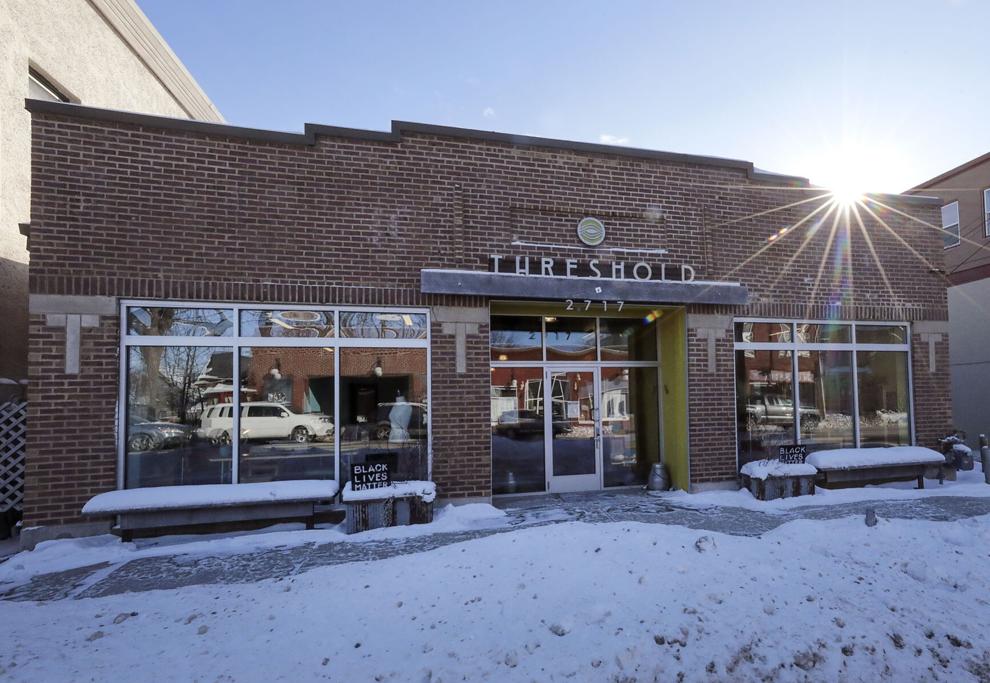 Livny, 68, who said she worked 60- to 80-hour weeks, called Threshold "a social good enterprise," a personal investment she made with inheritance money she got from her father, to create an "autonomous community center that would provide a creative palette for the community."
She said the idea was to have a space that was "for community, by community." She sought to collect fees from users to cover the expenses of the building and staff, but said it was hard.
Some people didn't understand Threshold's model and either suspected her of overcharging, or felt that what she was offering should be free. Threshold's fees were often compared with those of the Goodman Community Center, which are subsidized due to its nonprofit status.
Livny found herself absorbing a lot of the costs of her programming, because, she said, she wanted everyone to be paid: the performers, cooks, artists and cleaners. She also offered lower rates to people and groups whose programs she wanted to bring to Threshold, but who couldn't pay. Those included youth groups, environmental groups, grassroots groups and artists.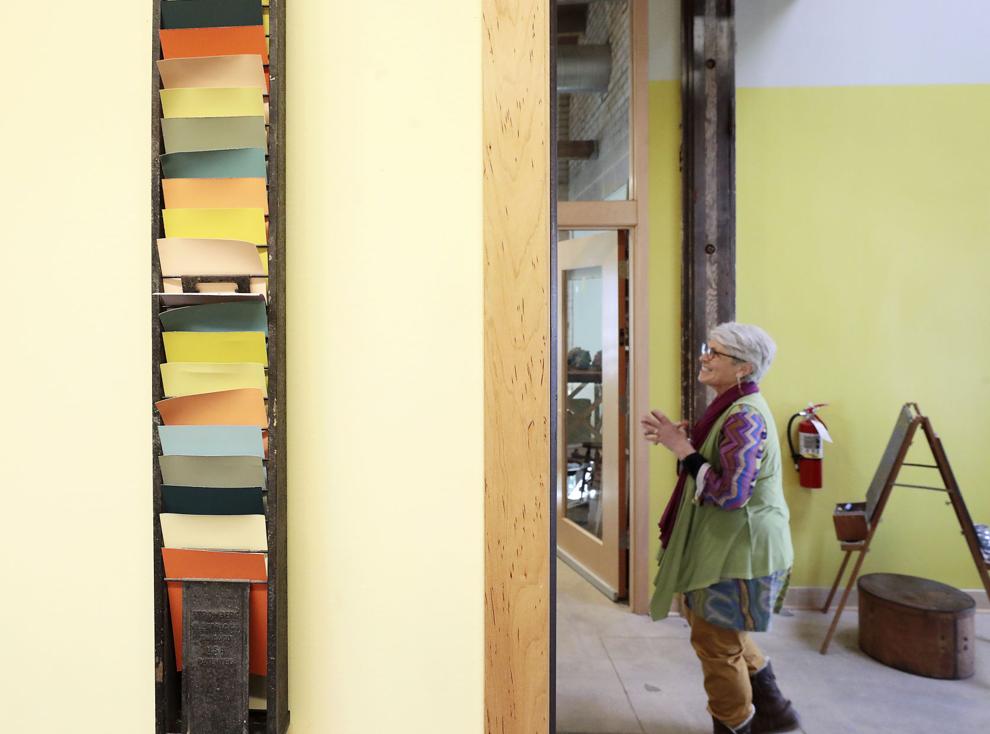 Even before COVID-19, Livny said it was hard to get people to gather or to commit to an event because so much content is offered online, vying for the leisure time of those who might visit Threshold.
"They would want to wait until the last minute," she said. "And then maybe they said they were coming on Facebook, but they wouldn't."
Livny said it was hard to count on people. "It took a lot of work to get people in the door because there were other options and people were tired, overworked."
Gurfield said, at times, he had a hard time describing what Livny was trying to do, "but when she started, she had this clear vision of creating a business that was centered on doing good for the community, almost like a community center, but not obviously in the same vein as Goodman or other community centers out there."
He said she was trying to "effect some positive activities that were for the benefit of the community. I think she just had kind of a tough go of it. They held many wonderful events. The space brought together good people. It just unfortunately got caught up in the pandemic and it's just not sustainable."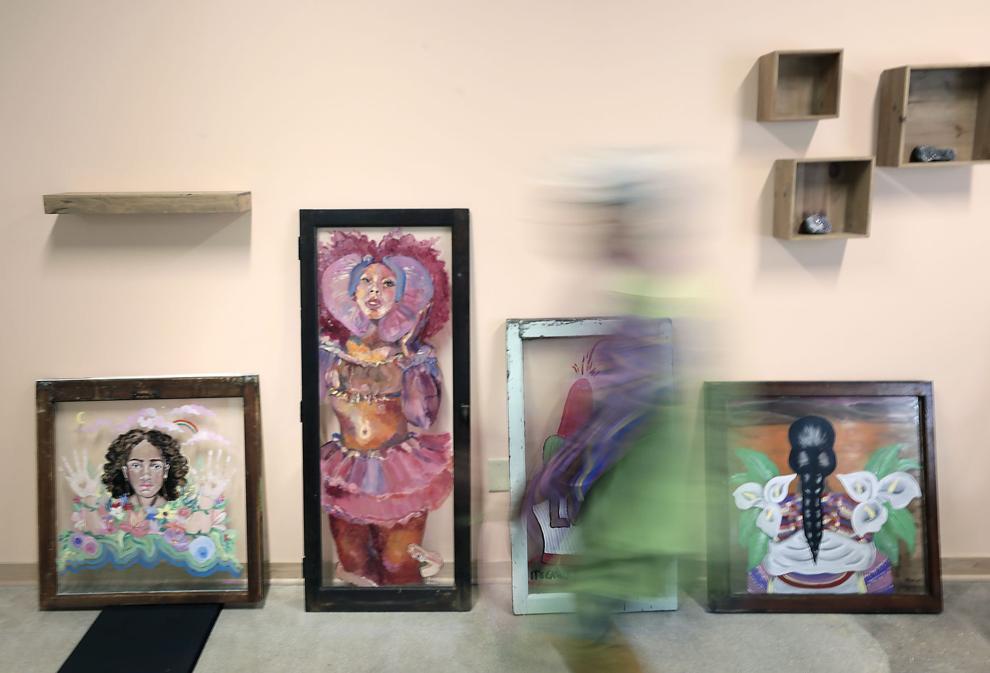 Livny, for her part, said she was always frustrated that the building wasn't used enough and that her attempts to build ongoing collaborations didn't find the necessary momentum. "It felt like I was always somehow uphill and I always felt like, 'Wow, we could have so much more here.'"
Open doors
It was at Threshold in 2016 that Livny and her husband, Ken Baun, started their own nonprofit, Open Doors for Refugees, which sprang from the Syrian refugee crisis. The group works closely with Jewish Social Services to help refugees make a home in the Madison area.
Baun, Open Doors' general manager, said the organization will carry on with the work it's done with the 100 or so families — or about 300 individuals — it serves.
"It was the birthplace of Open Doors," Baun said about Threshold, crediting Livny for her early organizing after she found the book "Soup for Syria: Recipes to Celebrate our Shared Humanity," and began making soup for her monthly lunches at Threshold.
She would dedicate the meals to the welfare of Syrian refugees, but soon she realized she needed to do more and began bringing in speakers and holding discussion circles.
"We had a whole lot of meetings there, especially in that first year, both meetings and events," Baun said. It was "the right time and place to galvanize people. The Syrian refugee crisis was front and center in a very big way and Threshold gave us a venue to meet and organize. It would've been hard to do that without Threshold."
Two other nonprofits have been based at Threshold, and about 10 more regularly used the space for board meetings and other events.
As the concept comes to a close and Livny tries to assess its successes, she's more pleased than frustrated. "As I sit and think about it, it's just pretty amazing," Livny said.
Livny, who is paying rent through the end of March, said Gurfield has been a good landlord in many ways. When she asked him for a rent reduction, he gave her 25% off.
Auction time
Most of Threshold's furnishings and fixtures will be auctioned online from Feb. 13 through Feb. 20. Livny is looking for a nearby home for a sculpture in the shape of a totem pole honoring the Ho-Chunk people that was created from automobile parts and equipment found in the building.
It was created by Aaron Howard, a student of the late metal artist Dr. Evermor, and displayed in Threshold's back patio.
Although Livny got a $4,500 community grant through the state under the federal Coronavirus Aid, Relief, and Economic Security (CARES) Act, she said it was hard to support Threshold through 2020 with little income.
Between rent, building and operational expenses and staffing, Livny said her average monthly expenses were $12,000. Before she closed due to COVID-19, the income from co-working, rent and events covered about two-thirds of those expenses.
She said she was in the process of planning some promising series and a sponsorship campaign she hoped would cover almost all of her expenses.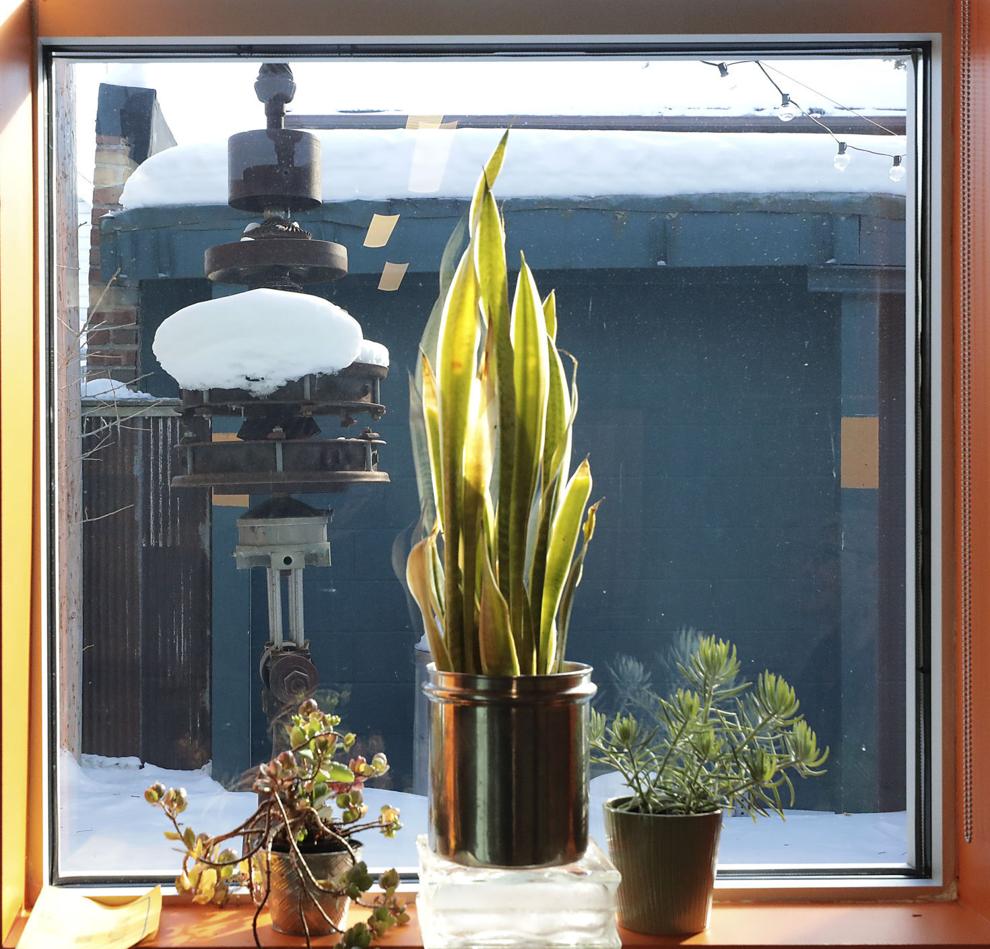 Normal, ever?
During Threshold's 2020 closure, it continued to provide an online platform for several well-attended online programs. Local filmmakers also used Threshold's studio space for the production of an original feature film.
Livny said she had big plans for Threshold, but "COVID really rattled our cages in many ways."
Post-COVID, Livny doesn't think getting together in groups is going to have the same appeal it once did. Because the pandemic has gone on for so long, it's brought with it a strong subconscious message to stay away from others, she said.
"We've gotten so into the virtual that we can consume a lot of our culture or stimulation and even our social connections virtually, which saves us a ton of time."
She plans to continue to invest in Threshold's "social good" mission. "I made a dent in some way, and I will continue to pursue this aspect without the building, because that's still totally relevant."