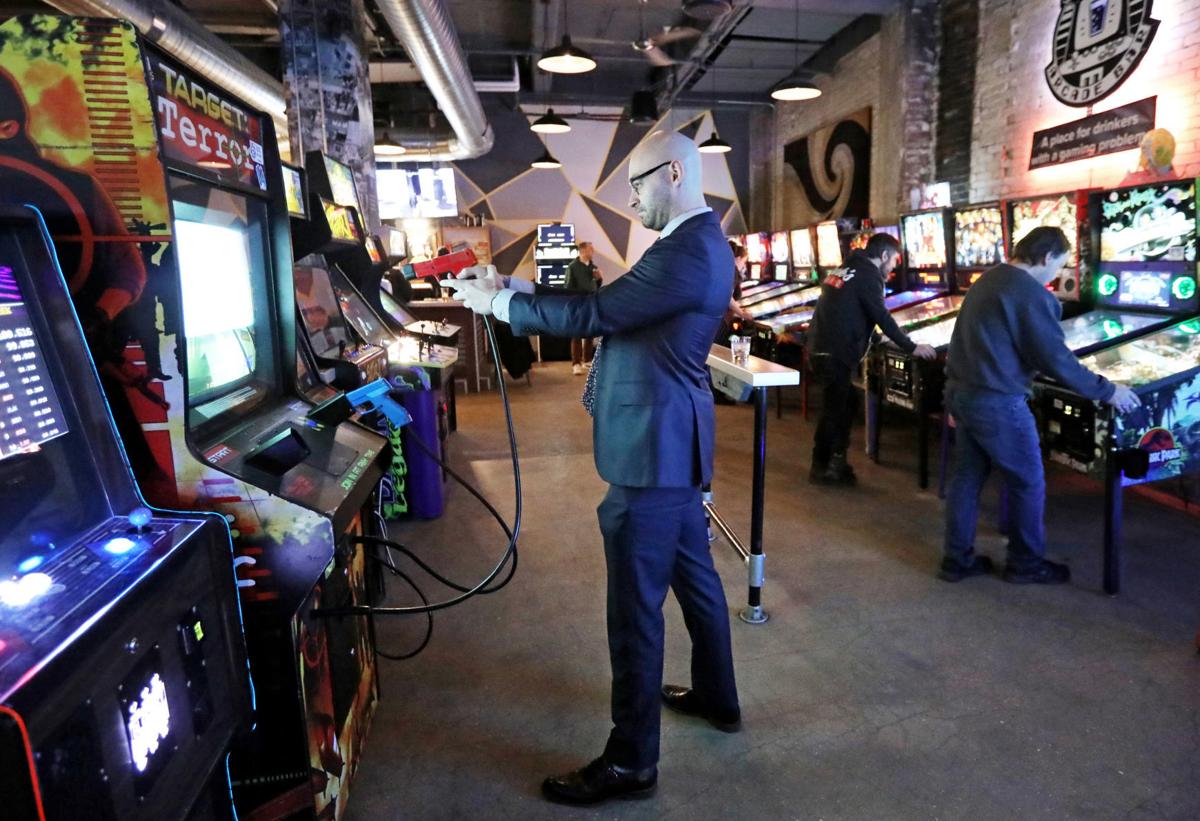 Arcades, a childhood staple for many kids in the 1970s and 1980s that waned with the proliferation of home video game systems, have made a comeback across the country and in Madison with a few variations.
Local arcade owners say it's the nostalgia bringing people in. Adults want to reminisce about their childhood days in arcade game rooms, and many of those same adults now have children to introduce to the decades-old video game cabinets.
Some arcades, particularly the game room at Rossi's Pizza and Vintage Arcade, 4503 Monona Drive, in Monona, still operate on 25-cent game play. A single quarter can get your character moving on games like Galaga, Space Invader and Burger Time.
But other arcades — including Geeks Mania, 6502 Odana Road, and two new arcades opening this spring, Nerdhaven Arcade, 203 Cottage Grove Road, and Vintage Vault Arcade, 2018 S. Stoughton Road — say they want to make it easier for a newcomer to play without worrying whether their quarters would be well-spent learning a new game. The three have flat fees at the door letting players roam among dozens of games and try one out for a few minutes or a few hours.
"We wanted to eliminate that stress of 'How much money do I have? Am I good at this game?'" Geeks Mania co-owner Kyle Bailey said.
Adults only
These arcades aren't only for kids, but one arcade in Madison created a space just for adults to play.
To enter I/O Arcade bar, 720 Williamson St., you have to be at least 21 years old. The bar, owned by Mitchell Turino, is packed with arcade cabinets as well as a row of pinball machines, and a fully stocked bar with rotating pop culture-themed cocktails lines the back wall.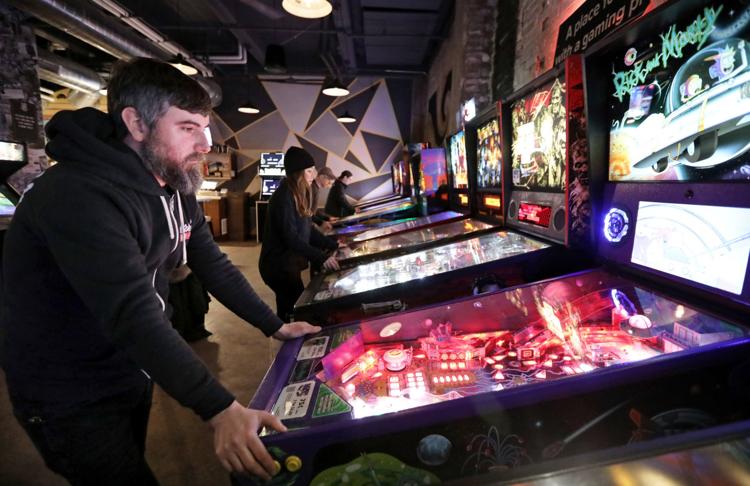 I/O isn't the first arcade bar — Turino himself was inspired by one he visited in Ohio — but it is the first in Madison.
"The reception has been amazing," Turino said. "We cram a lot of people in here every night."
I/O has about 45 arcade games on the floor with more than 20 others in storage, which Turino scoured online sales websites to find. He even bought a pickup truck to haul the game cabinets he bought. He said the farthest he's gone to buy a game was Des Moines.
"There's a lot of people that loved these games and didn't have a place and an adult space to play them," Turino said.
Just a quarter
I/O's games are coin operated, some costing just one quarter per play. All the games at Rossi's are also coin operated.
Owner Ross Parisi said he prefers the single-quarter, coin-operated model for arcades because people can spend just a few dollars playing their favorite games.
Walking into Rossi's is like taking a step back in time. Parisi created an atmosphere at the restaurant and arcade straight from his childhood, with signed posters of famous actors.
"Not to toot my own horn, but the Rossi's vibe trumps," Parisi said.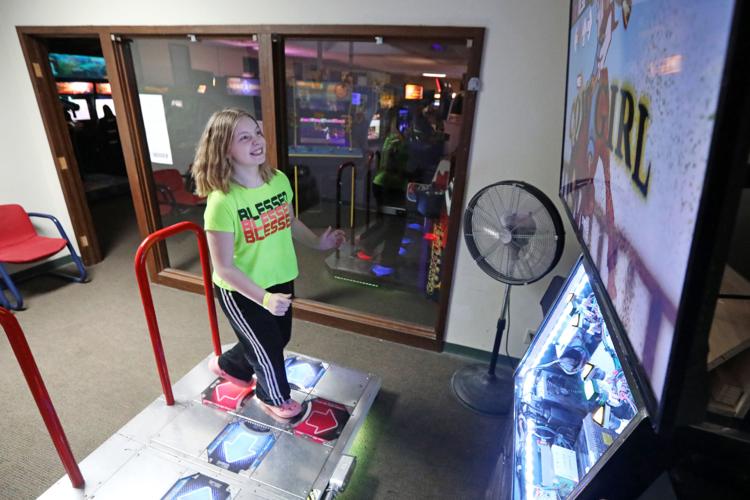 To Parisi at Rossi's Pizza, it makes sense that arcades are gaining popularity again — playing Galaga surrounded by other gamers is inherently more fun than playing alone on a console at home. And he can tell that even the kids these days are having more fun in the arcade room than they would have on their parents' iPad or cell phone.
"When they're done playing those games, they don't run around screaming, 'That was the best thing in the world,'" Parisi said.
'Something magic'
Similar to Geeks Mania, NerdHaven Arcade — owned by Adam Wood and John Karalis, who both used to be affiliated with Geeks Mania — will have all but its pinball machines open to play with the purchase of an entry ticket. The pinball machines, which are in a room at the entrance of the arcade, will be set to coin operation.
Wood and Karalis said this area is for the players who just want to play a couple games then leave as well as for the players who may be skilled enough to play for an hour or more on just a couple quarters. They didn't want those players to feel ripped off.
The two own the dozens of games in the space and have been lifelong gamers. They wanted to bring the arcade experience to more people.
"They're just some wooden boxes with a TV in them, but there's something magic," Wood said.
Despite the inherent competition of owning separate arcades, Turino said each business fills a different need. I/O is for adults only, Geeks Mania and NerdHaven both have similar models but are on opposite sides of town, and Rossi's offers coin-operated play.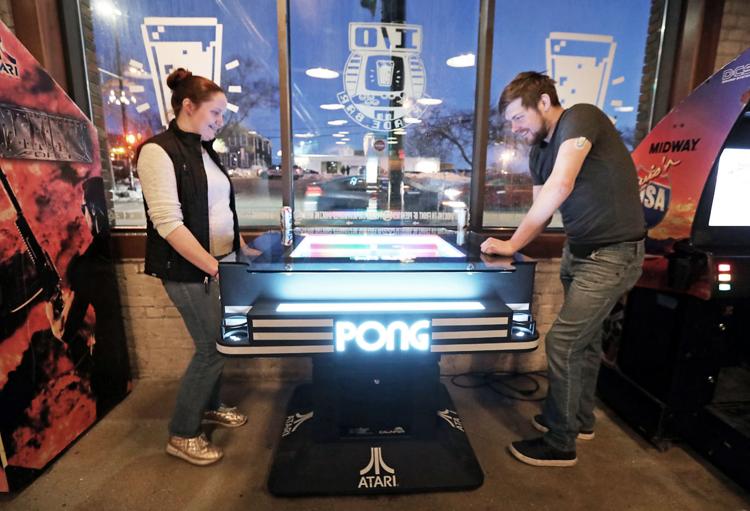 He said he doesn't feel any bad blood when talking about the other owners.
"There's a lot of camaraderie around video games," Turino said.
The business news you need
With a weekly newsletter looking back at local history.