The first bid came in at 10:08 a.m. for an Allen Bradley Controller, PanelView 1400e.
It sold in about 60 seconds for $500.
A Weigh-Tronix scale went for $800, a lab-sized Stephan cutter and mixer sold for $1,300 and, a few minutes later, a Waukesha positive displacement pump garnered $6,000.
About 100 people attended in person and nearly 500 others registered online as the first day of a three-day equipment auction began Wednesday on the third floor of what used to be the corporate offices of Oscar Mayer, one of the city's most historic companies which ceased its Madison operations this past summer.
And if the opening hours of the event were any indication, the auction of 2,082 items could bring in millions of dollars for the new owners of the property, Reich Brothers Holdings and Rabin Worldwide. By 12:30 p.m., about 250 items combined to sell for over $500,000. Among the most expensive was a bulk incline screw loader for $97,500. The cheapest was a LOMA Superscan metal detector for $100.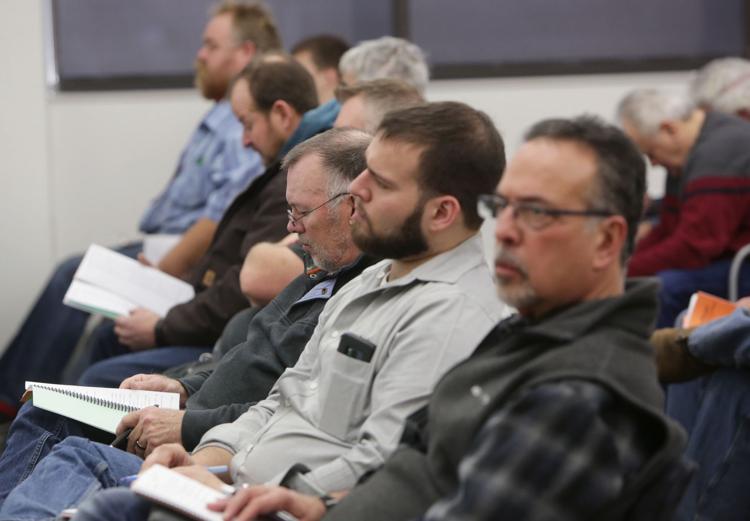 The auction is a major step toward bringing the property on Madison's East Side to a new use and drew bidders from food-processing and manufacturing companies in Wisconsin and, via the internet, from around the world.
"There's a lot of people paying attention to this auction," said Richard Reese, Rabin's CEO, who called the opening items in the auction. "We're trying to get more chairs. This is a huge turnout."
Oscar Mayer's production in Madison ended in June, closed down by parent company Kraft Heinz as part of a corporate restructuring that followed the merger of Kraft Foods Group and H.J. Heinz Co. in 2015. Reich and Rabin, which buy shuttered factories and sell the assets, bought the property in October for an undisclosed amount.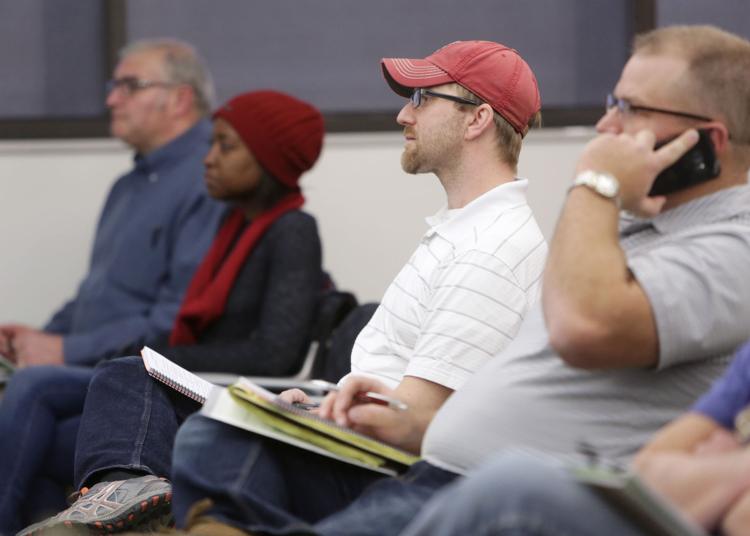 While some of the buildings on the property at Aberg and Packers avenues date to the early 1900s, much of the equipment is newer, which is part of the draw for bidders. About 100 people inspected equipment Monday with another 250 people touring the facilities Tuesday.
Chris Sawyer, 41, works for Brakebush Brothers, a chicken-processing company in Westfield. The company last week cut the ribbon on a $45 million expansion of the plant, but Sawyer was charged with finding quality used equipment like grinders and mixers for the company's other plants in Texas and Minnesota. Sawyer has been with Brakebush since March, but for the previous 15 years worked at Oscar Mayer, where his duties included plant quality and research and development.
You have free articles remaining.
"It's a little surreal," said Sawyer, who did a walk-through of the plant on Monday and sat in his old cubicle on the plant floor. "As we continue to be a growing company, (Brakebush) is always looking for opportunities to pick up equipment for ourselves. We've identified a few things we thought we could use."
Broader interest awaits
Bidders in the room clutched narrow, blaze-orange, spiral-bound notebooks that listed the items by lot. Wednesday's auction was primarily dedicated to food-processing equipment, but Thursday's and Friday's auctions will include hundreds of items that could have uses for any number of companies or even homes. The items include compressors, battery chargers, forklifts, ladders, parts cabinets, hoists, welders and even a Ford passenger van.
"There's a lot of machine shop and a lot of maintenance equipment," said Scott Swanson, an auctioneer with Barliant Auctions in Sandwich, Illinois, which is assisting in the auction. "It's a lot of things that can be used locally. There's a tremendous amount."
For Joel Waldo, 50, a manager at Metalworx in Waterloo, the auction provided an opportunity to pick up a deal on machine shop equipment and get a peek inside the historic plant.
"We're looking for anything that's economically priced," said Waldo, who grew up in Madison. "There's some old stuff and some new stuff. It's neat to see something that you might bid on that actually has an Oscar Mayer tag on it. It's just cool."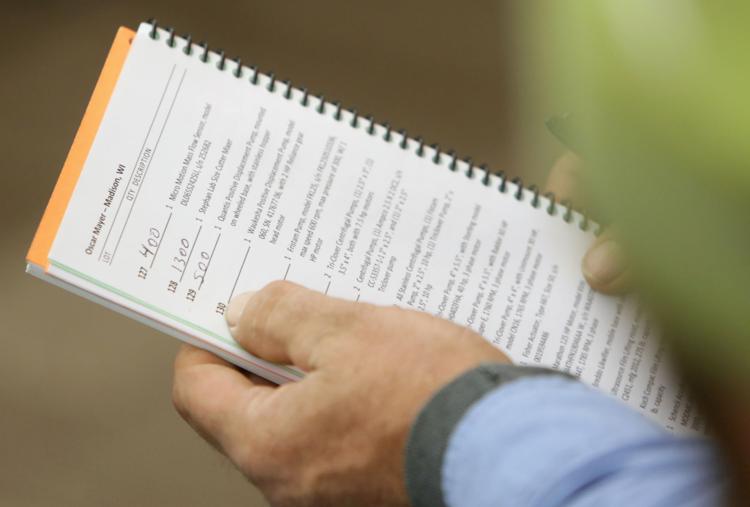 Reese said other auctions could be held in the coming weeks to sell things such as office furniture and fixtures. But to remove the larger pieces of equipment that are being sold through Friday of this week, openings will be cut into the side of the building on the third, seventh and eighth floors. Cranes will then be used to lower the pieces to waiting trucks.
No small task
But most who buy large items will hire someone else to remove and transport the equipment.
Companies that specialize in equipment removal set up offices Wednesday next to the auction floor. They included Reynold's Transfer & Storage of Madison, International Machinery Exchange in Deerfield and Todd's Specialized Rigging in Oelwein, Iowa. Dwayne Fletcher, owner of Noah's Machinery Moving, came from Layton, Utah, to help dismantle the equipment for bidders. Fletcher's crews, in some cases, will use plasma cutters, grinders and power wrenches, but will also have to navigate the design of the aging facility.
"Most of the doors here are very low, so you can't even get a normal forklift through them," Fletcher said. "We've got a 15,000-pound-capacity lift, but it's 83 inches tall. Most of the doors here are 81 inches tall."