Tim Staton has his garage back and Williamson Street has gained a new niche retailer aimed at families looking for an alternative way to cart around their young children, groceries and other packages.
Think of The Cargo Bike Shop as a dealership for two-wheeled, eco-friendly versions of the minivan.
For the past two years, Staton has been selling cargo bikes through word of mouth and online out of his garage on Woodland Circle just off of North Sherman Avenue. Late last month he quietly opened a retail shop that shares space with Café Domestique in the 1400 block Williamson Street.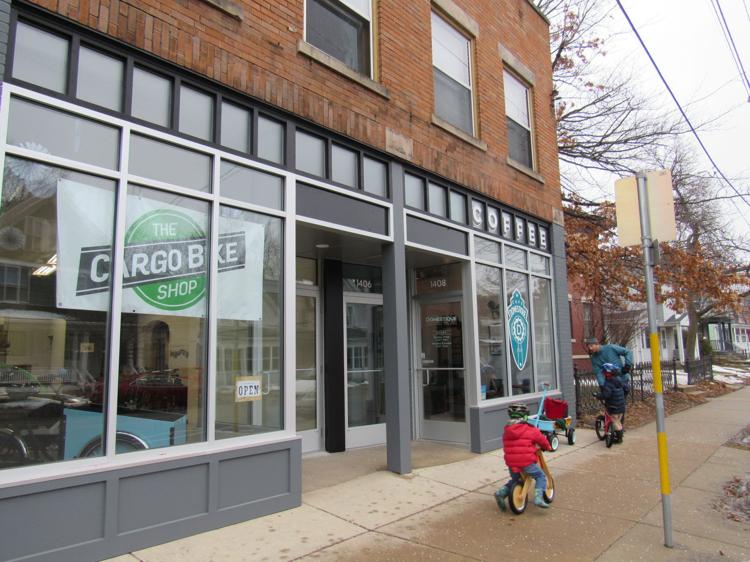 Staton is leasing the first floor from Commonwealth Development and subleasing the coffee house space to Dan Coppola, whom he has known for 15 years and worked with at Trek Travel.
Coppola's love of coffee and bikes and Staton's drive to have his own business have merged to create a unique space on one of the state's most iconic streets and in the epicenter of Wisconsin's biking culture.
"I like having (Dan) in here because it brings a lot of people in and I get good coffee every day," Staton said. "I love this neighborhood. It made a lot of sense for us."
But sales for Staton aren't limited to the neighborhood, city or even the state.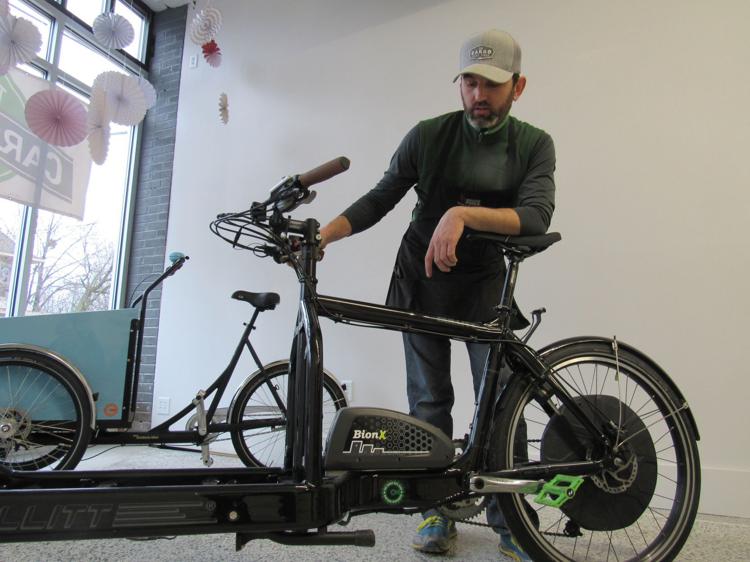 The bikes, which can typically carry one adult and up to three children, can range in price from $1,300 to nearly $6,000 with some equipped with electric motors. Brands include Bullitt from Denmark, WorkCycle from Holland and Xtracycle in Oakland, California.
With virtually no competition, Staton has sold bikes to customers in Illinois, Iowa, Minneapolis, Wausau and Milwaukee. Staton also repairs cargo and conventional bikes in his shop, located in a 1927 building that decades ago was home to a meat market and is next door to Batch Bakehouse and near the Ace Hardware store.
Companies like Burley and Thule make trailers designed to be pulled behind a regular bicycle and Adams makes a Trail-A-Bike that is pulled behind a bike but allows children to pedal along. Staton, however, says a cargo bike is designed and built to handle extra weight and torque, improves communication between the adult and child, is more visible and has a two-legged kickstand.
"They're just designed for having wiggling, live cargo that you don't want to fall out," Staton said. "It's the second car for a lot of my customers."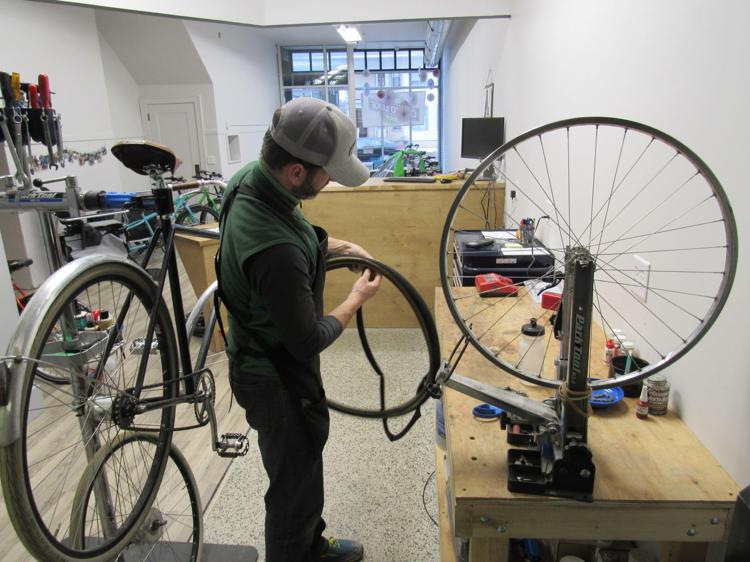 Madison has long been considered one of the most bike-friendly cities in the country. It includes miles of trails, routes and paths, bike shops that cater to the beginner, commuter, traveler and competitive cyclists and bike companies like Saris and Pacific Cycle with Trek based in Waterloo to the east. Major biking events include Bike to Work Week, Ride the Drive and Ironman Wisconsin.
For Staton, his entry into cargo bikes came out of necessity and practicality.
Staton, 39, grew up in the village of Oregon, where his father Steve was a middle school principal and mother Anne was the director of community education and the aquatics director for the school district.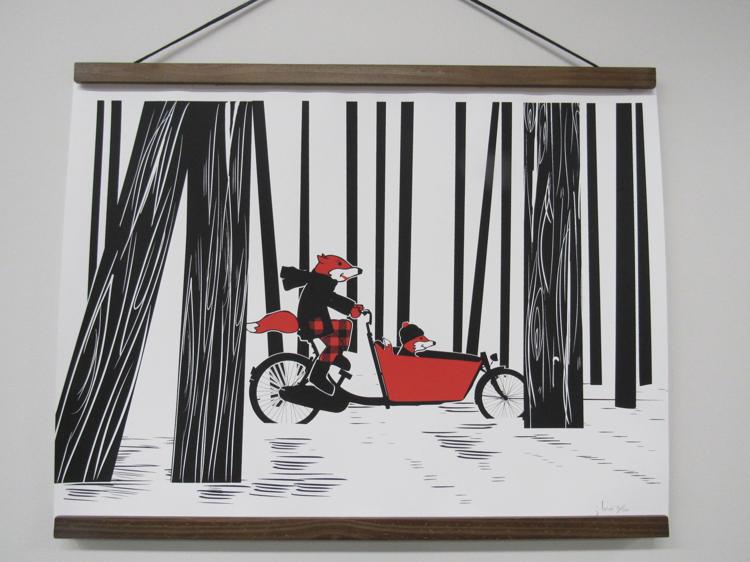 After high school Tim went to Luther College in Decorah, Iowa, where he also worked in a bike shop. After graduating, he was hired by Trek in 2001 to work in logistics but left the company in 2006 to get his MBA in entrepreneurship at UW-Madison. In 2008 he took a marketing job with Pacific Cycle, worked at Planet Propaganda for two years and then in 2012 joined Saris.
You have free articles remaining.
Register for more free articles
Stay logged in to skip the surveys
A short time later, Staton's wife, Ryann, now an art director at Sonic Foundry, gave birth to their daughter, Lark, who is now 4 years old. The addition changed the 20-mile commute for Tim, who wanted a more efficient mode of transportation than the Burley trailer he was using to haul his daughter to and from daycare.
That's when he contacted a former client from his days at Trek who was selling imported cargo bikes in the Pacific Northwest. When it arrived and he began riding the Bullitt around Madison, Staton was inundated with looks and questions from fellow bikers.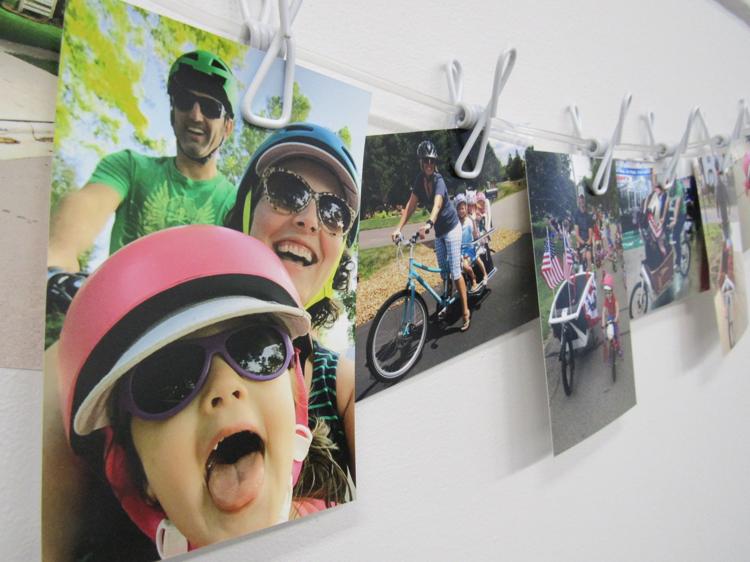 "I started talking to people and the general consensus was 'mind blowin' and 'that bike exists' and 'I want one,'" Staton said. "It never struck me that when I bought the bike I'd be selling them but I've always wanted my own business."
In the fall of 2014 Staton quit his job at Saris and began selling cargo bikes out of his garage while doing some consulting on the side. By the summer of 2015 he was convinced he could make a go of it full time.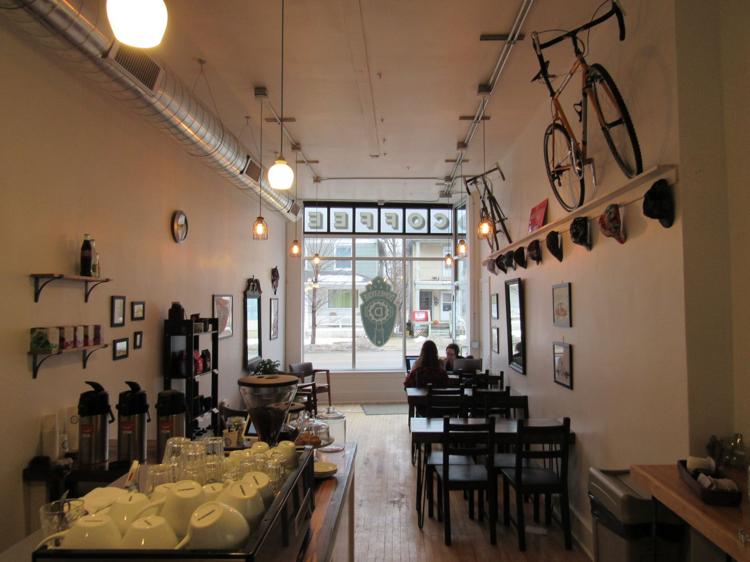 Now, just more than two years from selling his first cargo bike, Staton has a storefront and a unique Madison business with room to grow.
"There's growth in the urban development of the city and there's a decent amount of folks who just don't want to go by car or be tied to a car," Staton said. "These are so much more efficient in a city."
Sales lagging at Willy Street Co-op
Sales at Willy Street Co-op's newest location on the city's North Side are meeting budget and the co-op, with three locations, now has more than 34,400 members, according to a report from Anya Firszt in the January issue of the co-op's Reader.
But sales are "down slightly" at the grocery co-op's other locations on Williamson Street and in Middleton through the first six months of fiscal year 2017, Firszt reported.
In the 2015 fiscal year the co-op had sales of $41.5 million, a 3 percent increase over 2014, but lost $317,000. In fiscal year 2016 that ended July 3rd sales topped $45 million, a 9 percent increase over 2015, and led to a $300,000 profit.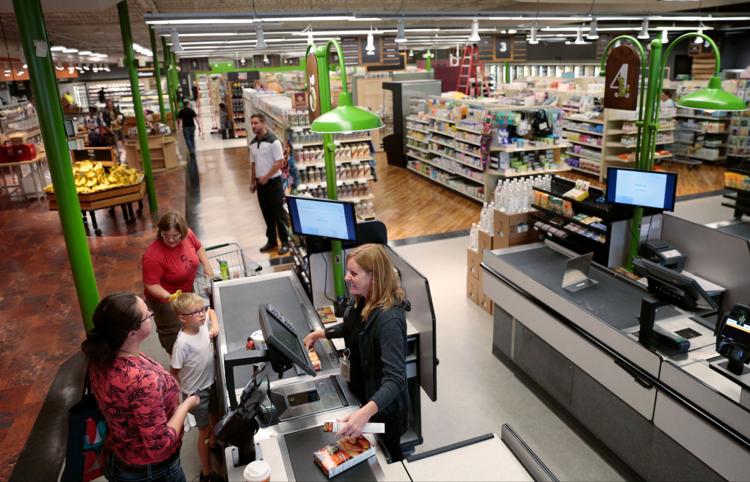 Firszt also highlighted some new amenities coming to the co-op's stores. Willy East will be adding a rotisserie oven with hot case merchandisers added to the deli departments at both Willy East and Willy West. The produce section at Willy West will also be updated with new shelving and lighting while Willy North is getting a new refrigerated case for repacked bulk items and refrigerated bakery. Outdoor seating will be added to the North Side store this spring, Firszt reported.
A big trip to the Big Show for UW-Madison students
A group of 32 students with eyes on careers in retail will descend on New York City this week for the National Retail Federation's annual trade show.
The trip will include visits to the Doneger Group, a fashion merchandising and marketing company; Macy's corporate offices, Kohl's design office and Trunk Club's New York Clubhouse, according to the fall newsletter of the Kohl's Center for Retailing at UW-Madison.
Speakers and presenters at the conference will include fashion designer Rebecca Minkoff, Rachel Shechtman, founder of STORY; Heidi O'Neill, president of direct to consumer at Nike and Karen Katz, president and CEO of Neiman Marcus Group.