Managers of Schnucks grocery store, just across the state line in northern Illinois, don't find it unusual to serve shoppers from Wisconsin.
Some of them aren't everyday shoppers but butter bootleggers, stocking up on an acclaimed Irish-made butter that cannot be sold in Wisconsin due to a 1954 Dairy State law prohibiting the sale of butter without either a Wisconsin or federal grade mark.
So Wisconsin fans of Kerrygold butter, which is graded, produced and packaged in Ireland, have had to either buy it online or venture to a neighboring state that has looser butter regulations than Wisconsin.
Larry Larson, who oversees the dairy and frozen foods departments at Schnucks in Roscoe, Illinois, 4 miles south of the Wisconsin border, hopes for the latter.
While he was driving to work one day, he heard a radio news report about Kerrygold butter not being available in Wisconsin. Larson was aware of the brand's popularity, and with his store's proximity to Wisconsin thought it would be a good idea to stock up.
"One day I just thought since we're so close (to Wisconsin), that people looking for it would come over the line to buy it, and it seems to be happening," Larson said.
Popular butter
The inability to buy Kerrygold butter in Wisconsin has been in and out of the media spotlight the past few years.
According to the state, warning letters were sent to both Meijer and Sam's Club, reminding them of the state law and asking that the product be removed from their shelves.
Despite retailers being sent letters in April 2015 reminding them of the law, Kerrygold butter occasionally finds its way onto store shelves in Wisconsin, including as recently as Friday in the grocery section at a Target store at 1250 W. Sunset Drive in Waukesha.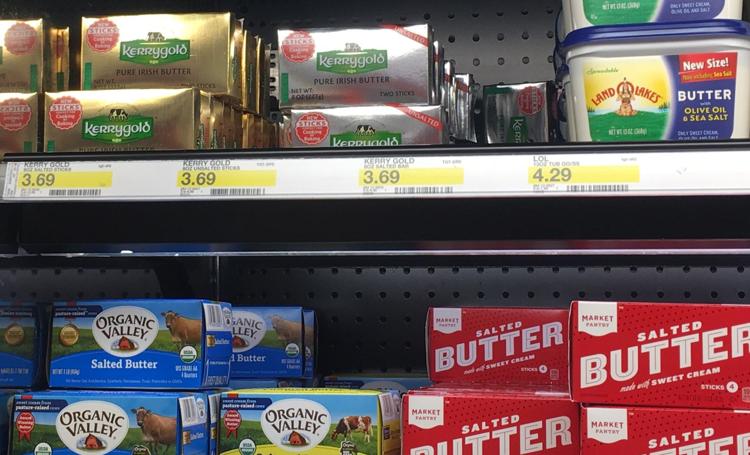 The Kerrygold brand carried a premium price at the Waukesha Target store, selling for $3.69 for two sticks, compared to other packages with four sticks for between $4.19 and $5.99.
Heather Simmons of Madison likely won't travel across state lines to buy the Kerrygold butter but favors the product because it's made with milk that is produced from grass-fed cows and is hormone-free.
She enjoys the flavor and taste of the Kerrygold butter, which she has purchased in her home state of Ohio but has never seen for sale in Wisconsin.
"I try to buy local but I do love the Irish butter," Simmons said.
In recent weeks, the issue resurfaced through social media, which lured the attention of several media outlets, including Milwaukee Magazine.
"We were originally drawn to the story because we had done a similar print story on Wisconsin dairy restrictions in 2014 and thought this was a nice tie-in," said Karisa Lango, digital editor of Milwaukee Magazine.
Its report on Kerrygold butter was its No. 3 most-read story online for February, drawing more than 8,000 page views since it was published on Feb. 22.
State regulators also believe recent media attention has fueled inquiries about the Wisconsin law.
Raechelle Belli, spokeswoman for DATCP's food safety division, said retailers were sent letters in April 2015 reminding them of the law.
"At that time, stores started removing those products from their shelves and for some reason it's just bubbling up again," Belli said.
Belli suspects the popularity of the Kerrygold brand, which has a Facebook page with more than 285,000 likes, also is playing a role in the latest wave of attention.
Kerrygold has been working with regulators so it can sell its butter in Wisconsin. The company also produces cheese, which isn't affected by the law and is legally available at many retailers around the state.
"We are currently working with Wisconsin officials on a solution which will enable consumers throughout the state to enjoy the great taste of Kerrygold butter," said Brian Cleere, a representative for Ornua Foods North America Inc., which markets the Kerrygold brand, in a statement. Cleere offered no timetable.
Belli said her department had little institutional memory about why the 1954 law was passed, but it's believed it was to put a grading system in place to ensure the highest-quality butter was being produced and sold in the state.
Homegrown alternatives
A selling point of Kerrygold butter is its use of milk produced from cows grass-fed year-round. A similar marketing strategy has been used by Nordic Creamery, located in Westby, about 30 miles southeast of La Crosse. It offers butters made from a certified hormone-free herd of cows nourished by pasture in summer, plus a different, richer butter when the cows are fed grasses and grains from fall to spring.
Al Bekkum, who has made butter and cheese for more than 30 years, the last eight at Nordic Creamery, said craft butter is more like old-style churn-produced butter. Its higher fat content gives it a richer taste.
He is aware of Kerrygold's challenges to sell its butter in Wisconsin — and the brand's strong following.
Bekkum said Nordic Creamery and Wisconsin craft butters are building fan bases through social media and other grassroots efforts such as farmers' markets.
"Social media really is a big tool for us to get the word out about our butter," Bekkum said. Nordic Creamery's Facebook page has nearly 7,000 followers.
The company's online sales have grown, Bekkum said.
"It's just important to get out in front of people," he said. "We're developing a following of our own and we're happy with the amount we're selling."