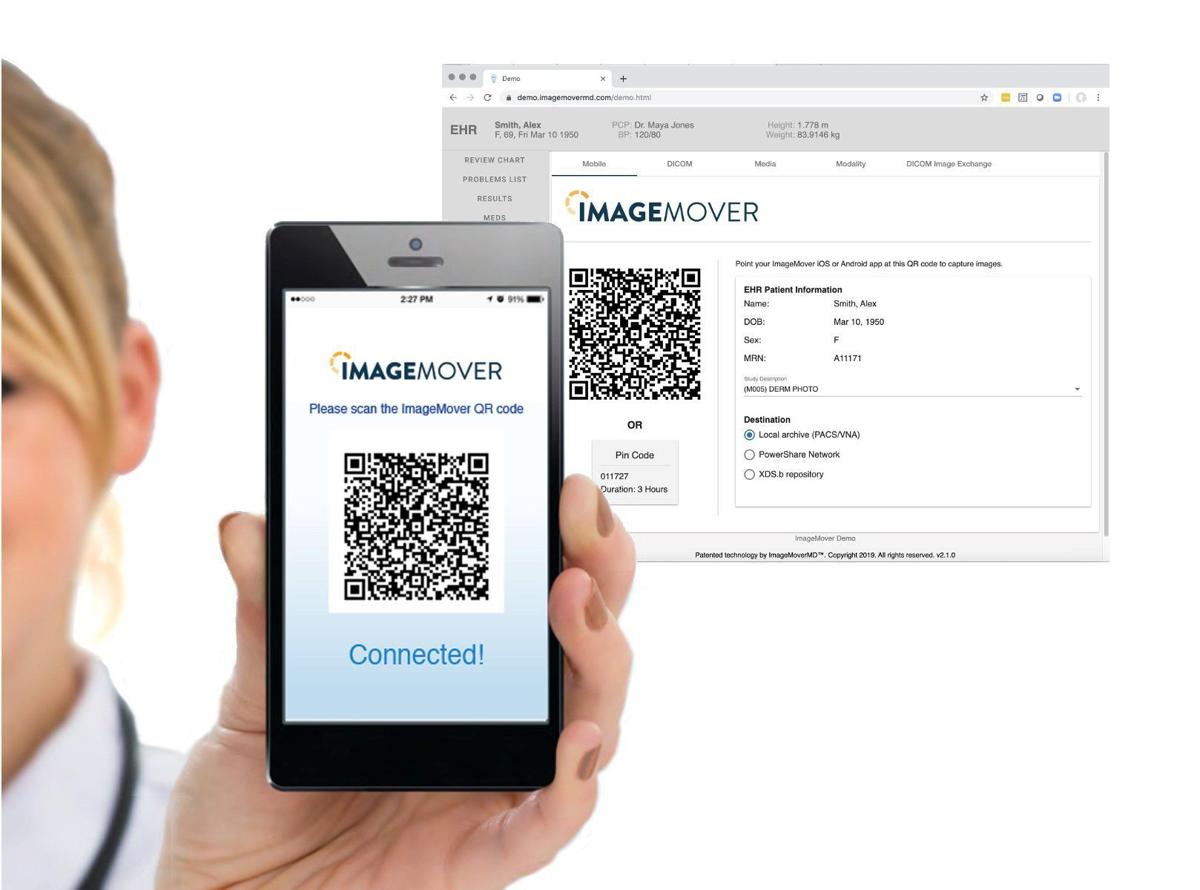 We all use our phones to take pictures every day. The same is true in healthcare: clinicians take photos to document surgeries, track skin lesions or wounds, communicate with other medical providers, and in countless other clinical workflows.
But care must be taken that these images become a part of the patient's medical record, ideally in the image archive where all of the patient's images are viewed. Privacy and security must also be maintained. Specialized apps exist to solve this problem but involve logging in, looking up the patient, and other steps that take much longer than simply taking a photo and texting it to a colleague.
ImageMover is embedded within the hospital's electronic medical record (EMR) such as Epic. The clinician is already logged into the EMR and looking at the patient's record. They can simply scan the ImageMover QR code with our mobile app, take photos, and hit the Send button. The photos are transmitted to the appropriate location in the hospital image archive with links in the EMR for use by the entire clinical team. (ImageMover has a patent on this process.)
ImageMover was founded by UW Health neuroradiologists Gary Wendt and Richard Bruce, who both had technical IT backgrounds before becoming radiologists. They were uniquely positioned to develop solutions for mobile photo management and other imaging workflows.
I helped them to develop the mobile apps early on and get the company up and running, and I joined as Chief Technology Officer in 2018. Today ImageMover has 18 Madison-based employees and is led by president Kevin Houlihan. We are funded by a mix of angel investors and venture capital firms including local firm HealthX and Bain Capital Ventures based in Boston.
Selling to health systems is difficult for any company, especially a startup, even though providers and clinicians love our product. Fortunately, we also have a very compelling value proposition for companies that sell image archives, who see imaging volume increase when photos from ImageMover flow into the archive.
A number of these imaging companies distribute our products including Philips Medical Systems, IBM, Nuance, and Change Healthcare. These partnerships have expanded our sales significantly both in the US and internationally.
As we scale, our primary need is people who can implement and support our products at health systems. We're happy to be based in perhaps the most ideal city in the world to find exactly these people. That's thanks to Epic, which recruits thousands of smart, talented people to Madison, creating a pool of healthcare IT professionals available to ImageMover and other local healthcare companies.
In addition to our mobile solution, ImageMover has developed a range of imaging workflow products, such as handling medical image CDs. You may have been handed a CD to transport your images to another clinic—a large hospital can receive more than 100,000 CDs per year which we can help to process. What's next? Among other products, we're excited about image exchange, a product that will seamlessly transmit images between health systems and eliminate those CDs altogether.
And we're excited about continuing to expand our team here in Madison.
The business news you need
With a weekly newsletter looking back at local history.