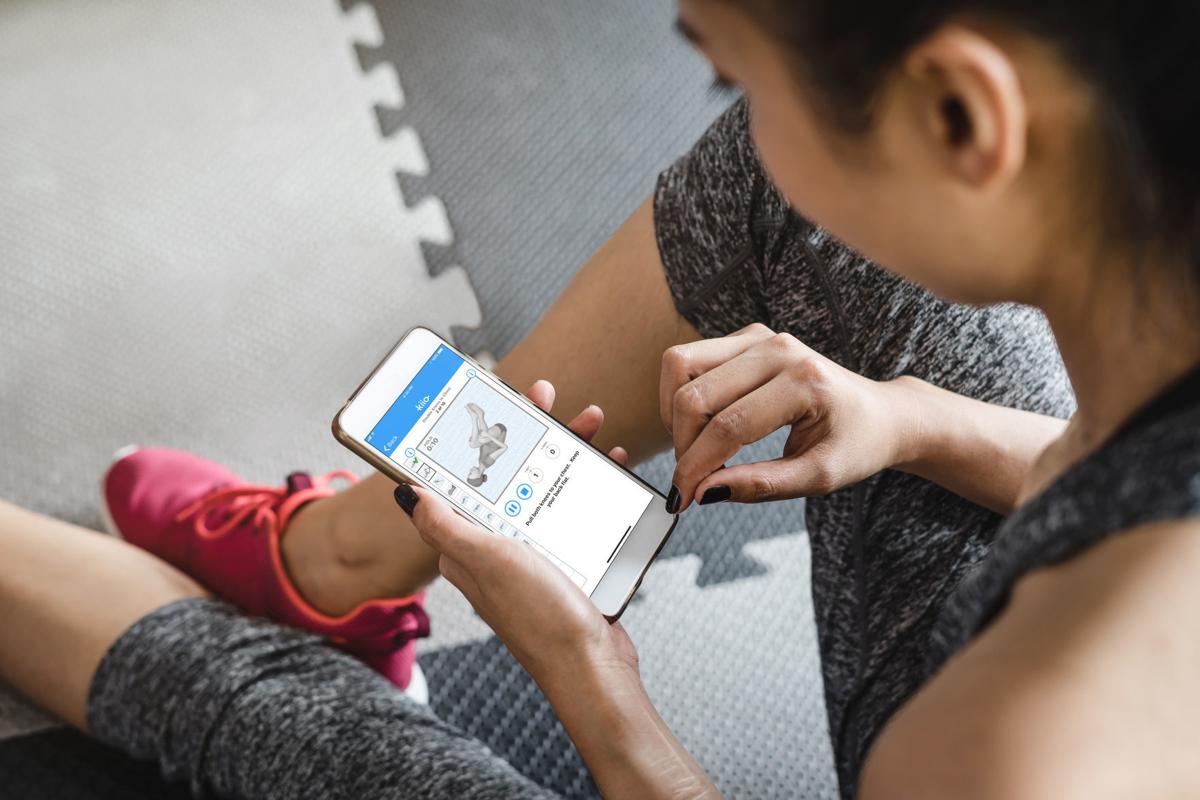 Four of many journeys from unrelenting back pain to health:
-- A young mother finally moves past "survival mode" with a program, tailored to her type of pain, that she can do at home.
-- A man still suffering after multiple spinal injections and a spine surgery achieves 75 percent pain reduction in less than three months.
-- A busy executive taking pain medication every three hours and struggling to walk around the block is able to take a dream hiking trip.
-- And a 78-year-old woman performs her program every morning because it relieves her pain and enables her to enjoy her passion for sewing again.
These are the stories that make our work so meaningful.
At Kiio, our mission is to help people with musculoskeletal pain get back to the activities they love. We do this by combining evidence-based medicine, artificial intelligence and interactive coaching to deliver appropriate care on your mobile device.
Kiio is individualized to you, 24/7 convenient, flexible and proven effective. We integrate with traditional care to get you the right level of care, at the right time.
Our first program targets low back pain. And that's a big deal. Back pain is the leading cause of opioid prescriptions, the leading reason for disability and missed work days, and a top medical cost driver.
Kiio is achieving outstanding clinical and financial results for our partners. Kiio program participants benefit from pain reduction, personal empowerment, and significant reduction in the use of opioids and aggressive treatments. Our customer partners – health plans, employers and other at-risk entities – benefit from healthier, happier people at much lower cost.
As vice president of product strategy, I strongly believe that each of us has the opportunity to lead change or sit still and wait. What motivates me every day is that at Kiio, we are creating digital technology on the vanguard of change.
Health care lags significantly in acknowledging and embracing the consumer expectations and technological advancements that have transformed so many other industries. Despite understanding "patient-centricity" in terms of care, health care is slow to implement the "consumer-centricity" in immediacy, convenience, personalization and value that we've come to expect in every other facet of our lives.
The shift from fee-for-service to payment-for-value is long overdue. Some traditional providers are not highly motivated to embrace this change, with the result that those who foot the bill – be it the self-funded employer, the health plan or another at-risk entity – are more and more the ones championing and demanding innovation.
As a young company that undertook a self-reinvention, we understand the costs and benefits of pivoting to better align with market realities. The transition can be painful, but if you retain your essence and better deploy your core competencies, the opportunity is powerful. There is tremendous opportunity for win-win-win in health care.
We are grateful for and proud of our grounding in the Madison community. Our angel and early funding was local, including DaneVest, Phenomenelle Angels and Wisconsin Investment Partners. We have benefited from the tax credits and economic development loans offered by WEDC. We have also benefited from the talent nurtured by UW-Madison; in turn, we have offered internships and grown interns into fantastic full-time employees.
Our first health plan partners – Quartz Health Solutions, WEA Trust and GHC – were local. We likewise started locally when we began offering Kiio direct-to-employer, and from there landed our first Fortune 50 partner.
Together forward! We can make a difference.
The business news you need
With a weekly newsletter looking back at local history.