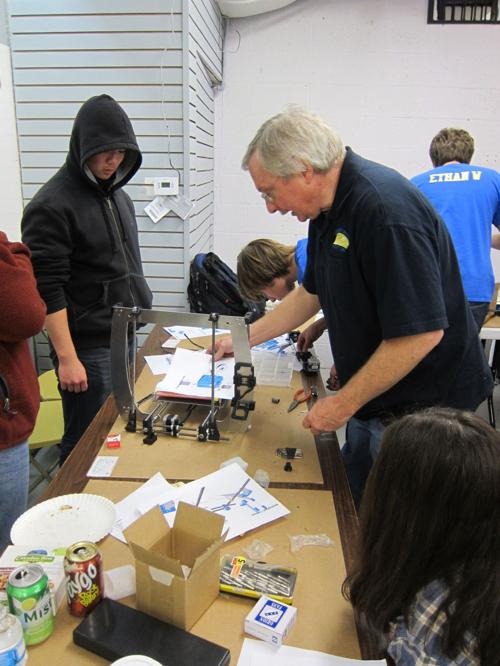 People with grand ideas for a product or service will gather this weekend for Build Madison at the Sector67 maker space, 2100 Winnebago St.
This is the sixth year for the collaborative program that lets people explain their concept, gather a team, and spend the weekend trying to turn the proposal into reality.
"They can be ideas that people have been thinking about for a long time or that are inspired by (others)," said Chris Meyer, Sector67 co-founder.
For example, in past Build Madison events, the Madison West Rocketry Club built a 3-D printer. Heather Wentler, co-founder of the Doyenne Group, turned bacon fat into soap. Another participant drew up a design for a bicycle coffee shop ... which he then built inside a large bike trailer and ran in Upper Michigan for a year and a half.
Meyer said he expects 50 to 75 people to participate in this year's Build Madison. Pitches will start around noon Saturday and the finished product is due 24 hours later.
"Usually, a core of about 20 stay up all night and work all evening and into the morning. Presentations, around noon on Sunday, are for everyone who is around and awake," Meyer said.
A relatively informal program, Build Madison attracts hobbyists, tinkerers, engineers and even "folks with zero entrepreneurial interest who get inspired," he said.
AmebaGone lands $738K research grant
UW spinout AmebaGone has landed a $738,000 Phase 2 Small Business Innovation Research grant from the National Science Foundation.
AmebaGone is working on sanitizers and disinfectants against deadly bacteria that attack plants and people.
Based on the work of bacteriology professor Marcin Filutowicz, natural organisms in soil were found to "eat bacteria," said Cheryl Vickroy, AmebaGone president and interim CEO, including bacteria that have been dormant for decades.
Vickroy said the products could be used to prevent disease in organic apple orchards or to fight human diseases such as cystic fibrosis or Legionnaires' disease.
You have free articles remaining.
AmebaGone has two full-time and three part-time staffers and is about to add two full-timers, Vickroy said.
HealthMyne links into Epic
Madison health IT startup HealthMyne says a joint effort with UW Health and Epic Systems Corp. will make it easier for UW Health doctors to monitor the progress of treatments to fight cancer tumors.
HealthMyne's technology — aimed at cancer patients — pulls data from images such as CAT scans to see how patients with similar tumors have responded to various treatments. It's meant to be a tool to help physicians diagnose and treat the illness.
The latest project brings in data from the patient's medical history — using Verona-based Epic's electronic health records system — onto the same computer screen as the patient's most current image.
"Radiologists will now be able to easily view imaging data together with relevant patient health record data," said Praveen Sinha, HealthMyne CEO.
"This is a powerful capability that is lacking with current imaging systems."
Redox on a roll
Health IT startup Redox just wrapped up its third accelerator program this year — which must be a record for any Madison area startup.
The latest: Healthbox, held jointly with Intermountain Healthcare in Salt Lake City. Meeting Intermountain — a 22-hospital, not-for-profit health system — is especially valuable, Redox co-founder Niko Skievaski said.
"Intermountain is one of the nation's largest and most influential health systems and a pioneer in using data to improve care," Skievaski said. "Intermountain is absolutely forward-looking and willing to make investments in new technology to drive innovation in healthcare."
Redox was one of 10 chosen from "a pool of 130 highly competitive applicants," a Healthbox news release said.
Last month, Redox aced $3.5 million from East Coast venture funds and Madison's HealthX Ventures.
The young company, founded in 2014, also took part in the DreamIt Health Baltimore accelerator, tied into The Johns Hopkins University, and TMC|X, of Texas Medical Center, early this year and it was one of two winners of Health 2.0's Traction pitch contest in Silicon Valley.