A Madison health-tech company that uses big data to fight cancer is getting a $15 million push forward from investors.
HealthMyne's platform is aimed at giving radiologists, oncologists and other health care providers a closer and more accurate look at cancerous tumors and their progression.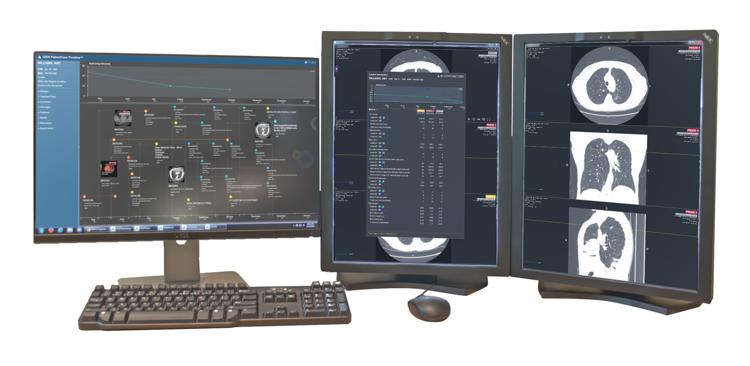 HealthMyne's platform, called Quantitative Imaging Decision Support, or QIDS, outlines tumors in 3-D and lets the care team look at a patient's current and past health scans at the same time, so it's easier to see if the cancer is advancing or retreating.
QIDS creates a series of metrics from the scan images that can be saved in a database, integrated with other information from the patient's health history, and made available at the time of diagnosis and treatment – a task that had been "very time-consuming and difficult" up to now, HealthMyne spokesman Neal Miller said.
In the future, the database could be used to match tumors with similar features to help diagnose the cancer, determine which drugs would be most effective, how likely the tumor is to spread, and the patient's chances for survival, Miller said.
"HealthMyne's goal is to improve radiologists' workflow, making things faster for us and allowing us to see quickly if any change is occurring over time due to treatment," said Dr. Jeffrey Kanne, UW-Madison radiology professor and vice chair of quality.
A new QIDS module, released recently, focuses on lung cancer and makes it easier for health care providers to monitor the health of people who are more at risk of developing the disease.
Imaging data has been significantly underused up to now, said John Kuelper, Ascension Ventures investment director.
"Only a fraction of the available structural information is actually captured in the radiology report and made available to care teams," he said.
HealthMyne plans to use the additional money to expand its technology and add to its sales and service staff worldwide. After testing the technology at the UW-Madison, Vanderbilt University and the Moffitt Cancer Center in Tampa, Florida, sales began throughout the U.S. this year and HealthMyne signed its first global distributor in Europe.
"The product has worldwide applicability," said HealthMyne CEO Arvind Subramanian.
HealthMyne's co-founders include Thomas "Rock" Mackie, who is chairman of HealthMyne's board and director of medical devices at the Morgridge Institute for Research in Madison. Mackie also co-founded TomoTherapy, a targeted radiation treatment machine system that is now part of California-based Accuray but is still produced in Madison.