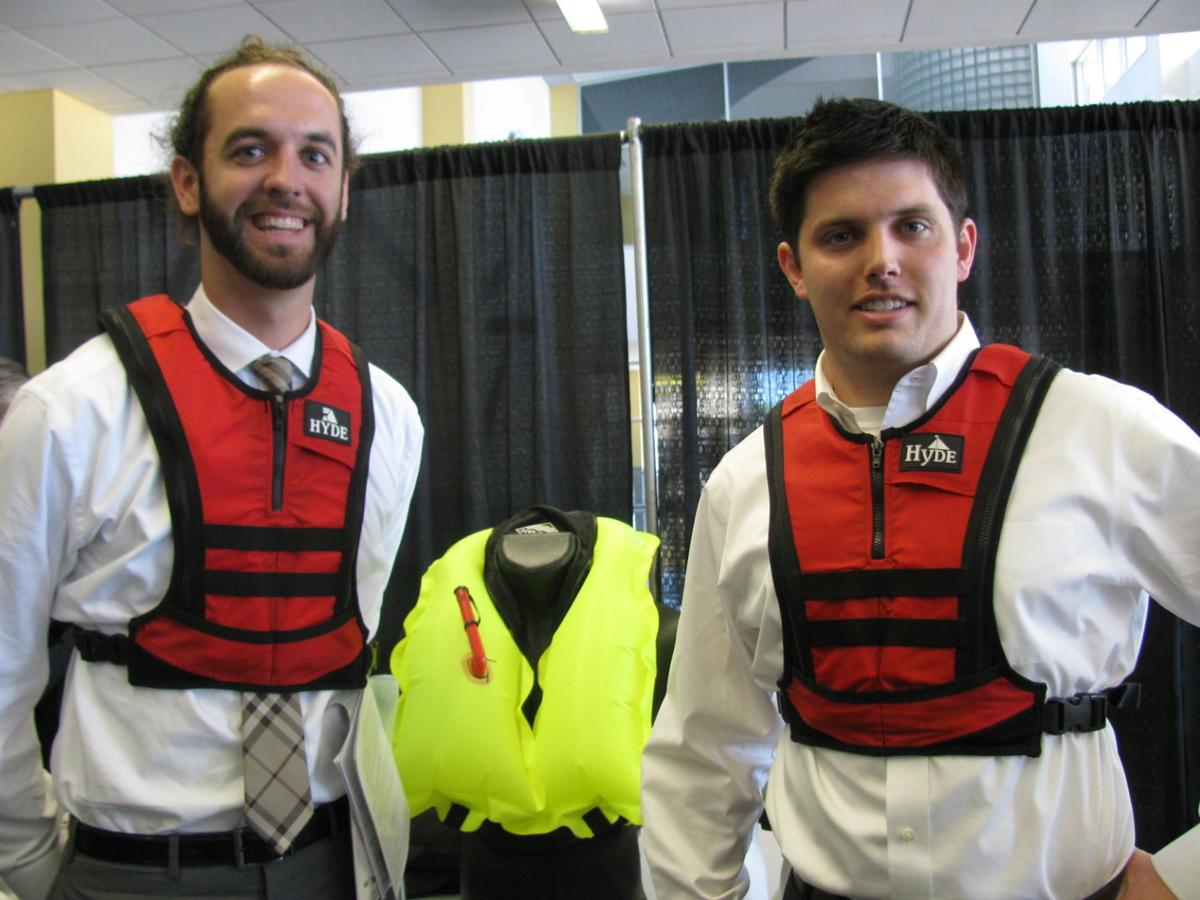 The prolific entrepreneurial duo of Brian Wiegand and Mark McGuire is at it again, cooking up a new startup.
Wiegand, McGuire and Craig Andler — who has collaborated with them on some past ventures — are listed as "executive officers" of Gravy Live, a startup that has filed papers with federal regulators showing it has raised $450,000 of what it hopes will amount to a $1.1 million funding round.
McGuire, who now lives in Minneapolis, is not saying much about Gravy Live just yet, except that it is an online technology. "We're in stealth mode right now," McGuire said.
He did say the company will have a Twin Cities office but its headquarters will be in Madison.
"Our team is in Madison," McGuire said. He said Gravy Live — which incorporated in 2016, according to the filing with the Securities & Exchange Commission — has five employees.
Wiegand said another two employees will soon join the company in its offices at 202 State St.
For any reader who may want to jump to conclusions about the nature of the new business based on its name, keep in mind that the names of a few of their past ventures, separately or jointly, have included: Jellyfish, Alice and Nextt.
Jellyfish.com, an online shopping service Wiegand and McGuire launched in 2006, was purchased by Microsoft in 2007 for a reported
$50 million
. Their joint successes also include NameProtect, an internet trademark protection service.
Wiegand co-founded Business Filings, sold to a Dutch company in 2002, and Hopster, an online coupon company, sold to Inmar, a North Carolina technology company, in 2014.
The pair founded Alice.com in 2009, selling household packaged goods. It merged with a Spanish retailer in 2011 and later folded.
McGuire started Nextt with another partner in 2013, aimed at helping people plan events with their friends. It closed about a year later.
They are enthusiastic about joining forces again, even though they are now in different cities.
"It's exciting," Wiegand said. "It's fun getting the band back together and making another run."
Wiegand was under contract to stay with Inmar and Hopster through last fall but then began work on Gravy.
He said the rise in entrepreneurship in the Madison area is clearly visible.
"When I first did Biz Filings, it was very unusual to be a startup. Now, there's just a tremendous amount of activity," Wiegand said. "Almost everyone you know is either part of a startup ... or is thinking about starting a company."
McGuire was entrepreneur-in-residence for American Family Ventures for about a year and then joined gener8tor, the Madison/Milwaukee business accelerator, and helped it expand to Minneapolis.
With Gravy now moving ahead, McGuire has stepped down from his position as managing director of gener8tor in Minnesota but he is staying with the organization as a venture partner and a mentor to Twin Cities startups.
You have free articles remaining.
Succeeding McGuire as managing director in Minneapolis is another familiar entrepreneur, formerly from Madison: Eric Martell. Martell was a co-founder of EatStreet, the fast-growing Madison company that provides online and mobile restaurant meal ordering.
"Gener8tor was the first investor in Eric's company, and he's excited to be working alongside the team that gave his company a start!" gener8tor said, in an announcement earlier this week.
Sharing startup sizzle in Sicily
Scott Resnick, who recently transitioned from executive director of StartingBlock Madison to its entrepreneur-in-residence, will bring Madison's startup savvy to Italy next week.
Resnick is part of a contingent of Americans invited by the Italian Trade Agency to participate in the Innovation and High Technology Lab in Catania, Italy.
"It will be an opportunity to interact with and mentor 12 Italian companies over the course of a few days," he said.
Resnick will work with startups in fields that include smart grid technologies and transportation logistics. He chose the young businesses from a roster of more than 100 startups that will show off their products and technologies to an international audience.
Resnick said he thinks there are possibilities for partnerships, alliances, or customer relationships between the Italian companies and those in Wisconsin. For example: "The Italian tourism economy does match the economy of northern Wisconsin fairly well," he said.
"What I hope is that we have some phenomenal Madison-based companies that also have applications that would serve Italian citizens and the Italian business community well," said Resnick. He said he plans to "highlight Madison resources and hopefully, build bridges that turn into imports and exports."
In addition to pushing forward the planned StartingBlock entrepreneurial hub — which will be part of American Family's eight-story The Spark building, that will be built in the 800 block of East Washington Avenue — Resnick is co-founder and chief operating officer of Hardin Design and Development, a Madison custom software development company.
Business Plan Contest contenders
For this 14th annual competition, 172 qualified entries were reviewed by an independent panel of judges and 50 applicants, representing 26 communities, were chosen to move forward to the semi-final round.
Of the 50, 20 proposals are from the Madison area.
The contest is for entries in the fields of advanced manufacturing, business services, information technology and life sciences, and the 50 semifinalists' proposals range from drone applications to cancer diagnostics to turning crickets into a food source.
"Trends reflected in the top 50 entries match up well with Wisconsin's traditional and emerging strengths," said serial arts-related entrepreneur Toni Sikes, chairwoman of the Wisconsin Technology Council, which coordinates the contest.
After a couple more judging rounds, the top 12 contestants will give live presentations at the Wisconsin Entrepreneurs Conference on June 6 in Madison and the winners will be announced on June 7.
Contact Judy Newman at
with tips and story suggestions.