Construction will start in November on a new headquarters building for Summit Credit Union — the largest Madison credit union.
Summit is moving its base of operations to an 11-acre site along Interstate 94 in Cottage Grove, about nine miles southeast of its current headquarters at 4800 American Parkway. Groundbreaking was held earlier this week.
Summit officials declined to disclose an initial estimate of the cost of the project, nor was the price tag included in about a dozen documents submitted to the village of Cottage Grove.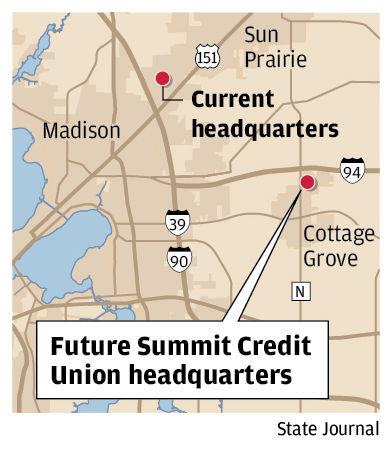 It will be a six-story, 152,000-square-foot building at 1709 Landmark Drive, with an 88-space underground parking ramp and a surface lot with 435 stalls.
The design is by the Strang architecture firm; J.H. Findorff & Son is the contractor.
"We're excited to make Cottage Grove the new home for our headquarters," Summit CEO and president Kim Sponem said. "We hope our new headquarters will have a ripple effect on businesses and visitors to Cottage Grove."
About 250 of Summit's 510 employees will work at the new headquarters when the building is completed in March 2019. That will increase employment in the village by 15 percent, according to a village planning staff report.
The building will include a full-service credit union branch and amenities for employees such as an exercise and meditation room, sand volleyball court, cafeteria and walking and biking path. There will be 12 ports for charging electric cars and a cistern that will collect rainwater to reuse for irrigation.
The new building is expected to consolidate administrative staff currently spread among five buildings, a spokesman for Summit said. No decision has been made yet on the fate of the current headquarters building.
Summit had considered relocating to a site in the 1000 block of East Washington Avenue but later decided it would have been too expensive and dropped that idea about a year ago.
With roots dating back to 1935, Summit is the second-largest credit union in Wisconsin with $2.8 billion in assets, 33 locations in south-central and southeastern Wisconsin and more than 168,000 members. Only Landmark Credit Union in New Berlin is larger.