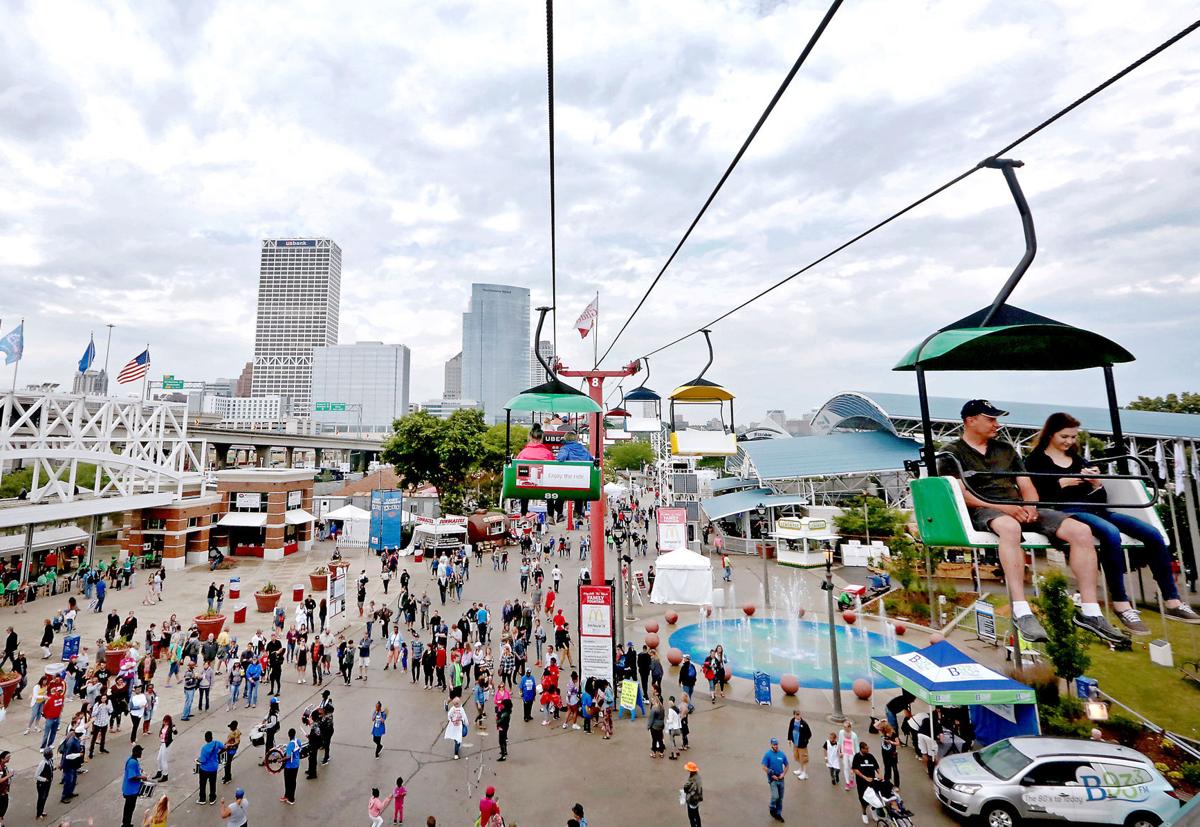 Summerfest, one of the state's signature events, is being postponed to this fall with the hope that COVID-19 vaccinations will make the festival a reality.
Officials announced Tuesday that the event, normally held in late June and early July, will be held over three, three-day weekends in September. A similar plan was tried in 2020 but ultimately the festival was canceled due to the surging pandemic.
"While the progress made through the vaccine rollout is encouraging, we believe it is in the public's best interest to hold the festival in September to give government leaders and health care organizations enough time to distribute the vaccine," said Don Smiley, president and CEO of Milwaukee World Festival Inc. "We will continue to work diligently with civic officials and health care professionals as we prepare to welcome artists, fans, employees, vendors and sponsorship partners this summer. Our team is excited to get back to what we do best, as soon as possible."
The festival, billed as the World's Largest Music Festival and presented by Madison-based American Family Insurance, can draw more than 100,000 people a day to Milwaukee's lakefront. It's planned for Sept. 2-4, 9-11 and 16-18.
Khalid, Luke Bryan, Justin Bieber, Dave Matthews, Blink-182 and Guns n' Roses had been announced as headliners to play at the American Family Insurance Amphitheater, but it's unclear if those acts will be a part of the new dates for the festival. An announcement on the 2021 lineup is scheduled to be made in the coming weeks. For each canceled, postponed and rescheduled show, Ticketmaster will contact each ticket purchaser to advise them on how to secure a refund, Summerfest officials said.
When the gates do open for the event, visitors will get their first look at the amphitheater that underwent a massive $51.3 million renovation and upgrade, the new Northwestern Mutual Community Park and the new Generac Power Stage. All three projects are expected to be completed by June and may be opened prior to Summerfest in September.
The genesis for Summerfest came from Mayor Henry Maier in the early 1960s after he attended Oktoberfest in Munich, Germany. The event, founded in 1968, was initially held at various locations throughout the city but in 1970 the festival found its permanent home at an abandoned 15-acre Nike missile site along Milwaukee's lakefront.
The festival has grown over the years into one of the state's most popular events and, like AirVenture in Oshkosh, brings in thousands of people from around the world. In 2016, for example, more than 800,000 people roamed the 75-acre Henry Maier Festival Park to watch more than 800 bands on 11 stages. The event that year had an estimated economic impact on the region of $187 million.
---
Fave 5: Barry Adams' picks for 2020
My favorite stories from 2020 include a trip on the Lower Wisconsin River, one of the most spectacular waterways in the country. There was a visit to a monastery in rural Sauk County where the nuns live a life of prayer and bake communion bread while in March we took a family trip to Spring Training in Arizona just prior to the country shutting own. On Memorial Day weekend, I saw first hand the impact of the pandemic on our state's tourism industry with a bleak visit to Wisconsin Dells. Witnessing history is one of the benefits of being a journalist and a November day on Capitol Square found me in the midst of a celebration as Joe Biden was declared the winner of the presidential election. There were so many stories to choose from and others were equally worthy but this is what I'm going with for 2020.