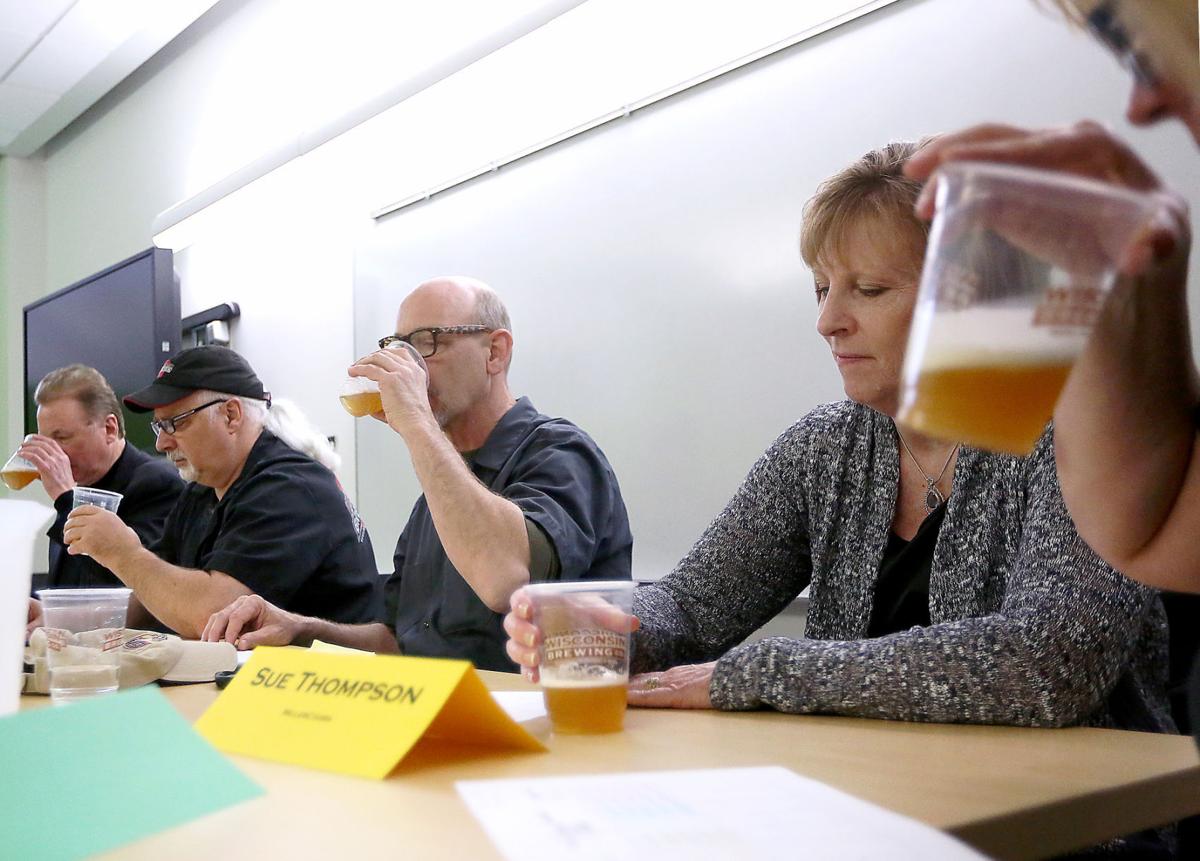 Whether at house parties, football games or the homecoming parade down State Street, UW-Madison students can't seem to get enough of "Sweet Caroline," Neil Diamond's 1969 song.
In a few months, Badger Nation will accompany the tune with a like-minded beer, "S'Wheat Caroline," its recipe, name and label developed on campus.
A trio of student brewers from a food and beverage fermentation class were named winners Wednesday of the second-annual Campus Craft Brewery contest. The winning beer, an American wheat ale with white and red wheat, will now be commercially brewed and distributed throughout the state by Wisconsin Brewing Co. in Verona, sponsor of the contest, which is designed to prepare students for work in the food and beverage industry.
"I wanted to get a lot of flavors out of the hops (and) keep it really simple," said Daniel Deveney, 26, a junior from Cleveland who was part of the winning team. "It feels good (to win), but I was kind of nervous with all of the other good beer people made."
Deveney was joined by Jenna Fantle, 21, and Eric Kretsch, 22, both seniors from Plymouth, Minnesota.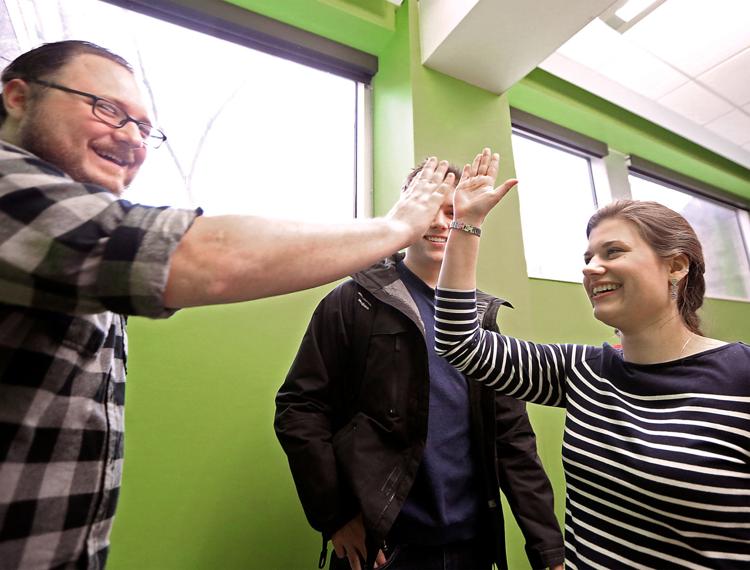 About 60 students are enrolled in the food and beverage fermentation class, but only six three-person teams were selected for the lab work that began shortly after the start of second semester. After developing a recipe, each team brewed its beer on a 30-liter brewing system on the second floor of Babcock Hall. Students knew the name of the beer and were given parameters in which to create the seasonal wheat beer.
The winner was selected in a blind taste test by an expert panel of judges that consisted of Kirby Nelson, WBC brewmaster; Tom Porter, brewmaster and founder of Lake Louie Brewing Co. in Arena; David Ryder and Sue Thompson from Miller- Coors; and Dee Hughes, assistant director of Union dining and recreation at UW-Madison.
"I do a lot of judging at the (Great American Beer Festival), the World Beer Cup and in the UK and, I'll tell you, the quality of these beers is outstanding," Thompson, an expert in sensory analysis, told the student brewers. "Much better quality than I'd say three-quarters of the beers that I've judged in the past. So, outstanding job."
In 2015, the team of Andy Lefeber, Sean Hinds and Paige Wolff beat out five other teams to create Inaugural Red. The beer turned out to be WBC's top-selling beer. The company brewed 13,000 barrels in 2015, of which 3,000 barrels were Inaugural Red. The beer will continue to be produced and will share store shelves and tap lines with S'Wheat Caroline, said Carl Nolen, WBC's president and co-founder.
"S'Wheat Caroline, we're thinking, will be a seasonal brand for us and down the road, by the nature of this course, (students are) going to need to try different styles that might be very narrow in the market," Nolen said. "This really starts putting foundation into the (Campus Craft Brewery) program and gives it more strength because now people will know that it's more than just one beer."
The label for the beer and the name were also derived by students.
Xiony Mendez, 22, a senior from St. Charles, Illinois, came up with the name and was part of one of the brewing teams. After learning that Nelson, an award-winning craft brewer with more than three decades of brewing experience, used songs for the inspiration for some of his beers, Mendez began to think about songs that resonated with students at UW-Madison.
Her winning name was selected out of more than 250 entries.
"I thought about game days and game day brought me 'Sweet Caroline,' " Mendez said. "Sweet, wheat ... I'm a food science major and I really like food puns so I thought I'd submit it and, hopefully, it works out and it did. So it was super exciting."