A new, state-certified seal of approval pledging that development sites are "shovel-ready" was bestowed Tuesday on 56 acres of available business park land in Fitchburg and on 115 acres in DeForest.
Known as "Certified in Wisconsin," the Wisconsin Economic Development Corp. program helps communities with sites that pass a required review set themselves apart in the fight to attract new business development, including advanced manufacturing and technology firms.
The review, by state-contracted Deloitte Consulting, is touted as ensuring that all critical stumbling blocks to development at a certified site have been cleared so that companies can begin building quickly.
"For businesses, time is money," DeForest Mayor Judd Blau said at a news conference with WEDC officials in Fitchburg Tuesday. "This (certification) means they can get up and running and start making their product faster."
It also includes a strong dose of pumped-up promotion, because selected sites — there will be about 30 chosen over the next three years — are to be featured on a new state website, LocateinWisconsin.com, and in national trade magazines aimed at developers, consultants and companies looking to expand or relocate.
"Fitchburg is now on a list to be marketed worldwide," Mayor Shawn Pfaff said about the certification of Phase 2 of the Fitchburg Technology Campus, which is owned by developer Ruedebusch Commercial Investments.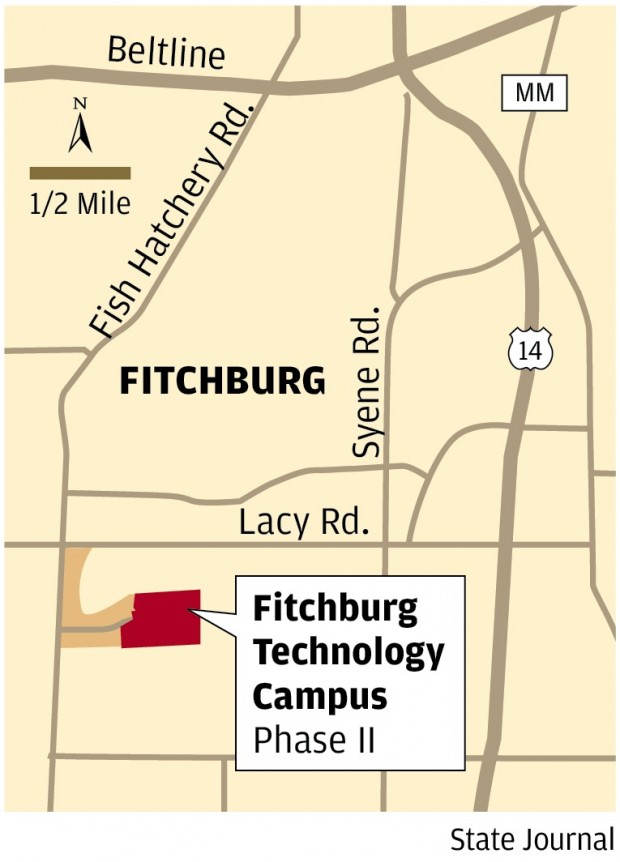 The state program began in May with applications for certification from 27 communities and is finishing its first round now with the selection of nine sites. DeForest and Fitchburg are the only two from Dane County in the first nine, with business park land in Beaver Dam, West Bend and the village of Howard also certified this week, plus another four that will be announced next week.
In each case of proposed certification, Deloitte Consulting evaluates sites against a range of desired criteria including site size, location, access, zoning, utilities, physical and technical conditions, required environmental assessments and the quality of the area's labor force.
And while it's true that any community serious about filling its business park would likely be doing or seeking to ensure many of the things on Deloitte's list, with or without a state program, the certification process provides some added assurance, WEDC officials and Ruedebusch's Kyle Adams said.
That's because it involves a third-party review, and because some of its guarantees — especially regarding the environmental standards and the assurances of clear title to the land — aren't commonly provided upfront otherwise, they said, but are valuable to businesses looking to expand or relocate.
"It's a proactive economic development tool," said Reed Hall, interim CEO of the WEDC. "It's one more item in our arsenal to help promote business development and job creation in the state."
WEDC spokesman Tom Thieding said it cost between $18,000 and $30,000 to have Deloitte review a site for certification. The cost is split between the WEDC and the community, he said.