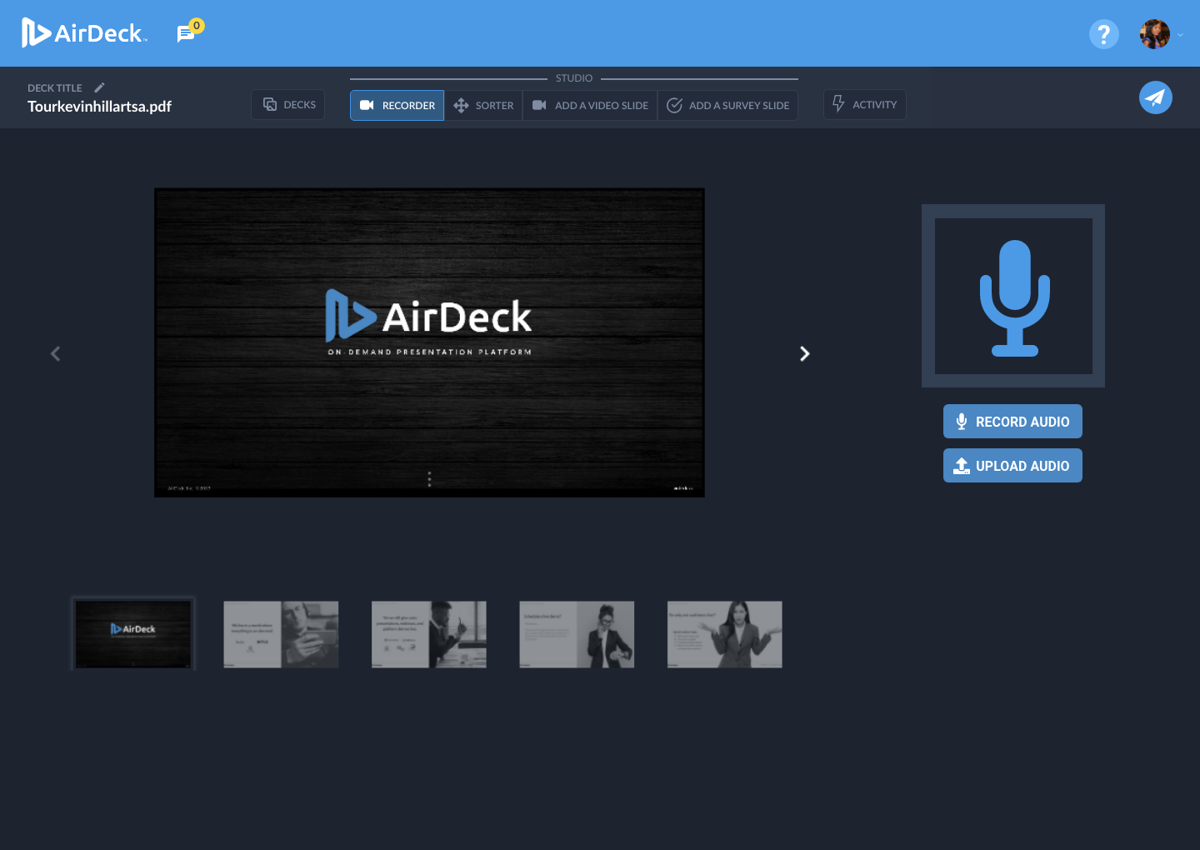 Launching during a pandemic that requires social distancing may have helped Madison-based startup AirDeck prove its usefulness, its founder said.
AirDeck founder Jason Weaver said that while pitching his previous successful startups, Shoutlet and Spendsetter, it was extremely difficult to convey a presentation if he couldn't make time for a video call or travel to a conference. He sent off slideshows — often called "decks" in the business community — in emails, knowing it would be hard for the recipient to make sense of them without narration. But, at the time, he had no other options.
To solve the scheduling and travel problem, Weaver developed the AirDeck software, which lets users create video presentations using slideshows such as Google Slides and Microsoft PowerPoint combined with a simplified video editing interface to add narration to the slides.
"It's really easy to personalize, to customize the presentations and then also to correct them," Weaver said.
Weaver started thinking about creating AirDeck while CEO of Spendsetter, which built and designed apps for businesses to engage and retain loyal customers and encourage word-of-mouth marketing. Both companies went on to be acquired.
Weaver said the company's user base grew quickly after launching in March. He said the pandemic quarantines likely made people realize more quickly that they need viable alternatives to in-person conference presentations. While video calls are one option, Weaver said, AirDeck is there for when scheduling is too difficult or a presentation needs to be available on demand.
"You watch Netflix on demand, use Spotify on demand, right?" Weaver said. "But yet people want you to show up to live webinars and demonstrations, and that's not the world we live in anymore."
Now, after securing a first investment round of $500,000 from Wisconsin-based Winnebago Seed Fund, AirDeck is in growth mode, Weaver said. Along with planning to hire about 15 more employees in the coming year — adding to a current staff of four — AirDeck is also making upgrades to the system and adding new options, such as professional design services and voice acting.
"I guess one of the benefits of having thousands of users out of the gate is we're getting a lot of feedback on how we can improve right away," Weaver said.
AirDeck is designed with corporate uses in mind, such as marketing or sales, but the software is a natural fit in other environments.
When the COVID-19 pandemic led to the closure of many schools around the world, AirDeck offered up its service to educators at no cost, serving about 1,000 schools, Weaver said, including Madison Country Day School.
Madison Country Day School science teacher Sarah Kendrick — who teaches Weaver's daughter, Stellina — had her sixth-grade students use AirDeck to set up a virtual science fair. Student conducted their own experiments and used AirDeck to create presentations about their data and results.
It was easy to teach her students to use AirDeck to make their presentations, much easier than trying to teach them how to use typical video editing software, Kendrick said. And because they made presentations with AirDeck, the students were able to post their presentations to a website shared with the school.
"I didn't want to lose that piece of (the science fair) where they communicated out their results to both their peers as well as the greater community," Kendrick said.