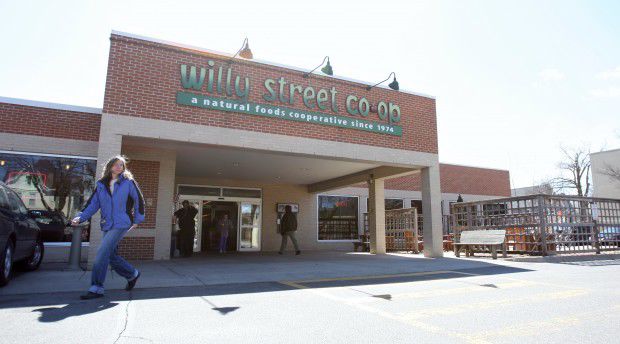 A proposal by Willy Street Co-op is shedding some light on the importance of alcohol sales to the bottom line for a retailer.
In a business plan submitted to the city for an alcohol license at its flagship store at 1221 Williamson St., the grocery co-op says sales at the store are "stagnant if not slightly declining" and that the addition of beer, wine and hard cider could increase sales at the store by $400,000 to $600,000 a year. The plan does not include the sale of hard liquor.
On average, beer and wine sales at the co-op's North Side and Middleton (West) stores, which began sales when they opened, account for between 10 percent and 13 percent of revenues. Projections for the Near East Side store are conservatively estimated at 6 percent to 8 percent of sales. 
"Sales (at Willy East) are are still very strong but also challenged," said Anya Firszt, the co-op's general manager. "East is an amazing facility. I think (alcohol sales) would further serve our owners, but I don't think if we don't get the liquor license it wouldn't prevent East from being successful in the future."
The proposal will go before the city's Alcohol License Review Committee on Aug. 17.
You have free articles remaining.
The co-op had sold alcohol until the mid-1990s when it removed the products to make way for more dairy items. But since that time, the craft beer and wine scene has exploded with local offerings and increased demand for products, many of which are produced within a 30-minute drive of the city. They include New Glarus Brewing Co., the state's largest locally owned craft brewing company, and Wollersheim Winery near Prairie du Sac, the state's largest winery.
The plan for Willy East, which opened in 1974, calls for a small section in the back of the store near the cheese department with two cooler doors for beer and cider and a similar-sized non-refrigerated area for wine and other beer and cider products. In surveys of owners, beer and wine have consistently been among the most requested items at the co-op, behind only a meat counter and hot food bar, both of which were added in recent years, said Brandon Smith, the co-op's director of communications.
"Every year it's one of the top three comments," Smith said. "We're finally addressing the third-most-requested thing."
Between the co-op's three stores, sales for the last fiscal year were just over $49 million. Both the East and West stores are profitable, while co-op officials plan for the North Side store that opened in 2016 to be profitable in five years. When the Middleton store at 6825 University Ave. opened in 2010, co-op officials planned on profitability within three years, but the store hit its mark prior to that, Firszt said. The store is now set for a $2.25 million expansion scheduled to be completed in June.
But while there is demand for alcohol sales from the co-op's more than 34,000 members, the proposal submitted to the city stresses that the increased sales will help the co-op achieve its goal of providing employees a living wage.
Firszt said the addition of beer, wine and cider isn't designed to compete with Star Liquor, a longtime store a few doors away that has a larger selection and hard liquor.
"Of course we want Star to remain in the neighborhood. Our adding a small department won't be a threat to them," Firszt said. "I don't think we can compete (with Star) on product or pricing."
Send retail-related tips and story ideas to badams@madison.com or call Barry Adams at 608-252-6148.