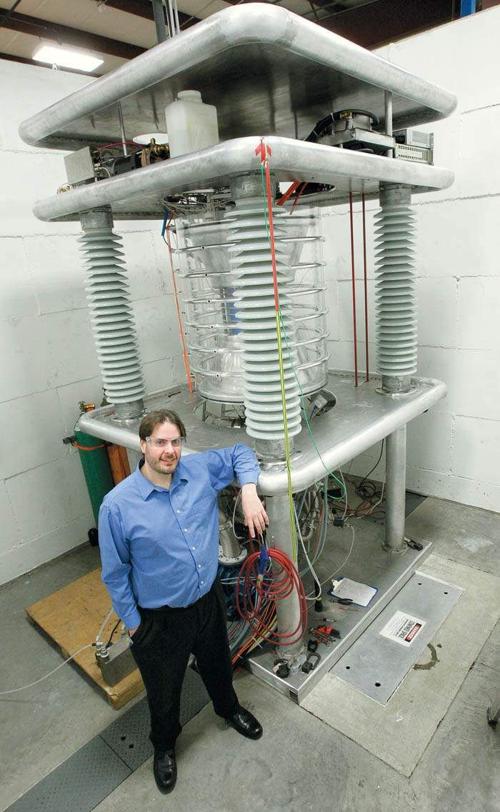 SHINE Medical Technologies, a former Monona company that plans to manufacture a safer, more affordable version of a key element in diagnostic medical procedures, broke ground this week on the first building on its new campus in the Janesville area.
Building One will house SHINE's first fully integrated production system for molybdenum-99, a radioactive isotope that decays into technetium-99m, which is used in millions of medical imaging scans for cancer and heart problems each year.
Building One also will be a "technological genesis building," said SHINE founder and CEO Greg Piefer. "It's intended to be a laboratory in which we're going to continue to develop new technologies to keep SHINE at the forefront of not just medical isotope production, but to go beyond that."
"We couldn't be more thrilled" to start construction, said SHINE vice president of business development Katrina Pitas.
Pitas said SHINE's campus, just south of Janesville, eventually will consist of four or five buildings. Building One will be 11,000 square feet, most of it laboratory space, and will be used for technology development, equipment testing and employee training.
You have free articles remaining.
Construction is expected to begin on the main manufacturing building in early 2018, Pitas said.
SHINE is an offshoot of UW-Madison research that Piefer began as a graduate student in the lab of Gerald Kulcinski, now professor emeritus of engineering physics and director of the UW's Fusion Technology Institute.
SHINE does not use a nuclear reactor or highly enriched uranium to make molybdenum-99, as most current suppliers do.
"SHINE is a great success story," Ian Robertson, dean of the UW College of Engineering, said at the groundbreaking ceremony on Thursday. It "started with basic research that turned into a solution to provide — in a safe, clean, affordable manner — medical tracers and cancer treatment elements."
SHINE was based in Monona and continues to house its prototype there. Company headquarters moved to Janesville last December. SHINE has 57 employees and expects to employ about 150 when manufacturing begins.
The company has raised about $75 million so far from investors and through federal grants, Pitas said. She declined to say how much more is needed, but Piefer, in an interview in February 2016, said the estimated cost to build the plant, hire staff and begin operating is more than $100 million.