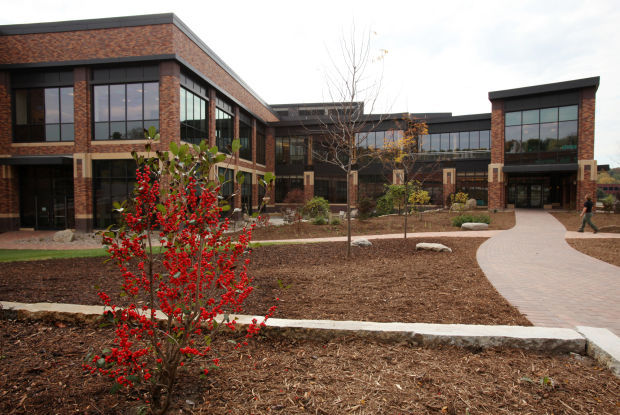 Promega Corp., one of the Madison area's most successful, homegrown and fiercely independent biotechnology companies, is in the midst of a hostile takeover attempt by two shareholders who want to buy a majority of shares and boot Promega's founder and CEO Bill Linton.
Ted Kellner, of Milwaukee, and Nathan Brand, of Miami, sent a letter to shareholders, dated July 24, offering to buy outstanding shares of Promega Corp. for $625 a share, about two and a half times what the company was valued at recently by Linton and the board of directors.
The State Journal obtained a copy of the letter, providing a rare, inside view of the company, considered the grandfather of the local biotechnology industry. Privately owned companies such as Promega are not required to make public the type of information that companies whose shares are traded on Wall Street must disclose.
What emerges is a dispute over not only the monetary value of the company but also a subtle power struggle, as well as questions about the potential implications of Usona Institute, an organization Linton recently set up to look into the use of entheogens, or psychedelics, to treat conditions such as anxiety and depression.
The letter called on shareholders to attend the firm's annual stockholders meeting, which was held July 28 at Promega's BioPharmaceutical Technology Center, citing a "deep concern for the direction" of the Fitchburg company.
Kellner and Brand said they have been trying to talk to Linton and the board for several months "to address our growing concerns about the fair and equitable treatment of all shareholders and our perceived divergence in alignment between Mr. Linton and other Promega shareholders."
Linton has made several changes to the board of directors, "reduced information flow to shareholders" and has had the company repurchase shares "in an apparent attempt to gain majority control of our company," the letter said.
Kellner and Brand said they submitted a proposal to the board of directors on July 10 offering to buy shares of Promega for $625 a share. A longtime shareholder, who said he did not want his name used for fear of reprisal from Linton, said there are about 2 million shares, which would value the company at around $1.25 billion at that price.
"Our goal is to invest in and grow Promega for the future. We know this company and the industry well, and feel strongly that there is untapped growth for Promega," the letter said, promising to keep the company in the Madison area.
Linton could not be reached for comment. Penny Patterson, Promega senior director of communications, said the board "has engaged prominent legal and financial advisers to assist it in carefully evaluating the proposal.
"At this point, the board has no position on the proposal. Promega remains fully committed to customer service and satisfaction and our strong customer relationships," Patterson wrote in an email.
Kellner, reached by telephone, declined comment. "The letter speaks for itself," he said. Brand did not respond to phone messages.
Ralph Kauten — an early Promega employee, longtime shareholder and biotech entrepreneur — said he was surprised to get the letter but not surprised by its contents. There's been "some brewing dissatisfaction for quite some time," Kauten said.
"There was a perception that it was (run as) a lifestyle company versus maximizing shareholder value," he said, meaning that Linton has run the company "to support the lifestyle (he wants) to have."
Kauten said beyond getting a more realistic monetary value for the shares, he is also concerned about another possibility: that Linton wants Usona Institute "to own all of Promega."
Solid growth
Linton, 68, started Promega in 1978, providing biotechnology research products. Today, nearly 40 years later, Promega has 1,348 employees worldwide, with 768 at a growing campus in Fitchburg and branches in 16 countries. Its Fitchburg buildings are valued at $127.3 million, according to Fitchburg records, including a new manufacturing building on Nobel Drive, expected to be completed this fall.
You have free articles remaining.
The company had revenues of $367 million in 2014, its 2015 Corporate Responsibility Report says, and sells more than 3,000 products in areas such as gene research, protein analysis, drug discovery and genetic identity. It is known for its DNA fingerprinting kits, whose use has included identifying victims of the Sept. 11, 2001, World Trade Center attack.
Linton has long said he wants to keep Promega independent and locally owned, though he did "toy with the idea of taking it public" at one point, said Richard Burgess, one of the first investors who still owns shares.
Burgess, emeritus professor of oncology at UW-Madison, said he is "not dissatisfied in any way" with Linton's leadership.
"I have always felt Bill was partly visionary and partly in the right place at the right time," he said. "He has kept reasonably strong control over the company. I'm not complaining. I think it's the best investment I've ever made."
But Kellner and Brand sound less enamored. Linton has mentioned, several times, "his desire to keep Promega a private company under his control, in the support of his medical research organization, Usona Institute," the letter said.
Linton established Usona, a nonprofit, in July 2014. It is separate from Promega, Patterson said. Its website says psychedelics, tested in the 1950s and 1960s, showed "great promise" in helping cancer patients manage their anxiety. More recently, academic centers have resumed testing entheogens, including psychedelic mushrooms and LSD, and have again found "great promise" in areas ranging from smoking cessation to creative problem solving, the website says.
It says Usona is supporting a federally approved study in association with the UW School of Pharmacy exploring how the body metabolizes psilocybin.
Kellner and Brand said they want to keep Promega's senior managers "and allow Mr. Linton to exit the company and build his medical research organization with the proceeds from the sale of the stock."
Interest in Paul Shain
Kauten said he was told that Kellner and Brand want to bring in Paul Shain to head Promega. Shain, CEO of Singlewire Software, was CEO of Berbee Information Networks Corp. when it was bought by CDW Corp., of Vernon Hills, Illinois, for $175 million in 2006. He also has worked as a research analyst for Robert W. Baird & Co. in Milwaukee.
Reached by phone, Shain had no comment.
The letter said the $625 share price being offered is 141 percent above the company's 2013 valuation, by an outside firm, at $259 a share. In May 2014, the company staged a stock buyback, offering to pay $233 to $272 per share, in a process called a Dutch Auction.
Kauten said the $625-per-share price the rebellious shareholders are offering is probably "more within the range" of where the stock should be.
Burgess said it may be low. "If they're serious about this offer, they must think it's worth a lot more than that," he said.
Ultimately, Kellner and Brand probably intend to seek a big corporation to buy Promega or to stage an initial public stock offering (IPO) on Wall Street, Kauten said. An IPO would "probably get a better value," he said.
If the company were acquired, there's always a risk of losing jobs, Kauten acknowledged. "I'd hate to see the company move and lose all those jobs but at the same time, other things can occur. New companies may be started up," he said.
For now, things are on hold until Linton responds. Traditionally, Promega has had the right of first refusal, shareholders said. That means if any shares are offered for sale, the company has the first chance to buy them at the $625 price.
Kellner and Brand are asking stockholders to encourage the board to take their offer. "This will (ensure) that Promega can prosper in the future and all shareholders will be able to benefit from the value created in Promega over the last 37 years," the letter said.