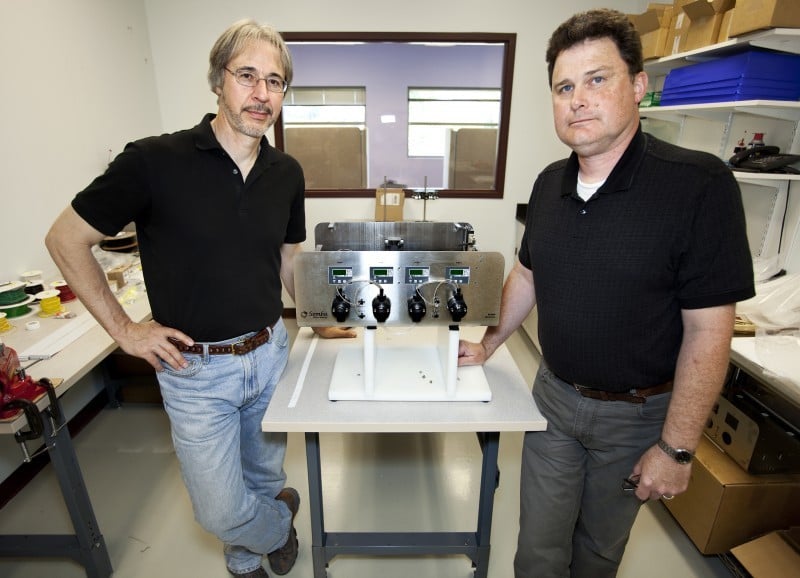 When one door closes, another opens.
It's a platitude, but that's just what happened for a group of biotech employees in Madison who used to work for EMD Chemicals, formerly Novagen, a company that made test kits used for scientific research.
EMD closed its Madison operation in 2009 when its parent company, a subsidiary of German pharmaceutical giant Merck, consolidated the work into a San Diego location. Seventy EMD employees lost their jobs and a 20-year-old, homegrown business folded.
But at least some of the displaced employees were not out of work for long. They were snapped up by Semba Biosciences, whose chief executive, Bob Mierendorf, was a co-founder of Novagen. Mierendorf moved to Semba in 2006, a year after it was established, to get another taste of working with a startup.
Today, 12 of Semba's 13 employees are former co-workers at EMD, and they are creating their own success.
Contracting with local companies for many of its components, Semba expects to log $1 million in sales this year and plans to start raising funds for future growth.
"We're hitting our targets," Mierendorf said.
Semba develops scientific equipment that helps purify substances used for purposes such as drug development and research, and for the food industry. They are similar to industrial-sized machines used to produce high-fructose corn syrup or separate elements of petroleum.
"The idea is to do it on a small scale, at the benchtop," Mierendorf said.
The prototype for Semba's Octave system was developed by Anil Oroskar, a UW-Madison chemical engineering graduate who founded Semba with financial help from Kegonsa Capital Partners, Fitchburg. Oroskar is now chief technology officer for Orochem Technologies, a Lombard, Ill., biotech company he also co-founded.
The concept for Octave is similar to that of a water softener, said Brian Harbrecht, Semba's director of engineering.
To purify a liquid, it passes through a filtering bed. Certain substances cling to the filter, separating them from the liquid.
But while a water softener has to stop while the system is flushed, Semba's Octave device uses an automated system, called simulated moving bed chromatography. It is a multi-tasking process that doesn't have to stop in order to flush itself.
"The net result for the user is the appearance of a continuous process," Harbrecht said. "That's where the economy of scale comes in."
Harbrecht, the only non-EMD/Novagen employee of Semba, most recently was involved in developing implantable defibrillator leads for Medtronic, a publicly traded medical device company in Minneapolis.
Mierendorf said the Octave system is about 20 times faster than other methods. "It saves the customer time and money," he said.
Drug development companies are interested in Octave because it can separate enantiomers — molecules that are mirror images of each other — Mierendorf said. The human body can only respond to one of those molecules, but its mirror image can be present and, in some cases, have an adverse effect.
Thalidomide was one enantiomer that had such an effect. Sold in several countries from 1957 to 1961 as a sedative and antidote to morning sickness during pregnancy, it was taken off the market after it was found to cause birth defects. Thalidomide recently has been approved, though, for treatment of other ailments, including multiple myeloma.
Semba's Octave system was launched in March 2009. Four were sold last year and four more were sold through the first four months of 2010.
Many of the components, design elements and software used by Octave are produced by companies in southern Wisconsin and northern Illinois, Harbrecht said, including Bjorksten | bit 7; Latitude Corp., Verona; ProActive Engineering, Sun Prairie, and Credo Product Development, McFarland.
Semba is operating out of two locations. Its laboratories and administrative offices are at 505 S. Rosa Road in the MGE Innovation Center, where Novagen also got its start 20 years ago. Assembly of the Octave system takes place at 5520 Nobel Drive, Fitchburg. The company plans to consolidate into a single site at the Research Park in August.
Semba is not yet making a profit; it has received $2.5 million so far from investors. Another funding round will begin soon, with a goal of raising $750,000 to proceed with sales and marketing of the Octave system, said chief business officer Lisa Johnson.
But she said the success of Semba is not just in making and selling products.
"It shows that you can bring teams together again that have this entrepreneurial spirit. It goes beyond us," Johnson said.