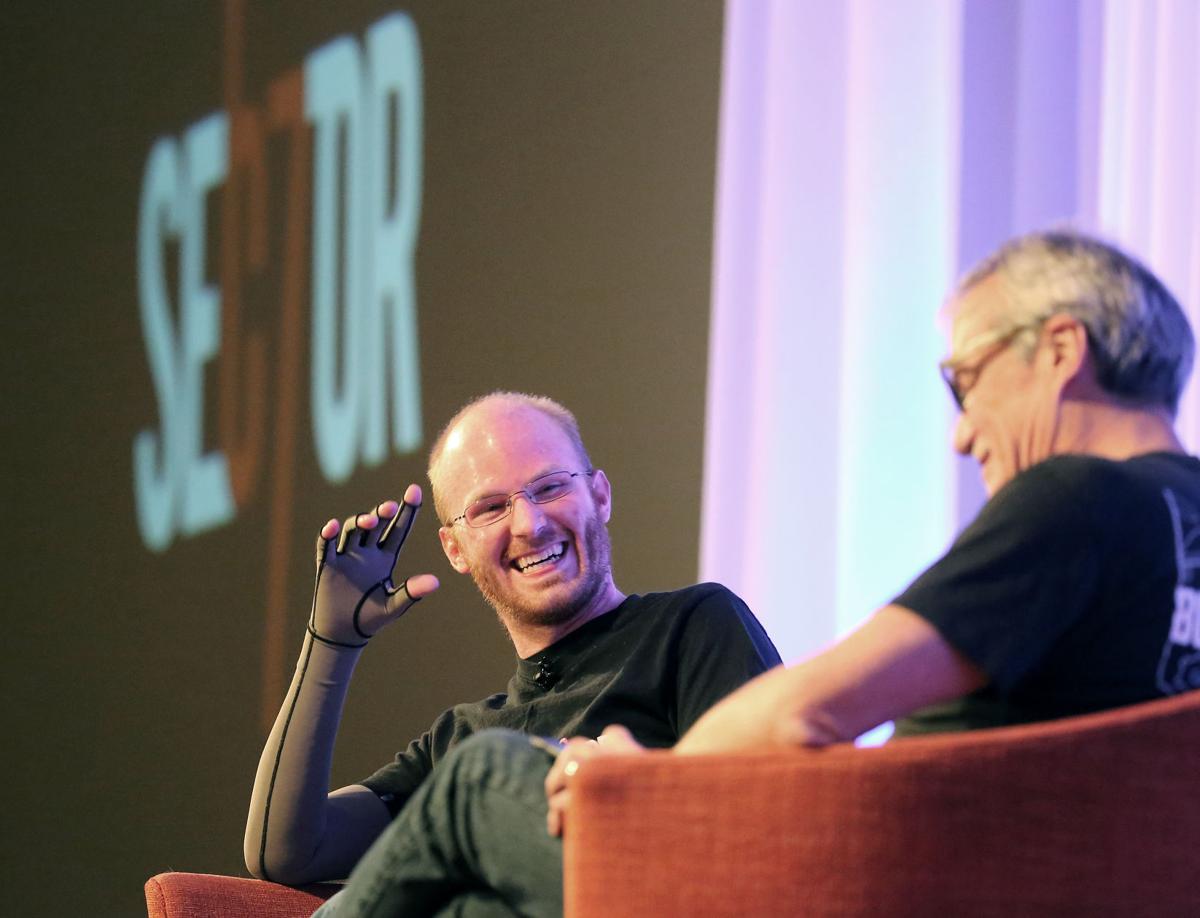 Sector67 founder Chris Meyer brought several hundred people to their feet to give him a warm, standing ovation Wednesday at the Wisconsin Early Stage Symposium in Madison.
In his first public appearance since he was seriously injured in a propane explosion on Sept. 20, Meyer was upbeat and joked around in a question-and-answer session with John Neis, executive managing director of Madison investment firm Venture Investors, during luncheon presentations at the conference.
Meyer suffered burns over 40 percent of his body — on his arms, back, head and neck — and was hospitalized for one month. The accident happened as he was working on a complicated remodeling project at 56 Corry St., the building that will be the new home of the Sector67 maker space.
On Wednesday, Meyer — who is known for his low-key style and casual attire — wore a black Sector67 T-shirt that exposed compression sleeves down the length of his arms, protecting all but his fingertips.
Asked how he's doing, Meyer said, "I'm good." He jokingly referred to the coverings as a "fashion statement" and quipped that similar sleeves would be available for sale after the event.
On a more serious note, Meyer — who revealed later that he was wearing compression garments over his entire body, except for his head and neck — said, "For me to be up here, a month and a half after (the accident), is a testament to the UW Burn Center."
Normally long-haired and bearded, Meyer sported a short fuzz of hair on his head and the beginnings of a beard. The explosion, he said later, singed off all the hair on his head and face, including his eyelashes. Patches of red were visible on his face and neck.
A GoFundMe campaign started by Justin Beck, the founder of the PerBlue game development company and Meyer's UW-Madison college roommate, has raised $111,760 to help pay Meyer's medical bills and contribute to the Sector67 remodeling project. Contributions poured in from 845 individuals and organizations.
Meyer told the symposium audience he had no idea the fundraising effort was launched. "(Beck) knew if I knew about it, I would have pushed back on it," he said.
Meyer said he was struck by the large number of donors. "It says what I'm doing is of interest to a large variety of people," he said.
Beck said the GoFundMe site remains open and will continue to provide updates on Sector67 and on Meyer's recovery. In addition, a fundraising event to benefit both Sector67 and United Way of Dane County, a Tech Gala, will take place Dec. 6 at The Edgewater hotel.
Meyer, a native of Milton, said he got the bug for tinkering in his youth, when his dad bought a used car with a transmission system in such bad shape that it barely got him home. Meyer and his brother took the transmission apart and replaced it.
"That was probably the start of learning how things worked," he said.
Meyer started Sector67 in 2010 in a former pole barn at 2100 Winnebago St. The nonprofit, collaborative space is stuffed to the gills with equipment of all types, ranging from computers to car lifts, from 3-D printers to lathes to sewing machines. Sector67's lease expires in March 2018.
The organization is trying to raise $750,000 for the remodeling and is about $90,000 from its goal, Meyer said. The Wisconsin Economic Development Corp. is providing up to $250,000 in matching funds that could bring the total to $1 million.
Sector67 members and local construction firms have been helping with the Corry Street project. The roof has been raised to transform the building into two stories. The next step, said Meyer, is to build stairs to reach the second floor.
The maker space, he said coyly, has about 100 members.
"It's always about 100," he said, downplaying the organization's popularity.
Neis met Meyer when Neis was judging a UW student business plan competition that Meyer entered. Now, Neis and his wife, artist Chele Isaac, are housing Meyer and his wife, Heather Wentler, during Meyer's recovery.
Neis, also garbed in a Sector67 T-shirt, appeared to choke up a bit as he thanked Meyer for creating Sector67, a place for people to gather and to pursue their wildest imaginings.
"We appreciate all you've done," Neis said.
He called on the audience of entrepreneurs and business people to consider joining.
"Whether you are an artist, a scientist or a tinkerer — explore your inner Edison," Neis said.
The Early Stage Symposium, produced by the Wisconsin Technology Council, started Tuesday night and runs through Thursday at Monona Terrace.
The business news you need
With a weekly newsletter looking back at local history.