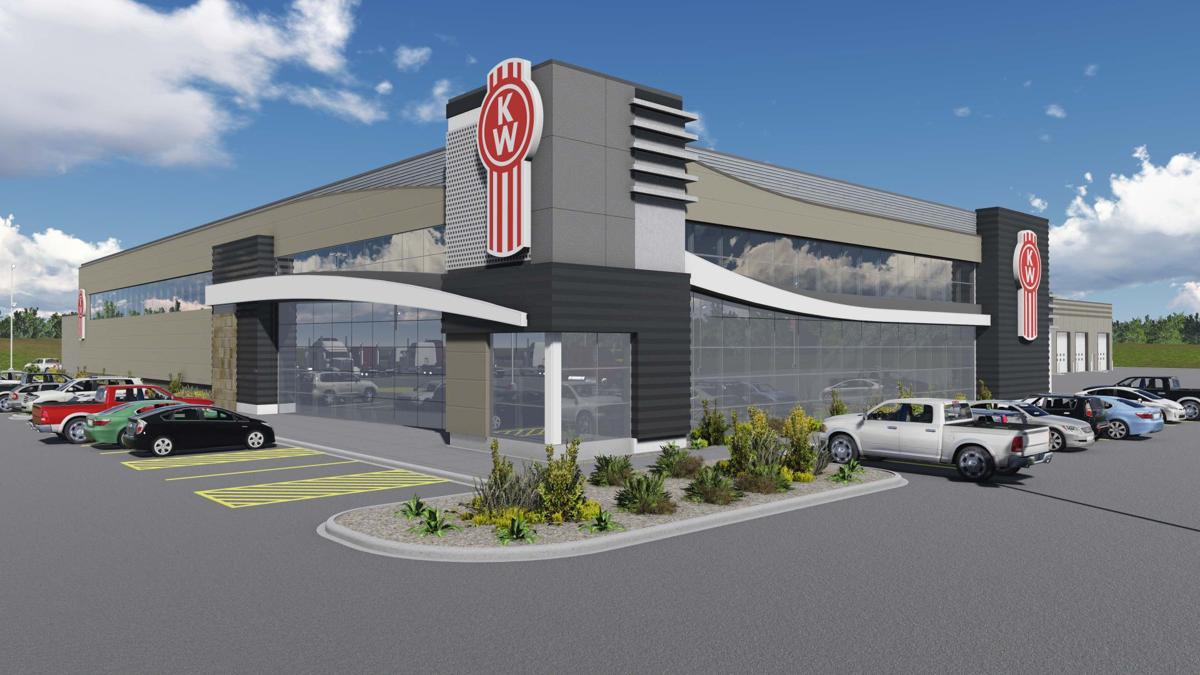 The Interstate 39-90-94 corridor near Highway 51 north of Madison continues to grow with truck dealerships.
Wisconsin Kenworth broke ground last week on a 75,700-square-foot facility at 4539 Pelican Bay Circle in Windsor, next to its existing location at 6395 Lake Road.
The building's design includes energy-efficient lighting, geothermal heating and cooling systems and specially designed service bays to provide rapid-assessment. J.H. Findorff & Son in Madison is the general contractor for the project with architectural services provided by Excel Engineering of Fond du Lac.
Wisconsin Kenworth is a subsidiary of Madison-based CSM Companies with other full-service commercial truck sales, parts and service locations in La Crosse, Wausau, Menominee, Green Bay and Milwaukee and a parts-only location in Escanaba, Michigan. In 2013, Wisconsin Kenworth was named the national Kenworth Dealer of the Year.
CSM Companies owns and operates a network of Kenworth and Mack dealership facilities across the Midwest and Southwest under the brands Wisconsin Kenworth, Michigan Kenworth, French Ellison Truck Centers and Sahling Kenworth. The company employs more than 800 people and delivered about 5,000 new and used commercial vehicles in 2014, according to the company's website.
In May, Lakeside International Trucks broke ground on a $10 million state-of-the-art, energy-efficient dealership and service garage. The Milwaukee-based company bought 10 acres at 7243 Manufacturers Drive on Madison's Far East Side for the 55,400-square-foot facility that will become the company's second-largest among eight dealerships in Wisconsin and Illinois. The facility is scheduled to be completed this fall and will replace an existing 22,668-square-foot dealership facility at 3116 Commercial Ave.
Lakeside and Wisconsin Kenworth are near JX Peterbilt, 4205 Anderson Road and Polk Diesel & Machine, 5900 Haase Road in DeForest.
Google delivers
Google announced last week that it is expanding its Google Express delivery service to a large swath of southern Wisconsin.
You have free articles remaining.
The service allows customers to place orders online from select retailers with delivery the following day. The expansion includes parts of Iowa, Illinois, Indiana and Michigan. Shoppers can sign up for unlimited delivery membership for $95 a year or $10 per month or pay $4.99 per store for delivery. Packages are delivered not by Google trucks but by national and regional delivery services like FedEx and UPS, said Brian Elliott, general manager for the program that gets a commission on each order.
"We're using (the retailer's) physical stores and they pick and pack and then we figure out the most route-efficient way to get it there," Elliott said.
Google Express launched in San Francisco and Silicon Valley in spring 2013 before it expanded to New York and Los Angeles in the fall of that year and to Chicago, Boston, and Washington, D.C., in the fall of 2014.
The company says it will serve 25 million people in the Midwest.
In Wisconsin, the delivery area could expand to much of the state by late this year or early 2016, Elliott said, but for now extends from the Illinois border to north of Wisconsin Dells and from the Mississippi River to Lake Michigan. Major cities include Madison, Milwaukee, Janesville, Sheboygan, Richland Center, Watertown, Racine and Kenosha but excludes Manitowoc, Fond du Lac, Tomah, Viroqua and La Crosse.
Co-op gathers steam
Three years after launching an idea for a grocery co-op in Deerfield, community organizers continue to make progress in the eastern Dane County village of 2,319 people.
According to the Deerfield Grocery Co-op's website, both a market and business plan are being developed, although a site for a store has not been yet been determined. The co-op has over 100 owner households, businesses and organizations and is in the midst of holding informational meetings about the co-op in the homes of owners as a way to encourage others to buy shares in the co-op. Owner shares cost $200 with those sold held in a trust at the Bank of Deerfield. If a store does not open, shares would be returned, according to rules outlined on the co-op's website.
One of the co-op's biggest fundraisers and promotional events is the Deerfield Chilifest on Sept. 26. The second annual event, from 11 a.m. to midnight at Fireman's Park in the village's downtown, will include a chili cook-off with public tastings, a full concession stand, carnival games, 5k run, beer tent and a music stage with four bands playing throughout the day and night.