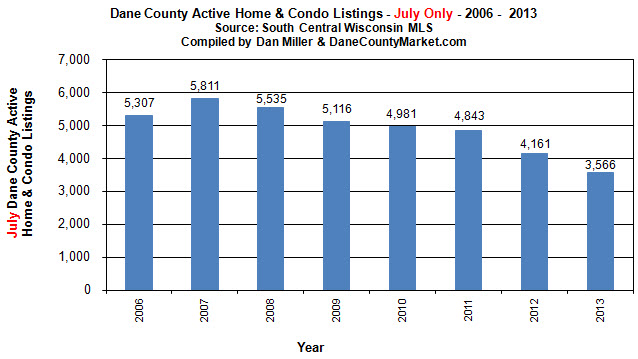 Active listings and months of supply dropped sharply again in Dane County in July, compared with last year and going back seven years.
By building type, active listings were down 8.9 percent to 2,631 units for single-family homes and down 26.7 percent or 339 listings for condos, with 935 units for sale on July 31.
The combined inventory was the lowest of any July since at least 2006, when 5,307 units were available, the data showed. The total for this July also was 38.8 percent off the peak, reached in July 2007, when inventory stood at 5,811 units.
Looked at separately, single-family homes in July were 21.2 percent off the peak year of 2007, while condos were a whopping 62.2 percent lower than they were in July 2007.
Six months' supply is considered a balanced market, with no great advantage to either buyers or sellers. So that puts the combined inventory just about at the balance point, according to the data.
And single-family homes separately were at exactly 6 months on July 31, though condos separately were a little higher, at 7.4 months. That's way down from 14.8 months of condo supply a year ago, while the single-family home supply a year ago stood at 8.4 months.
Historically, 6.3 months of combined inventory is the lowest level seen in Dane County since at least July 2006, when there were 8.1 months available, and it's down dramatically -- 55 percent -- from the peak year of 2011, when July combined inventory was 13.9 months.
In addition, the 6-month supply for single-family homes alone was down about 50 percent from the July 2011 peak of 12.1 months, while the 7.4 month-supply of condos was down 67 percent from the peak year of 2009, when there were 22.3 months available in July.
--------------------------------------------------
Click to "Like" the Property Trax Facebook page and you'll see all the local blog posts, plus links to real estate stories from around the country every day.