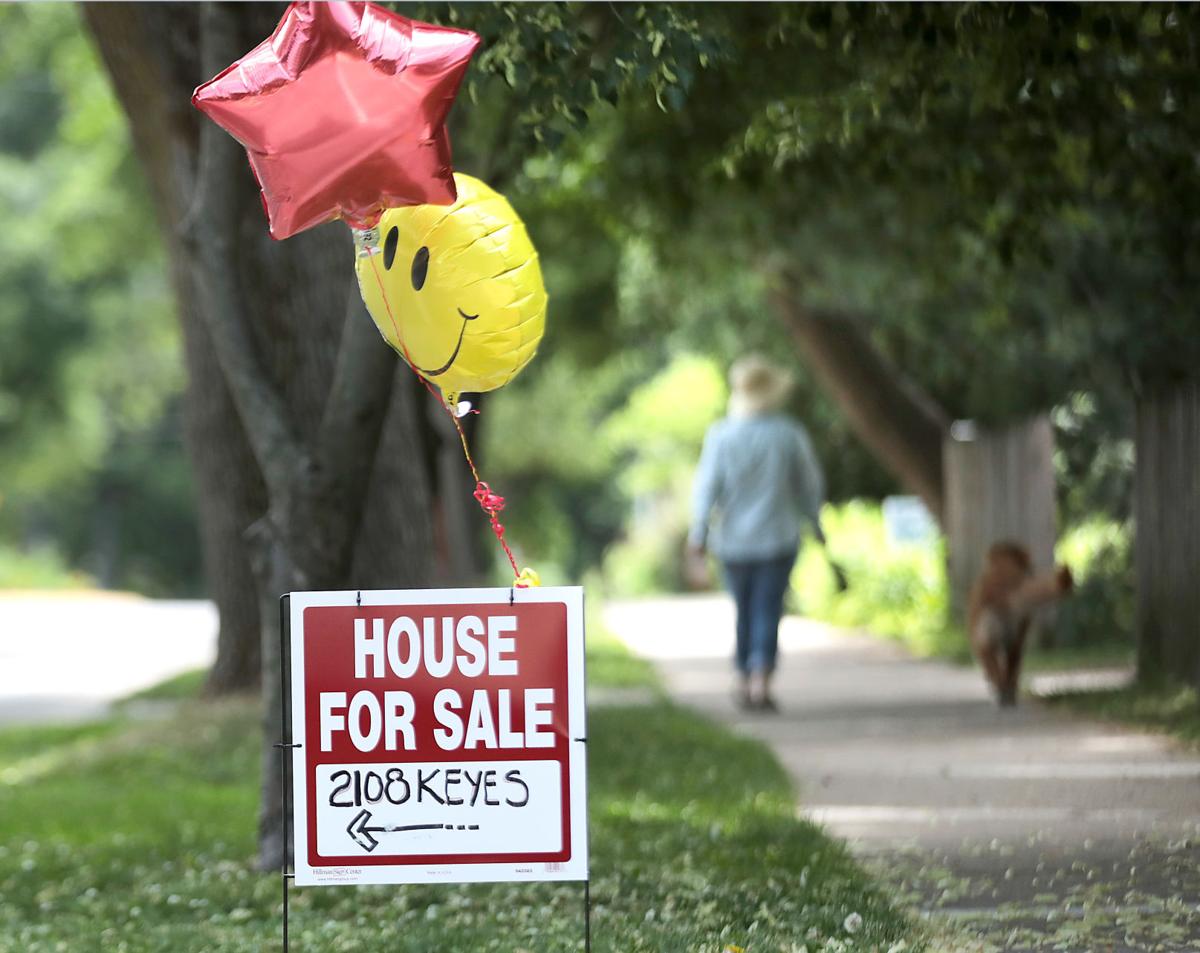 When Betsy Hemminger and her husband decided to sell their Sun Prairie home this spring, their agent advised them to clear out for the weekend.
So on the Wednesday night before they listed the 2,000-square-foot home with four bedrooms for $349,900, they went to stay with Betsy's parents. By the time they returned on Sunday, 84 potential buyers had toured the house, and 20 had made offers. Their agent arranged them in a spreadsheet.
They had two offers for $403,000. The one they accepted had no conditions: no home inspection, radon test or even an appraisal contingency, meaning the buyers would need cash to make up any difference between the appraised value and their approved loan.
"People were just desperate," Hemminger said. "It was his sixth time trying to buy. That's how crazy the market is."
Driven by demographic shifts, economic forces and the societal changes wrought by the COVID-19 pandemic, the supply of homes for sale in Wisconsin is lower than it has been since the Wisconsin Realtors Association began tracking inventory levels in 2009, pushing prices to all-time highs and forcing home buyers to take unprecedented risks.
"The market is incredibly tight and difficult for those looking to buy," said Ruth Hackney, CEO of the Realtors Association of South Central Wisconsin, who says sellers often have 10 to 30 offers to pick from. "Buyers are having to make really tough choices to be competitive."
As of May 1, there were just over 1,600 homes listed for sale in the Madison metropolitan area, according to Zillow. That's roughly two-thirds the listings at the same point last year.
New research shows nearly 200,000 Wisconsin homeowners could save money and shrink their carbon footprints by refinancing to pay for energy and cost-saving improvements.
David Clark, chief economist for the Wisconsin Realtors Association, said the current supply is enough to last for just 2½ months. Anything less than six months is considered a seller's market.
The typical home price has not dipped below $200,000 since February 2020, and in April it hit $235,000, an increase of 30% compared to the same month in 2018.
In the Madison area, Realtors say it's increasingly hard to find good houses for less than $400,000.
Michael Restaino, a real estate agent with Restaino & Associates, said buyers often write six to 10 offers before landing a home — or giving up.
"It's really tough sledding for buyers," he said "It's been a seller's market for really the last three to four years, but not to this degree."
Supply and demand
There are multiple factors at play, Eppli said, but ultimately the problem is one of supply and demand: too many buyers competing for a limited number of homes.
Contributing to demand are historically low interest rates, which have made home ownership affordable for more people.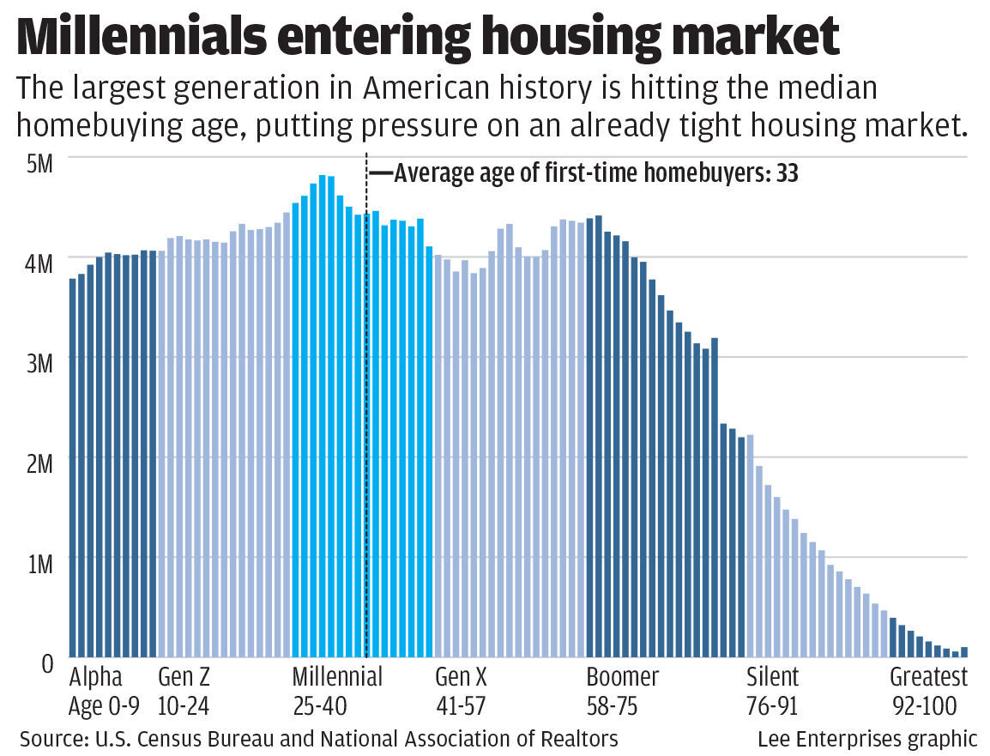 And millennials — the largest generation in U.S. history — are now in their 30s and late 20s, the time when most folks start families and buy a home.
To put the numbers in perspective, there are almost half a million more 33-year-old Americans than 43-year-olds, according to Census Bureau estimates. And just behind them are more than 300,000 additional 30-year-olds.
To make things worse, after spending the past year working — and doing pretty much everything else — inside their homes, people are looking for more space.
"COVID has definitely changed a lot of people's needs," said Restaino. "Larger homes 20 to 30 minutes outside of Madison that were a tough sell two or three years ago have been gobbled up."
At the same time, new home construction cratered after the housing crisis of 2008, and has yet to fully recover.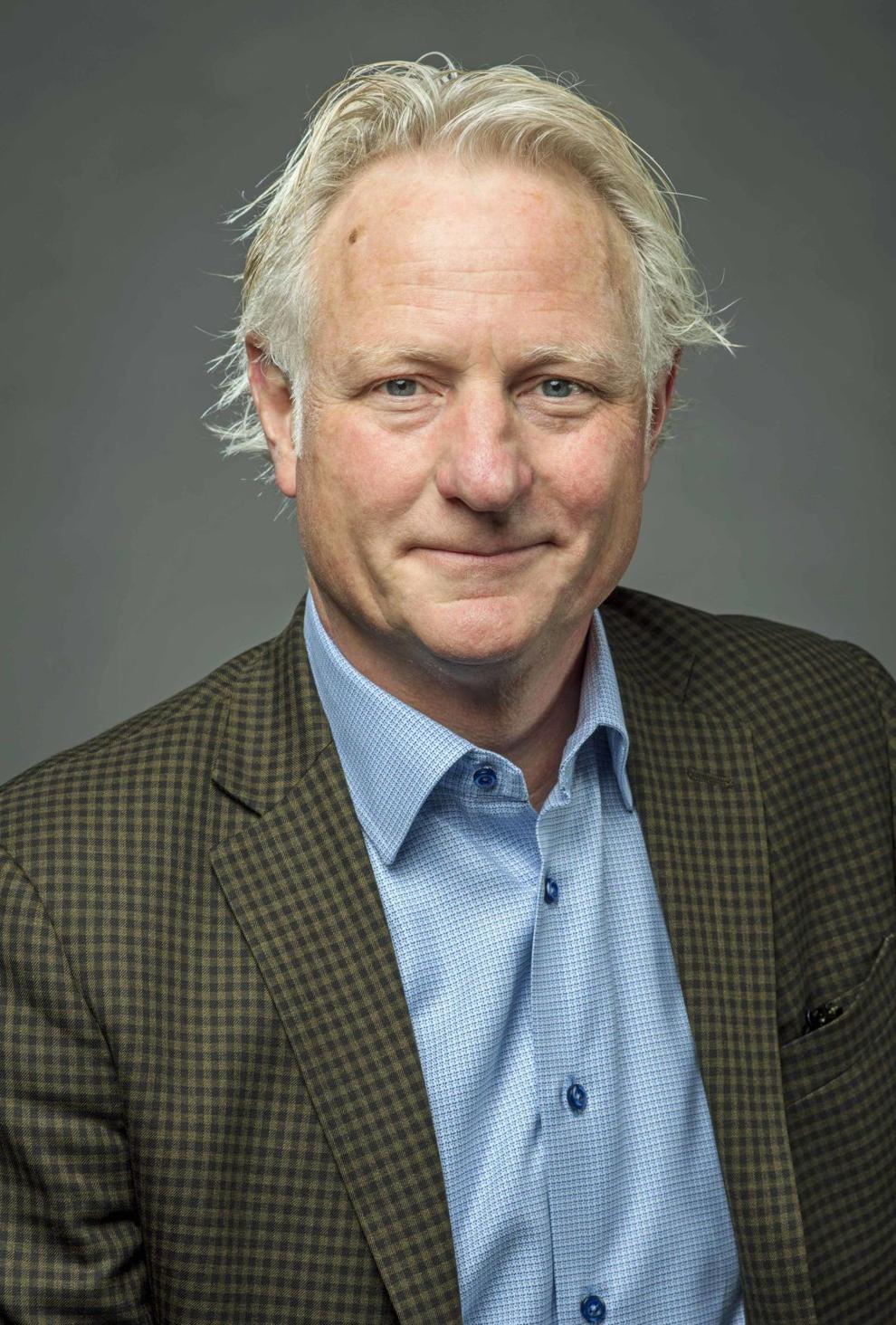 Between 1994 and 2007, Eppli notes, Wisconsin platted an average of more than 14,300 new lots per year. In the years since, the average is less than a quarter of that.
"We're not delivering enough new houses to meet the demand," Eppli said. "That's been going on for a number of years, pretty much since the Great Recession."
Hanging around
Compounding the shortage are aging baby boomers who are staying in their homes longer rather than moving into apartments or assisted-living facilities.
"It's a relatively healthy generation," Clark said. "You don't have as many of those health-driven housing transitions taking place."
The housing shortage has also created a sort of gridlock.
"There are individuals who'd like to get the equity out of their homes, but where would they go?" Hackney said. "The homes they might downsize to are the most competitive."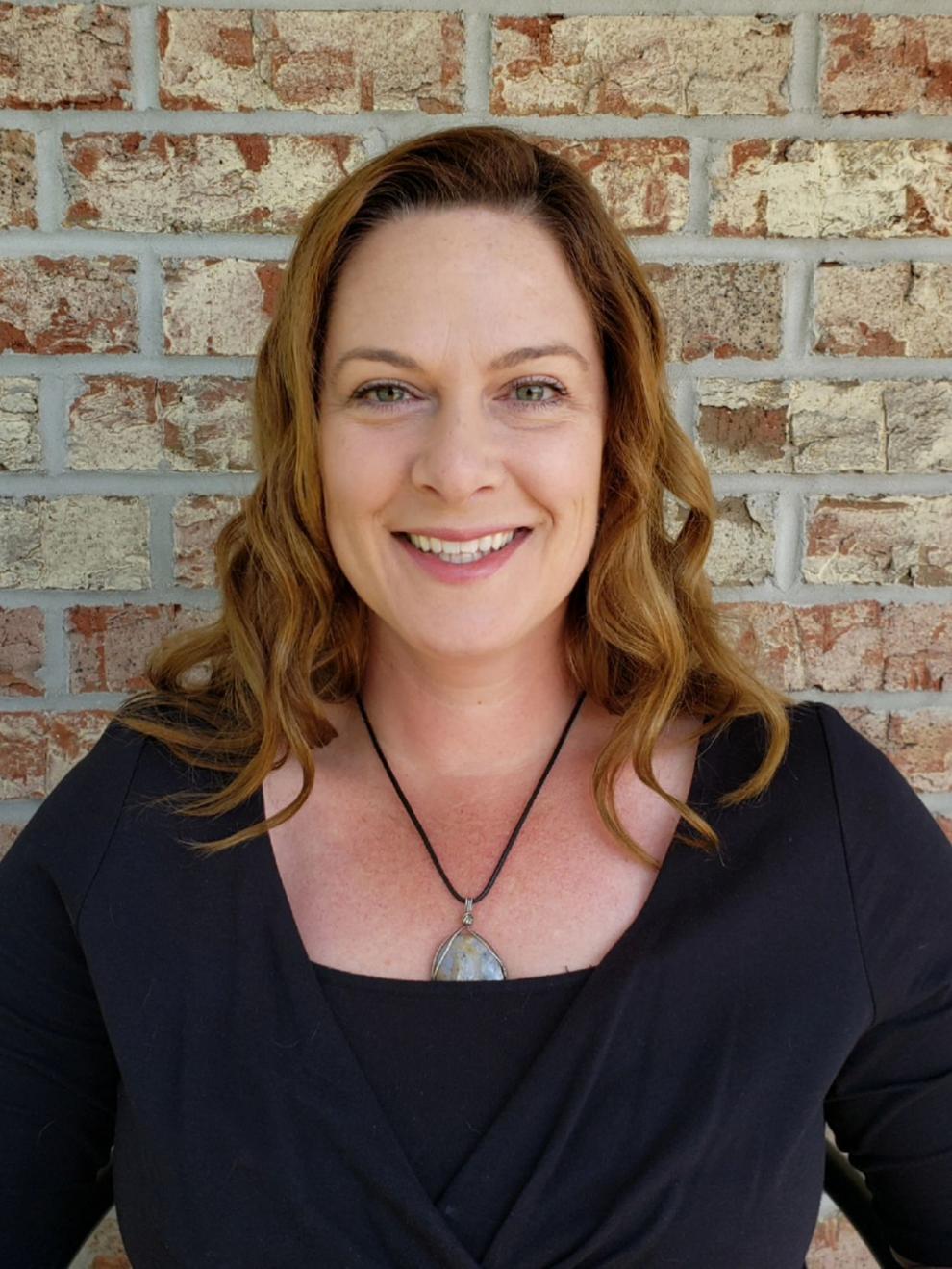 Hemminger, who decided to move to the country now that her youngest child is graduating high school, said she and her husband were lucky. They only offered $20,000 over asking price and had a home inspection, though they agreed to cover any repairs under $6,000.
"If we were hoping to move within the immediate Madison area, we never would have tried," she said. "It's so expensive now."
'Rolling the dice'
Realtor Anne Baranski, who helped the Hemmingers sell their home, said buyers hoping to land a good home, especially one close to Madison, for under $400,000 should be prepared to forego traditional protections if they hope to land a home, even if they're offering thousands of dollars over the asking price.
That means no contingency clauses that would let them off the hook if an inspection turns up hidden problems, if their financing falls through or if they need to sell their current home first.
Baranski said it's a scary market for home buyers.
"They're taking a lot of risk as a buyer," she said. "No one's getting radon testing now. It's automatically going to get your offer kicked out."
Licensed home inspector Jill Hauk said she's doing a lot more post-purchase inspections this year for home buyers who want to get a better sense of what problems they may have taken on.
"They are rolling the dice," Hauk said of buyers who skip inspections. "Quite frankly, not everybody understands how something should look. ... The average homeowner may just see a hairline crack and not give it a second thought."
Restaino said agents have to walk a fine line when it comes to helping clients balance risk and reality.
"As a buyer's agent you have to say I really recommend you get a home inspection," Restaino said. "But I can tell you that if you do, it lessens your chances of getting this house under contract because somebody else may forgo it."
Baranski said as a compromise some buyers are requesting inspections but agreeing not to contest any repairs under a certain threshold.
Affordability slipping
Isaac Gadient and Megan Flowers bought their first home in February.
After renting downtown, Gadient and Flowers wanted to live on the East Side, but had trouble finding any decent homes for under $300,000.
When a place they liked on Dayton Street came on the market for $325,000, their agent told them they'd need to make an offer sight unseen.
"That's preposterous," Gadient said.
They ended up with a three-bedroom ranch on the Far West Side after offering to buy it as-is, though they had the benefit of an inspection report done for another sale that had fallen through.
Gadient, 36, likened the home-buying experience to being a kid relegated to the sidelines of a kickball game and just wanting to go home.
"The system seemed to be set up for people who had the capital to take risks," Gadient said, adding that many of their friends can't afford to buy — or even rent — a decent place.
Dane County Executive Joe Parisi said the temporary changes made to adapt to the pandemic can be a template for "once in a generation" opportunity to combat climate change with little sacrifice.
While the Wisconsin Realtors Association's affordability index has slipped in the past year, it still shows the median family income of about $81,000 can afford payments on a $462,000 home — assuming they have $93,000 for a down payment.
That means thousands of people could be locked out of the primary vehicle for building wealth.
Since 2004, Wisconsin's home ownership rate has fallen by more than 7 percentage points to just under 68%, according to Census Bureau estimates.
While that's on par with the national average, the ownership rate among people ages 25 to 44 is lower than neighboring states, according to a new report from the state Homeowner Task Force. The homeownership rate among black people is just 23%, the third lowest in the nation.
Without intervention, the report warns, wealth disparity will only get worse.
Repeat not likely?
While acknowledging the current market has sent prices skyrocketing, Eppli said he doesn't foresee a crash like the one in 2008.
"I would call it a frenzy, not a bubble," Eppli said. "Based on the fundamentals, I don't see that in the cards."
One key difference: today's prices are a factor of undersupply and strong demand rather than the "market froth" created as banks handed out poorly secured loans that could be bundled and resold for a profit.
While rising interest rates could cool the market, Eppli said the sheer number of millennials will keep demand high for at least several more years, and at the current rate of new construction it could take most of a decade to fill what lender Freddie Mac estimates is a shortage of 3.8 million homes.
That may be good news for homeowners, but it means prospective buyers shouldn't expect to sit it out for a year or two in hopes of prices falling.
"Is the frenzy likely to die down? Likely so," Eppli said. "I have every reason to believe for all the fundamental reasons ... that prices aren't going to crater."
---