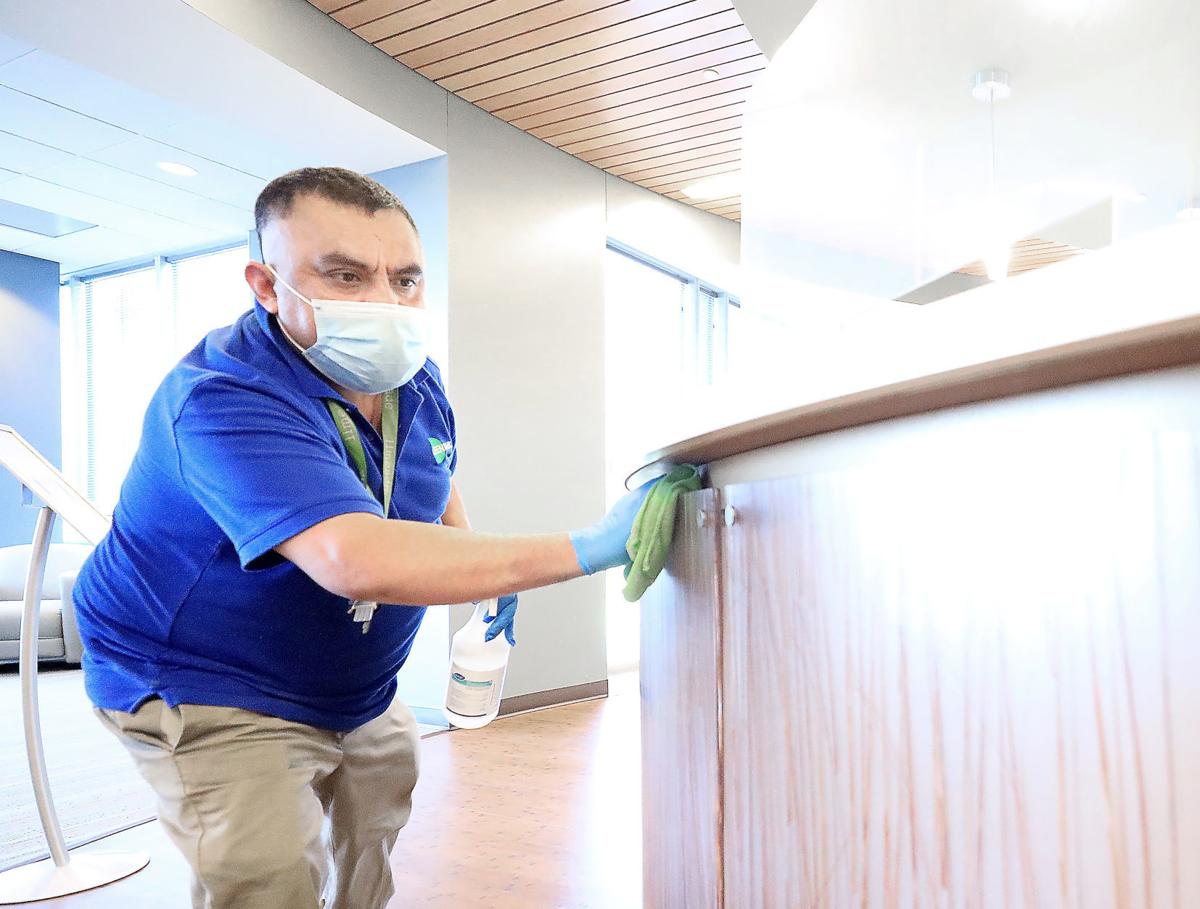 The COVID-19 pandemic heightened fears of viruses being spread in various ways, including on surfaces, leading to a shift in priorities among many of Madison's commercial cleaning companies.
Though many other businesses have shut their doors — at least temporarily — essential businesses remain open and others are welcoming back employees as aspects of Dane County's shutdown for public health are lifted. Many businesses — ranging from offices to health care clinics, restaurants and bars — use contractors for cleaning services.
Those contractors have made changes to meet the new needs and demands of businesses.
Cleaning companies, including KleenMark and Facility Pros, both based in Madison, began prioritizing disinfecting over simple cleaning tasks, such as emptying trash cans. Now, workers start their shifts disinfecting and sanitizing high-touch surfaces such as door handles, countertops and faucets.
The coronavirus that causes COVID-19 can live on hard surfaces up to three days on surfaces, according to Harvard Medical School, and can be contracted by touching an infected surface then touching your mouth or nose — making cleaning of surfaces important.
"It's not just about emptying trash cans and cleaning toilets," KleenMark CEO Scott Stevenson said. "It's about protecting the health and welfare of the occupants of a facility."
Jason Reimer, owner of Facility Pros, said he's also encouraging his clients to consider electrostatic disinfecting — a new service the company began offering due to the coronavirus.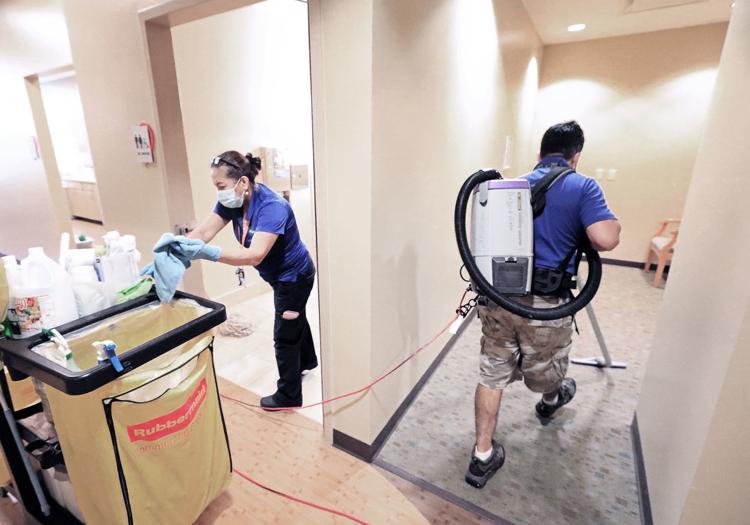 Electrostatic machines spray out tiny droplets of disinfectant, which are given a charge as they pass through the tip of the sprayer wand. These charged droplets stick better to surfaces such as walls, desks, keyboards and furniture, and can get into small crevices or cracks.
Workers using the electrostatic machines can clean a broad surface area more thoroughly and more quickly by spraying the cleaner than they could using conventional methods.
At Kleenmark, this service is offered as an urgent response if an employee at a business is suspected of having or confirmed to have COVID-19, Stevenson said. That practice for electrostatic cleaning leads to uncertain schedules, he said.
"We could go maybe two or three days without a call, then we might have six calls in one day," Stevenson said.
The need for deep cleaning at many businesses hasn't necessarily been reflected with an increase in customers, Reimer said. Many of Facility Pros' clients scaled back cleanings because they were closed — particularly the bars and restaurants that hire his company. Some of those businesses needed cleaning again as some restrictions were lifted, bringing in more revenue.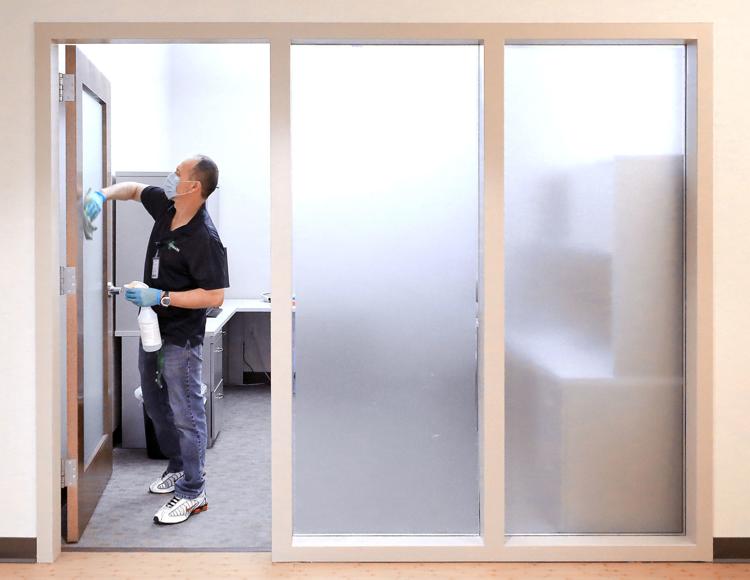 Now that restrictions have been tightened again in Dane County with the growing number of COVID-19 cases, Reimer said it's hard to tell whether services will be maintained from one week to the next.
Wisconsin health officials reported the most new coronavirus cases in a single day on Saturday — 738 people — as Gov. Tony Evers urged people to cancel Fourth of July festivities and stay home.
Over the last two weeks, the state saw not only an increase in confirmed cases, but also an increase in the percentage of tests that come back positive. That's a sign the virus is spreading, according to public health experts. On Saturday, the Wisconsin Department of Health Services reported 10.8% of people who received tests for COVID-19 were confirmed to be positive, with people in their 20s accounting for many of the newly confirmed cases and almost a quarter of all cases in the state.
On Sunday, state officials reported 522 new cases among 10.4% of those tested. Dane County reported 48 new cases Sunday.
"The great thing about the cleaning industry is that it's typically very level," Reimer said. "Every month is the same amount of costs and expenses and labor, but now it's like this roller coaster."
The Associated Press contributed to this report.
Concerned about COVID-19?
Sign up now to get the most recent coronavirus headlines and other important local and national news sent to your email inbox daily.