Pop-up markets, a quintessential summer activity for many Madisonians, will be delayed for at least another month as the COVID-19 pandemic keeps would-be shoppers socially distanced.
Some market operators are looking at ways they can replicate the experience online to drum up business for vendors that are losing out on a critical sales season.
Madison Night Market, operated by Madison's Central Business Improvement District, saw about 10,000 visitors at its events Downtown last year, said Tiffany Kenney, executive director of the district. With Gov. Tony Evers "safer-at-home" order and the push to social distance, the district decided to cancel the Night Market scheduled for May 14.
Instead, anyone can participate in a Virtual Night Market the same day. Run through the Night Market's Facebook page, facebook.com/madisonnightmarket, the district will host a virtual gathering, Kenney said, featuring videos from shops in the district and some vendors. Posts would also link the sellers' online stores.
The district had what Kenney called "a little bit of a practice run" early last month when it held an online event it called a watch party, which took the place of the canceled wine walk. Every five minutes or so on the Facebook event page, the district would post a new video or other content from local retailers and vendors mixed in with live videos and trivia contests.
"We had great success with that," Kenney said.
Typically, the wine walk is capped at 600 participants, but Kenney said the social media posts, which linked to businesses' online stores, saw more than 6,000 interactions.
Kenney said the Virtual Night Market may even outlast the pandemic.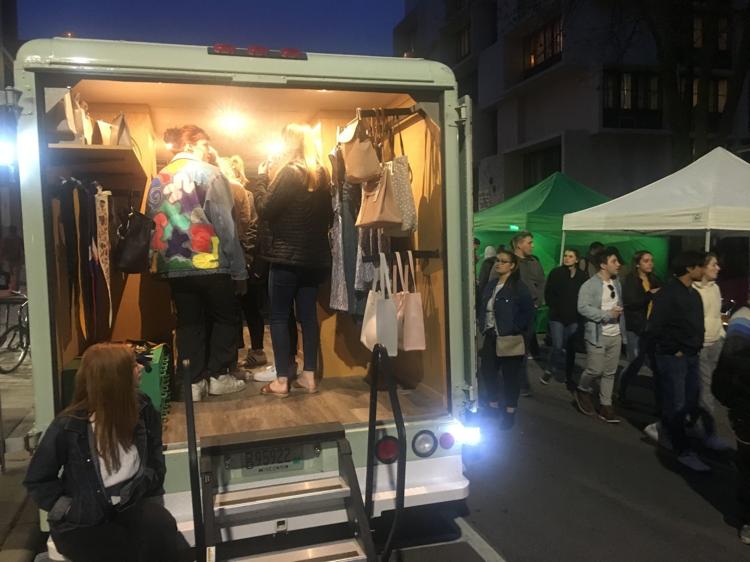 "This might be something that we learned," Kenney said. "When we can get back together physically, we also might want to still do this."
Digitizing
David Van, who runs the Madison Makers Market, is also looking at ways to digitize the market — which focuses on handcrafted goods.
After canceling the May 9 event, Van set up a month-long web market that primarily consisted of helping vendors market their products by making and sharing social media posts on Facebook and Instagram. Shoppers who followed the Makers Market's accounts could then click through to the online shops of the vendors.
"My plan in the short term, and, you know, if it ends up being a long-term plan, then what's going to happen is shifting to a more web-based platform," Van said.
Van said his aim is to increase awareness of and access to vendors, some of whom heavily rely on markets to make a living.
Jenni Hopfinger of Hopfinger Studio Boutique said she relies on art fairs and popup markets to make her income — generally selling at about two events every month. Since many events she had been scheduled to take part in have canceled, she said the online markets help raise awareness of vendors like herself.
"It is fantastic what Dave of Madison Makers Market and other market organizers are doing to keep the makers and artists in touch with their customers and the public in general," Hopfinger said.
A postponement
The Bodega at Breese Stevens Field announced it is postponing its May 28 event, rescheduling for September. Staff at Big Top Events, which operates Breese Stevens Field, have considered setting up a virtual market, but no decisions or plans have been made, president Vern Stenman said. The Bodega was originally scheduled for one event each month from May to August.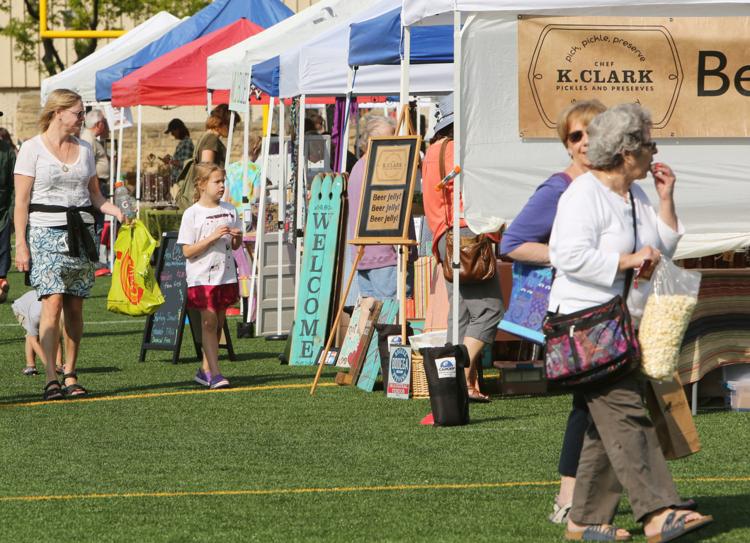 With the size of the venue, Stenman said he's hopeful that The Bodega will be able to spread out vendors and attendees enough to meet social distancing guidelines once the safer at home order lifts. He said Big Top is in regular contact with public health agencies to make decisions about upcoming events at the field.
Vendors struggling
Meagan Porter, the owner of cat toy and accessories business TacoCat Creations, said her business makes about 60% of its income from events. With those events canceling, she said she's had to lay off both her employees — one full-time and one part time. She also had to cancel the lease for her studio space.
Porter said she also makes about 30% of her income from selling wholesale to retailers, many of which are facing their own loss of sales and not restocking. Less than 10% of her earnings came from direct online sales last year.
"With all of my events being canceled and many of my wholesale accounts either closed or at a very reduced sales capacity, my entire livelihood and only source of income depends entirely on my online shop, which is very scary," Porter said.
She's also paid thousands of dollars in booth fees to markets that may or may not be held, Porter said. What will become of that money remains unknown as some markets may rollover those fees to rescheduled events — ones that might not work with Porter's schedule — and some markets may only refund a portion of the fee.
Madison Night Market and Madison Makers Market have both returned any vendor fees that were collected before the markets were canceled and moved online. There are no fees to be featured in either of the markets' virtual events.
"It just doesn't make any sense for us to charge them anything," Kenney said. "We had $500 to $600 of some people's money tied up, and it was just not worth it."
While Madison may be missing an integral piece of its charm this month and possibly longer, as festivals, markets and other events cancel, the operators of Madison's markets said they will be back once it is safe for people to gather again.
"What we're working hard on right now is to try to understand what we might be able to do from an event perspective over the summer overall and provide some opportunities for our community to come together," Stenman said. "That's our focus today, it was our focus a year ago and it will continue to be in the future."
Concerned about COVID-19?
Sign up now to get the most recent coronavirus headlines and other important local and national news sent to your email inbox daily.