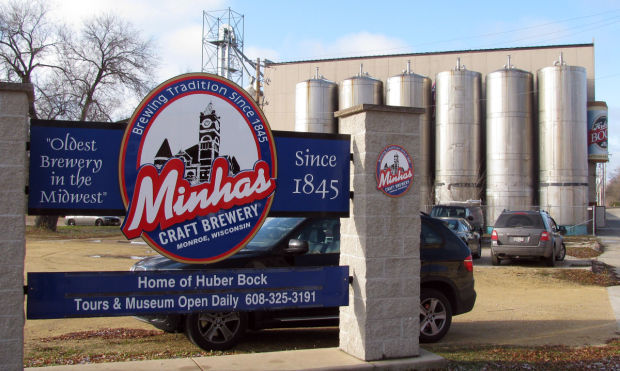 Two international brewing giants conspired to limit other U.S. beer companies from selling their products in Ontario, Canada, according to a federal lawsuit filed this week by the owner of Minhas Craft Brewery in Monroe.
Mountain Crest SRL LLC, which has been brewing value-brand beers in Monroe since 2003, alleges that AB InBev of Belgium and Molson Coors Brewing Co. in Denver had a secret agreement from 2000 to 2015 with the government-owned Liquor Control Board of Ontario that restricted imports and sales of other U.S. beer company products in the Canadian province.
The suit, filed Tuesday in U.S District Court in Madison, contends that the beer companies violated the Sherman Antitrust Act by controlling the only two options for distribution and retail in Ontario. About 70 percent of sales at LCBO stores are ABI and Moslon Coors products, while the two beer companies own Brewers Retail Inc., a cooperative that has over 450 locations doing business as The Beer Store.
Mountain Crest believes the secret agreement — exposed by a whistle-blower in 2014 to the Toronto Star — combined with ABI and Molson Coors' 98 percent ownership of The Beer Store outlets, limited Mountain Crest growth and sales. The company is seeking lost revenues and $200,000 in punitive damages. The suit was filed in the U.S. under the Foreign Trade Antitrust Improvements Act of 1982, which authorizes causes of action for American businesses under American anti-trust laws for lost export sales, even if the conspiracy took place in foreign commerce.
"Plaintiff's injury is precisely the sort that the antitrust laws were intended to forestall; namely, two dominant businesses using their market power to stifle competition," the complaint states. "Defendants' conduct was within the flow of, was intended to, and did, in fact, have a direct effect on the export commerce and export trade of brewers in the United States."
ABI is the world's largest brewer and has a 45 percent share of the U.S. and 43 percent share of the Candadian beer markets and brews its three global brands, Budweiser, Corona and Stella Artois, all in Canada.
Molson Coors accounts for about 28 percent of the U.S. and 34 percent of the Canadian market with brands like Carling, Coors, Miller and Molson Canadian.
"We've just received the lawsuit and have no further comment," Colin Wheeler, a spokesman for Molson Coors, wrote in an email Wednesday.
You have free articles remaining.
ABI spokeswoman Gemma Hart said the company "was aware that the lawsuit has been filed and intend to vigorously defend against it."
Mountain Crest, owned by the Minhas family and based in Alberta, purchased the Monroe brewery in 2006 and has transformed the second-oldest brewery in the country into one of the largest breweries in the U.S. Much of that growth has come from the production of low-priced beer like Mountain Crest Classic Lager, Clear Creek Ice and Boxer, much of it exported to Canada.
By 2005, the beer from Monroe exported to Alberta made up 85 percent of the brewery's total production, according to the complaint. Mountain Crest has been exporting Boxer to Ontario since November 2009, but growth there has not matched that of other markets, despite a $1 million television advertising campaign, the lawsuit contends. Mountain Crest also paid $631,797 to get its products in 440 TBS locations.
TBS stores do not operate like traditional U.S. liquor stores.
The vast majority of stores contain no shelving and only list inventory on a wall. Most products are kept out-of-sight of customers, rolled out on conveyor belts once an order is placed, which "discourages customer shopping and limits competition to brands the customer is already familiar with," the lawsuit contends. Some stores, however, have a grab-and-go cooler where a limited number of single-serving cans of beer are sold. TBS charges brewing companies for access, but the coolers are mostly filled with AB and Molson Coors products, according to the lawsuit.
The restrictions of the agreement included that the LCBO not sell beer in packages containing more than six containers, which ensured that American brewers could not export beer to Ontario in 12- or 24-packs unless they paid to use the TBS stores owned by AB and Molson Coors. A second element of the agreement prohibited "pack-up pricing" that allowed consumers to purchase four individual six-packs and receive the same discount as if they had purchased a 24-pack case.
This has the effect of "enabling defendants to fix prices for the Ontario market and greatly limiting the LCBO's attractiveness as a beer retail destination for value consumers, as well as discouraging sales of plaintiff's beer at the LCBO," according to the lawsuit. "For example, TBS charged plaintiff a $3.32 fee for every 24-unit case plaintiff sold into the Ontario market, in addition to other fees."
Other clauses of the secret agreement included that the LCBO was not to sell to restaurants and bars any of the major brands not carried in its regular stores, a move that discouraged bars and restaurants from purchasing beer at LCBO stores.
When the secret agreement was signed, 177 communities in Ontario had LCBO stores that sold 12- and 24-packs of beer. But under the agreement, if a TBS opened in any of those areas, nearby LCBO stores would have to cut back their beer offerings to six-packs. That discouraged the LCBO from opening new stores in areas where the TBS might also decide to open a store.
"Throughout the duration of the secret agreement, TBS expanded locations, thus displacing LCBO beer sales," according to the complaint.