Waunakee's rapidly developing downtown has another new business and a Fitchburg-based fitness company has another addition to its growing list of franchises.
The husband and wife team of Tom Slaten and Kelly Haas has opened an Orange Shoe Fitness in a new space on the site of the former Koltes Lumber Co. that opened in 1891 and closed in 2010. The 2,100-square-foot gym that specializes in personal training is in a row of businesses housed in a development that includes 23,000-square-feet of retail and 12,000-square-feet of office space and anchored by Lone Girl Brewing Co.
The project is also across the street from Lamphouse, another Hovde project that broke ground this spring and remains under construction.  The mixed-use development includes 12,100-square-feet of commercial space on the ground floor and 101 upscale apartments, underground parking and a landscaped rooftop deck with open views of downtown. In addition, the village is also building a $15 million public library in the downtown, a project scheduled for completion by next year.
"There's a lot going on down here," Haas said. "It really reinforces our demographics. It's such a growing community and we have a front row seat to everything that's going on."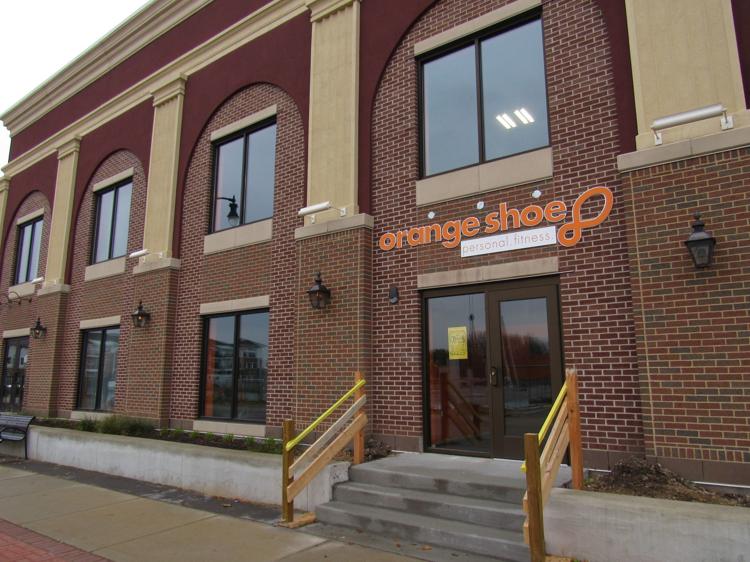 The Waunakee Orange Shoe is the seventh in the chain. In 2017, Katie and Scott Michel, who have owned the Fitchburg location since 2007, purchased the franchising system in 2017 from Joshua Martin, who founded the company in 2004.  Orange Shoe's niche is in individual fitness programs, small group sessions, in-home training and designing and running corporate fitness programs.
The Waunakee location at 114 E. Main St., is bathed in natural light, has two shower facilities and high ceilings accented with an original brick wall from the lumber yard on the gym's west side that is lined with barbells and medicine balls. More than 20,000 vehicles pass by the business daily, Slaten said.
Haas, 32, is a Janesville native and graduate of UW-Milwaukee where she majored in Kinesiology. She also is certified in holistic health coaching. Slaten, 29, grew up in Milton, is a UW-Whitewater graduate with a degree in Health and Human Performance and has a minor in strength and conditioning. He spent 12 years in the Wisconsin Army National Guard where between 2009 and 2011 he did tours in Iraq and Afghanstan.  The couple met in 2012 when Slaten began coaching Haas at a fitness center. They've now been married just over a year and are spending even more time together than most newlyweds as they're running their own business together.
"It's setting boundaries," Slaten said. "You want to make sure you dedicate time to no work but it's tough. A new business is all consuming."