Less than two years after seeing an episode of the ABC TV show "Shark Tank," Lori Hackman is all in with The Oilerie.
The Columbus woman who spent most of her career designing websites was looking for a career change. So, in 2014, when she saw a couple from Door County pitching their idea for an olive oil tasting bar, she was hooked by the concept and the quality of the products that are sourced from a single supplier in Italy.
Hackman, 44, is among the first in the country to be a part of The Oilerie's franchising program that has grown to nine stores, not including the founding location in Fish Creek.
In March, Hackman opened a 380-square-foot retail location in The Shoppes at Prairie Lakes in Sun Prairie. But the size of the store, which is smaller than the walk-in vegetable and fruit cooler at the nearby Costco, doesn't limit the offerings or the experience.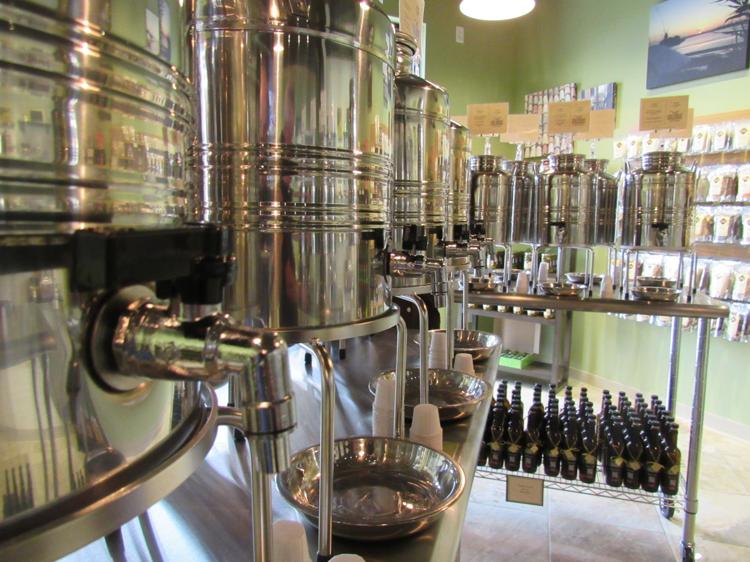 The quaint shop, sandwiched between Dragonfly Hot Yoga and Rejuvenation Spa, is crammed with stainless steel bulk containers of olive and nut seed oils and aged balsamic vinegars, one of which is 25 years old and has the consistency of silky syrup.
"All of the stores are really small like this," Hackman said. "You get to know people and the people generally become your friends."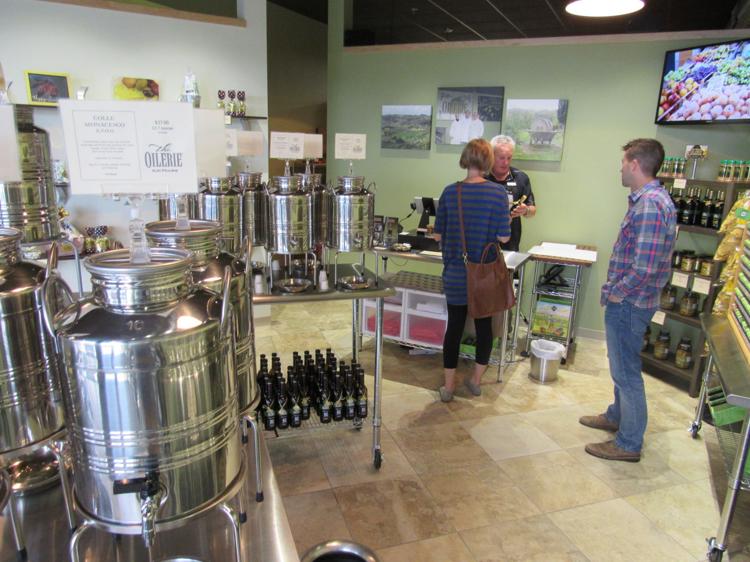 The Oilerie was founded in 2003 in by Curt and Amy Jo Campbell. The couple were on a trip to Poland when they discovered small boutiques that sold and bottled olive oil.
Six months later they opened their own shop in Door County where they bottled extra virgin olive oils and balsamic vinegars from a fourth-generation producer in Lazio, about an hour south of Rome.
The Campbells didn't get funded on "Shark Tank," but the national exposure drew curious entrepreneurs like Hackman, who grew up in Kewaunee and in the summers when she was 19 and 20 years old, worked in Door County at a custard stand, as housekeeper at the White Gull Inn and as a server at fish boils.
"I'm totally because of 'Shark Tank,'" said Hackman, who opened her store in March. "We talked for a long time and (the Campbells) didn't pressure (me) at all. They had a pretty good plan in place in how to train and get you up to speed and the products themselves were just so good. And it's so Wisconsin friendly. I have a direct line to the founder."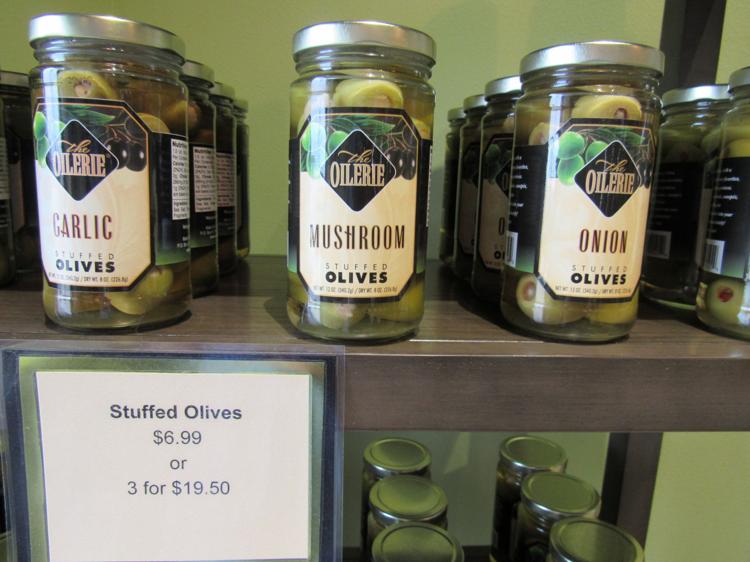 Besides 16 flavors of olive oil, five flavors of nut seed oil and eight types of balsamic vinegar that range in price from $17 to $22 for a 12.7-ounce bottle, the shop also sells olive oil-based skincare products, salsas, spices, olives, pastes, pasta, pesto and other specialty food items.
Franchises are located in Brookfield and Green Bay; Beaverton, Oregon; Columbus and Dayton, Ohio; Hilton Head, South Carolina; Woodlands, Texas and Burien, Washington.
The Oilerie is the second Wisconsin-based business to capitalize on craft oils and vinegars. The U.S. headquarters for Vom Fass is based in the Madison suburb of Shorewood Hills, where the first store from the German-based company opened just over 10 years ago.
The story for Vom Fass, now with about 35 locations in North America, is similar to that of The Oilerie, although The Oilerie doesn't sell alcohol.
Justin Gibson was studying abroad when he walked into a store in Giessen, Germany, north of Frankfurt, that let customers fill their own bottles with high-end spirits from wooden casks. There also were glass balloons filled with liqueurs and uniquely shaped crocks holding vinegar and oils, many of them infused with fruit and other flavors.
Gibson brought the idea to this country and, along with his father, David, opened his own Vom Fass, the first in the U.S., in 2007.
In 2013, Vom Fass USA grew from six to 16 stores and in 2015 added a second Dane County location at 119 State St. The company has plans to add 15 to 20 stores a year and will soon open a store in the Chicago suburb of Naperville, according to its website.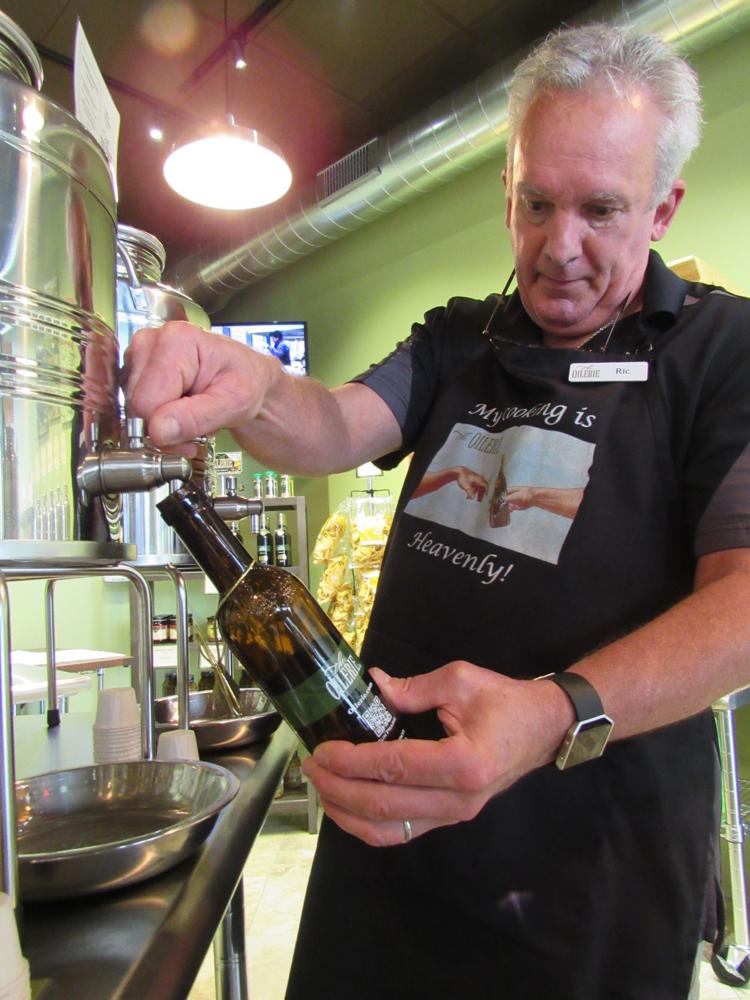 Hackman said she stayed away from Madison when considering a location for her store because of Vom Fass' presence. But she knew she wanted a small space that had significant traffic and was easily accessible.
Prairie Lakes, less than 20 minutes from her home and filled with anchor and niche retail and service businesses, seemed to be the perfect fit.
You have free articles remaining.
Register for more free articles
Stay logged in to skip the surveys
"Here, there's people going to Costco and Woodman's and the movie theater. It just seemed like a natural," Hackman said. "They're still building out here and there's still lots of good stuff coming."
One of Hackman's most enthusiastic employees is Ric Mathews, a former air traffic controller in the Army who most recently worked for the state Department of Veterans Affairs. Mathews is an avid cook and started working at The Oilerie in August.
"I can't get enough of this place," Mathews said. "What more fun can I have than talking to fellow foodies. I really believe in this place."
Cabela's sold to Bass Pro Shops
It wasn't that long ago when Wisconsin's only Cabela's store was in Prairie du Chien, attached to its 1 million-square-foot distribution center there.
But over the last few years Cabela's has added stores northwest of Milwaukee in Richfield; near Lambeau Field in Ashwaubenon and, in 2015, a 90,000-square-foot, $24 million store in The Shoppes at Prairie Lakes in Sun Prairie.
Coupled with Dane County's lone Gander Mountain store a few miles to the west, the I-39-90-94 corridor has plenty of selection for those who hunt, fish and camp.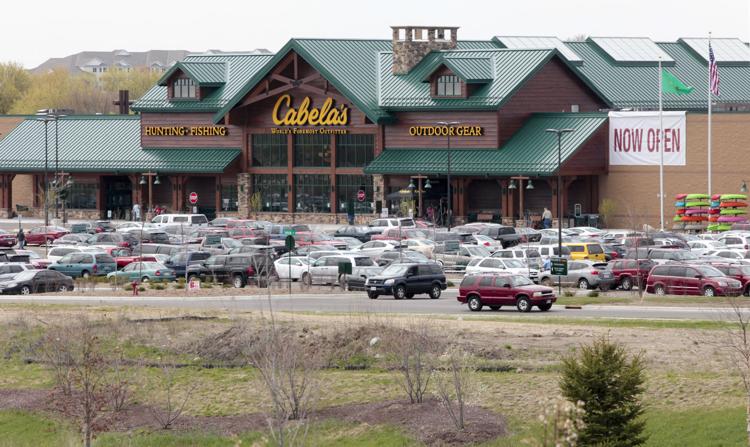 The state is still without a Bass Pro Shops, the closest is located in Gurnee, Illinois, just south of Kenosha. And it's unclear what last week's announcement — that Missouri-based Bass Pro Shops was buying Nebraska-based Cabela's for $5.5 billion — will have on the outdoor retailing market in Wisconsin.
It could mean more Cabela's or it could provide a more stable opening for Bass Pro Shops to enter the state's sporting goods market. It's also unclear if it could result in changes at the distribution center, a major employer in Prairie du Chien.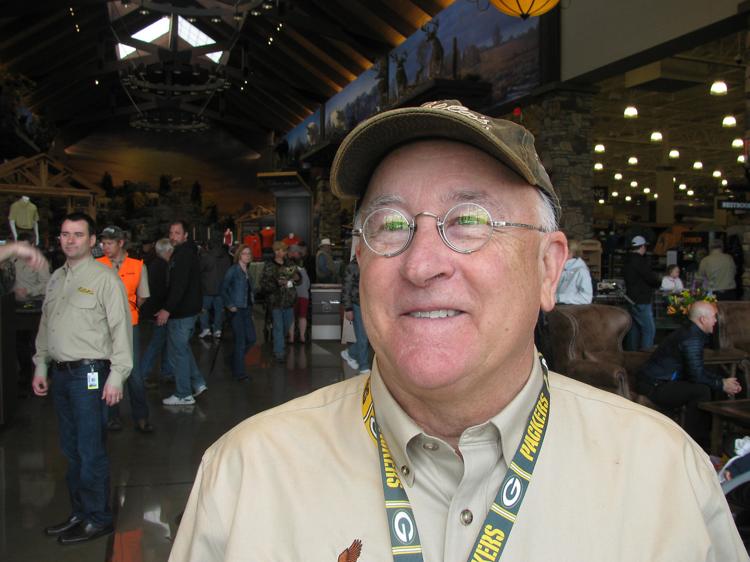 "I truly believe combining our two companies in this transaction will benefit our collective associates and our vendors while enabling us to enhance our service and expand our products to better serve our valued customers," said Johnny Morris, who founded Bass Pro Shops in 1971. "Bass Pro Shops has every intention of celebrating and growing the Cabela's brand. We will work hard to foster the qualities that customers love most about both Bass Pro Shops and Cabela's. The spirit of this agreement is about adding to our great brands and creating increased stability and opportunities for our team members."
When the Sun Prairie Cabela's store opened, the State Journal spoke one-on-one with Tommy Millner, the company's CEO. He was asked if there was room for more Cabela's stores in the state.
"Maybe. There's probably room for one, maybe two in the state over a five-year period of time. South of Milwaukee is interesting, too," Millner said.
"This is ground zero for us. This is a state that we would defend until the bitter end. There are high concentrations of everybody that enjoys the outdoors: fishermen, hunters, campers, cabin folks. For more than 50 years, Wisconsin has been, if not the most important state to us, one of the top two."
Ross enters the Madison market
This is a big weekend for Ross Dress For Less, a discount clothing retailer that is expanding its presence in Wisconsin.
The California-based retailer was scheduled to open four stores in the state on Saturday, including a 25,000-square-foot store at 6907 Odana Road. The spot, near West Towne Mall, is adjacent to Burlington Coat Factory and has a freshly paved and striped parking lot.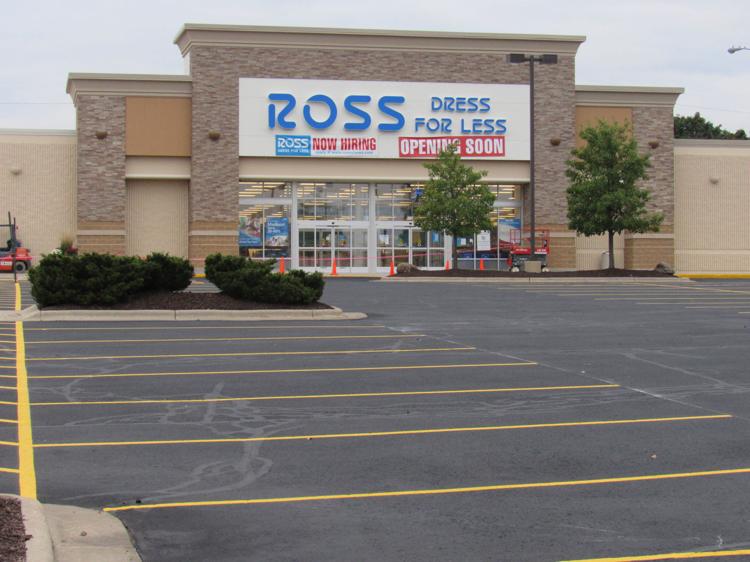 Other stores with scheduled grand openings on Saturday are in Kenosha, Menomonee Falls and Waukesha. The company also has stores in Brookfield, West Allis, Brown Deer, Milwaukee, Oshkosh and Racine.
In 2015, Ross, founded in 1982, had revenues of $11.9 billion with 1,274 locations in 34 states, the District of Columbia and Guam. The company also operates 172 dd's Discounts in 15 states.
This story has been updated to correct the spelling of The Oilerie.