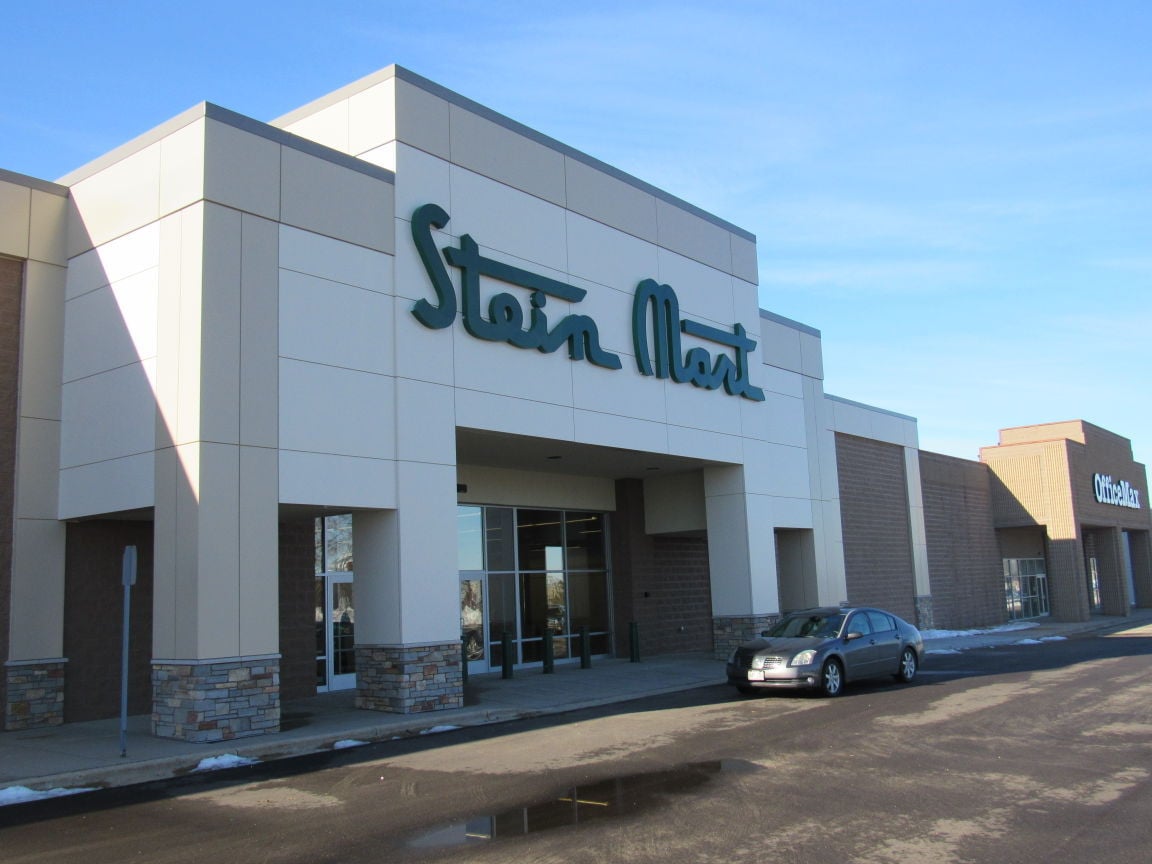 West Towne Mall's newest addition will open next month and bring direct competition to the nearby Kohl's department store.
Stein Mart, a boutique-style men's and women's department store chain based in Jacksonville, Florida, will open its Madison store on March 10. The store is located along the Beltline and adjacent to the OfficeMax. It's also in the same row of stores as Nordstrom Rack, Best Buy and Kohl's, all located west of the mall.
The store is the state's second for Stein Mart, which also has a Brookfield location. Stein Mart operates 278 U.S. stores and is in a growth mode. In the fall of 2015, the Florida-based retailer added nine locations and has plans for 12 more stores this year. Five of those stores will open on the same day as the Madison store and are in Arlington, Texas; Aurora, Colorado; King of Prussia, Pennsylvania; Naples, Florida; and Wilmington, Delaware. Six more stores are scheduled to open this fall, but those locations have not yet been announced.
"Our sales-focused initiatives have produced strong results for more than three years, and it is important that we continue to make the right long-term investments," CEO Jay Stein said during November's third-quarter earnings report to investors.
"As an example, our new store growth is already giving us excellent returns with our fall store openings delivering outstanding results."
In January, Stein Mart reported five-week sales ending on Jan. 2 of $198.3 million, a 4.7 percent increase over total sales of $189.5 million for a similar five-week period that ended Jan. 3, 2015. Comparable store sales increased 1.8 percent on top of a 5.8 percent comparable store sales increase in 2014.
The Madison Stein Mart location is in a spot previously held by a Savers Thrift Store and has undergone a complete transformation. While shelving and racks were not in place last week, it appeared that the store has updates to flooring, ceiling and walls in addition to a new exterior façade that can be easily seen by westbound traffic on the Beltline.
Stuffed animal sales will be part of donation: Speaking of Kohl's, the Menomonee Falls-based retailer with 1,166 stores in 49 states has announced that those soft toys and books sold near the front of their stores will help pay for a $2 million donation to Discovery World in Milwaukee.
You have free articles remaining.
The contribution from Kohl's Cares, spread out over the next three years, will be used to support the Kohl's Design It Lab that encourages children to use technology in design work. Since 2010, Kohl's has committed $6 million to launch and support its design lab at Discovery World, a 120,000-square-foot science and technology center along Lake Michigan.
Wisconsin-Mexico food possibilities: The Wisconsin Department of Agriculture, Trade and Consumer Protection is promoting a trade mission in September designed to get food products from Wisconsin into Mexico.
Since the 1994 North American Free Trade Agreement, Mexico has become one of the largest and fastest-growing markets for U.S. agricultural products and offers a big opportunity for Wisconsin food entrepreneurs.
In 2013, U.S. exports of consumer-ready food products represented nearly 46 percent of the agricultural total, an increase of 14 percent from 2012 and a new record high. Mexico remains the second-largest export market for consumer-ready products.
By 2018, retail sales in the packaged food market in Mexico is expected to reach $74.9 billion, an increase of 12 percent over 2015. In addition, Mexico is home to 37 supermarket chains, with 4,592 stores throughout the country with annual retail sales growing at 5 to 7 percent, according to U.S. government estimates.
The trade mission will include one-on-one meetings with qualified buyers; custom product research including market overview, importation and distribution analysis; a market briefing by the local USDA Foreign Agricultural Service; and retail store tours.
Wilderness adds attractions: The Wilderness Resort in Lake Delton will soon open its second room-escape attraction.
The two Room Escapes by D.O.A., "The Hotel" and "The Basement," are based on real-life incidents that occurred at the 1893 World's Columbian Exposition in Chicago. "The Hotel," which opened in December, features a hotel lobby with puzzles and clues to help visitors find their way out before time is up. "The Basement," scheduled to open this month, features a darker theme with more confusion, sound effects and visual objects.
In December, the resort unveiled interactive "Slideboarding" systems in its Klondike Kavern Indoor Waterpark. The Slideboards resemble surfboards with handles and allow riders to use controllers on the board to push colored buttons and accumulate points as they ride the Slideboard down the waterslide.
The Wilderness is the largest resort in the Wisconsin Dells area. It covers 600 acres, has four indoor and outdoor water parks and more than 1,000 rooms, villas, cabins and condominiums.
Send retail-related tips and story ideas to badams@madison.com or call Barry Adams at 608-252-6148.