Some prefer a trip to a rural Christmas tree farm.
The experience can include photos with Santa, hot chocolate and cider, a gift shop and wagon ride. For many, it is a tradition. Although, mud — not snow — filled the bottoms of boots and shoes this year.
But, for many, the local paved Christmas tree lot offers a solid selection of fresh-cut trees, takes little time and doesn't require the use of a saw.
The lots are dotted around the Madison area, typically in parking lots. And while customers may only spend 10 or 15 minutes a year at one of the lots, those who work at the locations can spend more than 12 hours a day on the site.
The job is one of the more demanding and logistically challenging retail positions during the holiday season.
Matt Navarro, 36, works at a tree lot on Cottage Grove Road just east of Stoughton Road and across the street from Central Storage Warehouse.
Setup took place on the weekend of Nov. 21 with the lot opening on a rainy Thanksgiving Day. Navarro and another employee alternate hours and days but are typically both on site on Friday nights and on Saturdays and Sundays.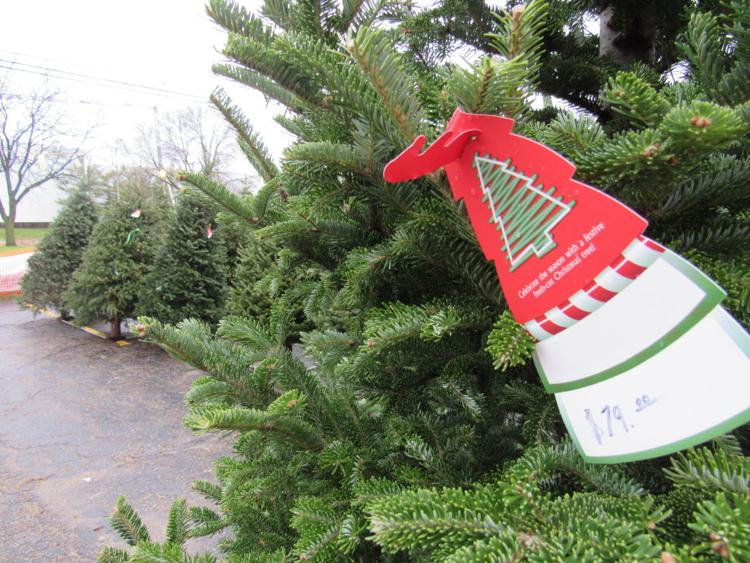 Navarro has two children under 12 years old and another due in February. His co-worker also has two young children.
"With family, that's the hard part," Navarro said. "The wives have to stay at home and do everything so they get a lot of credit for putting up with us being gone the whole time."
The tree lot is one of two in Madison owned by Russell Kook, who operates Caledonia Tree Farm near Merrimac. The farm operates a cut-your-own business but also provides trees to other lots in the Madison area. Besides the Cottage Grove Road lot, Kook also has a small but busy lot at Knoche's Old Fashioned Butcher Shop, 5372 Old Middleton Road.
Kook's lots, typically open from about 8:30 a.m. to 8:30 p.m., sell white pine, fraser fir, balsam and other varieties that range in price from $20 to $100. At Navarro's lot, about 100 trees are displayed. His shelter is a well-used camper trailer equipped with a portable DVD player and electric heater.
"Toward the end, it gets a little slow because most people already have their trees, but when you're busy you're constantly opening up trees, you're trying to make them look good and you're cutting the bottoms off getting them ready to go," said Navarro. "It's rewarding and fun. I have our kids come out and help out on the weekends. Growing up, I worked on the farm so it's nice to see where they're going."
You have free articles remaining.
Register for more free articles
Stay logged in to skip the surveys
Patterson gives bonuses: Two Madison bookstores are getting a Christmas bonus from one of their authors.
James Patterson has selected A Room of One's Own, 315 W. Gorham St., and Mystery to Me, 1863 Monroe St., as part of 87 independent booksellers to receive bonuses ranging from $1,000 to $5,000. Boswell Book Company in Milwaukee was the only other Wisconsin bookstore honored by Patterson, who is giving out $2 million to bookstores and libraries this holiday season.
"These grants and bonuses are my humble acknowledgment of some of the terrific work taking place in libraries and bookstores," Patterson said in a release. "Here's to communities supporting their bookstores and libraries. Here's to a country that makes reading a priority."
In 2014, Patterson donated $10 million to UW-Madison where his wife, Susan, was a two-time All-American swimmer for the Badgers in the 1970s.
A brat for the Christmas tree?: The Old World Christmas Market at the Osthoff Resort in Elkhart Lake offered an incredible atmosphere last weekend filled with vendors in an enclosed heated tent — not quite the size of a football field, but close.
There were ornaments, clothing, wooden nutcrackers, jewelry, artwork, tablecloths from Germany and Russian nesting dolls.
Food offerings included smoked salmon from Silver Moon Springs Trout Farm in Elton, which is just east of Antigo; freshly baked pretzels from the Milwaukee Pretzel Company; and long lines for sauerbraten, dumplings, wienerschnitzel and potato pancakes.
But one ornament stood out for its local flavor at the Sheboygan County event, and it fit right in.
JK Designs in Sheboygan was on hand to sell its Golden Bratwurst, a "great gift for the guy who has everything (or needs to be punished)," the sign said. The $10 price tag included a copy of "The Legend of the Golden Bratwurst."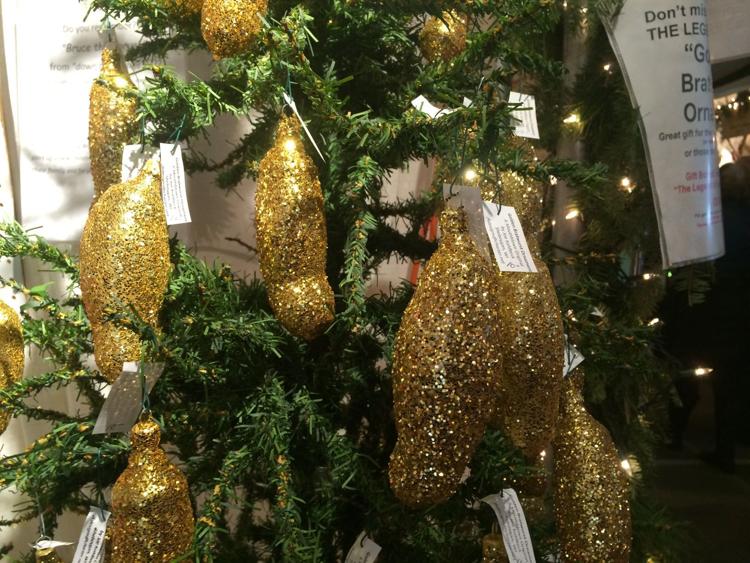 As the tale goes, instead of leaving Santa cookies, a Sheboygan couple leaves Santa a double brat sandwich on a hard roll. Santa is so impressed that he turns the remaining brats on the grill to gold.
This year's Christmas market is closed but will be open in 2016 from Dec. 2 to 11. The legend of the Golden Bratwurst, however, lives on year round.