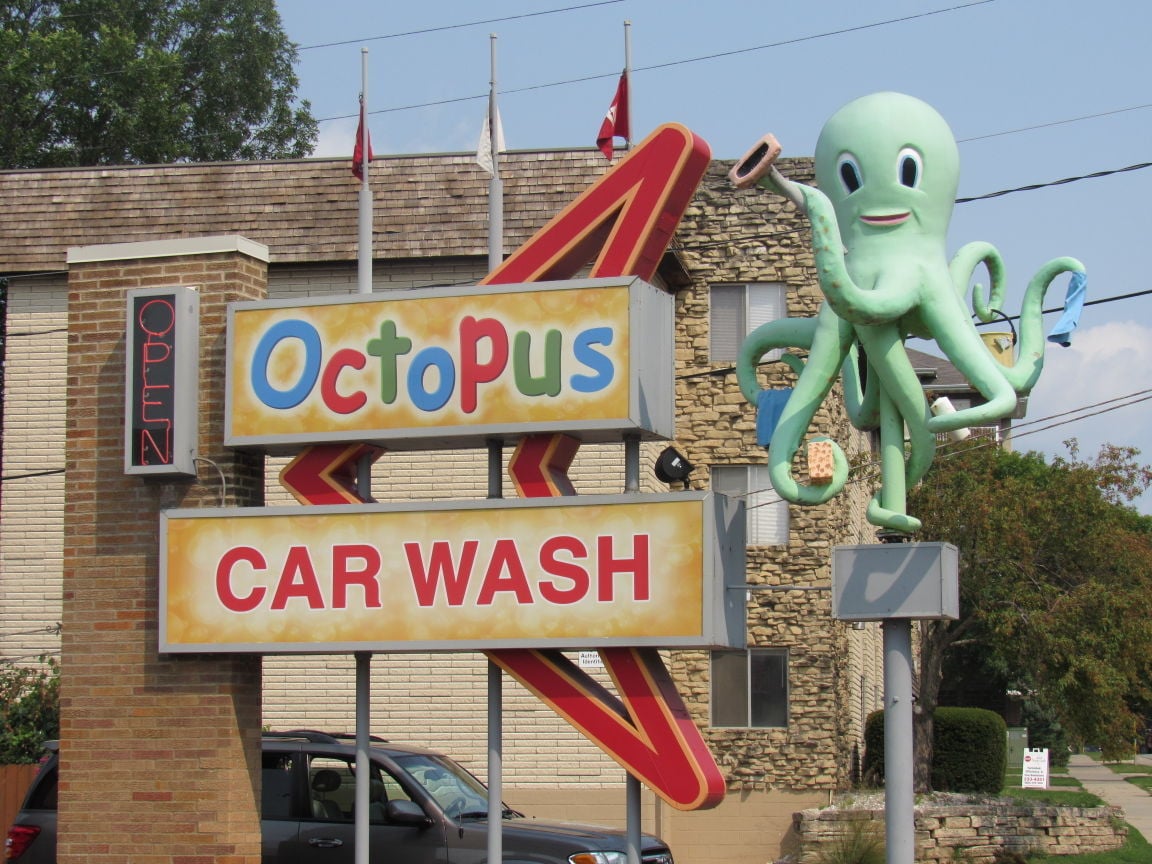 A familiar name and its twirling, eight-legged mascot will soon no longer be a part of the Madison car wash scene.
The city's three Octopus Car Wash locations have been bought by Mister Car Wash, the country's largest operator of car washes. The sale, finalized on June 30, also included two Octopus Car Wash locations in Rockford, Illinois.
The purchase ends a more than 50-year Madison run for Octopus, founded in 1956 by John Jurkens in Rock Island, Illinois. The first Madison location came in the late 1950s at 2202 University Ave. with car washes added later at 907 Park St. and 1039 E. Washington Ave. All three and the two Rockford stores had been owned by Jurkens' son, Jeff, who had worked for the company since 1965, according to his LinkedIn profile.
"From worker grunt to owner of Midwestern locations of Octopus," he wrote on his profile page.
The purchase, which includes a name change on Oct. 15, continues the rapid expansion of Mister Car Wash, based in Tuscon, Arizona. The company now operates 157 car washes in 18 states since adding 21 car washes to its portfolio this year. Between 2007 and 2014, when the company was owned by ONCAP, a private equity firm, the company added 99 car washes and 25 lube shops. Leonard Green & Partners, another private equity firm with $15 billion of private equity raised since 1989, bought the company in August 2014, further enhancing its ability to grow.
"We've built one of the most sophisticated operating platforms in the car wash industry and now — with our newly consolidated corporate footings and the strength of Leonard Green's backing — we're perfectly positioned to grow at an even faster clip," John Lai, Mister Car Wash president and CEO, said at the time.
Earlier this year, the company bought car washes in Texas, Maryland and in Nashville, where it purchased 12 Super Speed Wash locations in March.
According to the International Car Wash Association, the majority of North America's 80,000 car wash locations are owned and operated by small- to medium-sized independent car wash companies. The association estimates that more than 2 billion cars are washed each year in North America with revenues at about $15 billion.
New car wash: The American Center business park on Madison's Far East Side will have a car wash by later this year, and it's being built by a Wisconsin company that has had a limited presence within the city limits.
The two-bay car wash will be part of a $3.8 million Kwik Trip development at 4825 American Parkway. The project includes five gas pump islands and a 7,160-square-foot convenience store that is about 2,000 square feet larger than what the La Crosse company had been building in the past.
Construction began last month and is scheduled to be completed by mid-December. The Kwik Trip adds another amenity to the 447-acre business park, which includes the world headquarters for American Family Insurance, three hotels, restaurants, insurance and financial businesses, associations and last month the opening of the $235 million UW Health at the American Center complex that includes a 56-bed hospital.
"The volume of traffic that goes through there every day is pretty crazy," said Jeff Osgood, project manager for the Kwik Trip. "It's a pretty busy area."
The store will include diesel and E-85 fuel, 29 parking stalls and employ 15 to 20 full- and part-time employees.
In 2014, Kwik Trip opened a 6,500-square-foot convenience store in the ground level of Varsity Quarters, a six-story, 129-bed apartment building at 1423 Monroe St. Located on the site of the former Stadium Bar and across from Camp Randall, the store does not have gas pumps or parking. Instead, it relies on foot traffic from the area that is heavily populated with students.
Founded in Eau Claire in 1965, Kwik Trip now has more than 450 locations, 14,000 employees and in recent years has been upgrading its stores throughout the company.
New online grocer: While some grocery stores like Metcalfe's Market and Fresh Madison Market offer online grocery shopping with an option for delivery or in-store pickup, the Madison market's most dominant grocery store chain launched its on-line program last week.
After a monthlong beta-testing period with Madison-based GrocerKey, Woodman's Market's Shopwoodmans.com is live and will offer online ordering and delivery service within the city of Madison and to nearby suburbs. The site features 60,000 items plus tools like shopping lists, the ability to re-order past orders, click-to-order recipes, and real-time order tracking.
GrocerKey is scheduled to implement ShopWoodmans.com in the Milwaukee area by late 2015 and its remaining Wisconsin and Illinois stores by early 2017.
Chamber dinner set: Tickets for the 63rd-annual Greater Madison Chamber of Commerce dinner are on sale.
The event, scheduled for Sept. 30 at Monona Terrace, will gather business and civic leaders from throughout the area. This year's featured speaker is Richard V. Reeves, the former European Business Speaker of the Year and director of strategy to the United Kingdom's deputy prime minister. Reeves is a senior fellow in economic studies at the Brookings Institution, where he is co-director of the Center on Children and Families, and editor-in-chief of the Social Mobility Memos blog. His research focuses on social mobility, inequality, and family change, according to the institution's website.
Tickets for the event are $125 for members and $150 for non-members.
Send retail-related tips and story ideas to badams@madison.com or call Barry Adams at 608-252-6148.